From HS2 and fracking to Heathrow's third runway, meet the new face of protest in the UK
Not everyone is a natural protester. So what's it like to abandon the quiet life and take up the struggle? Oscar Quine talks to four unlikely placard-wavers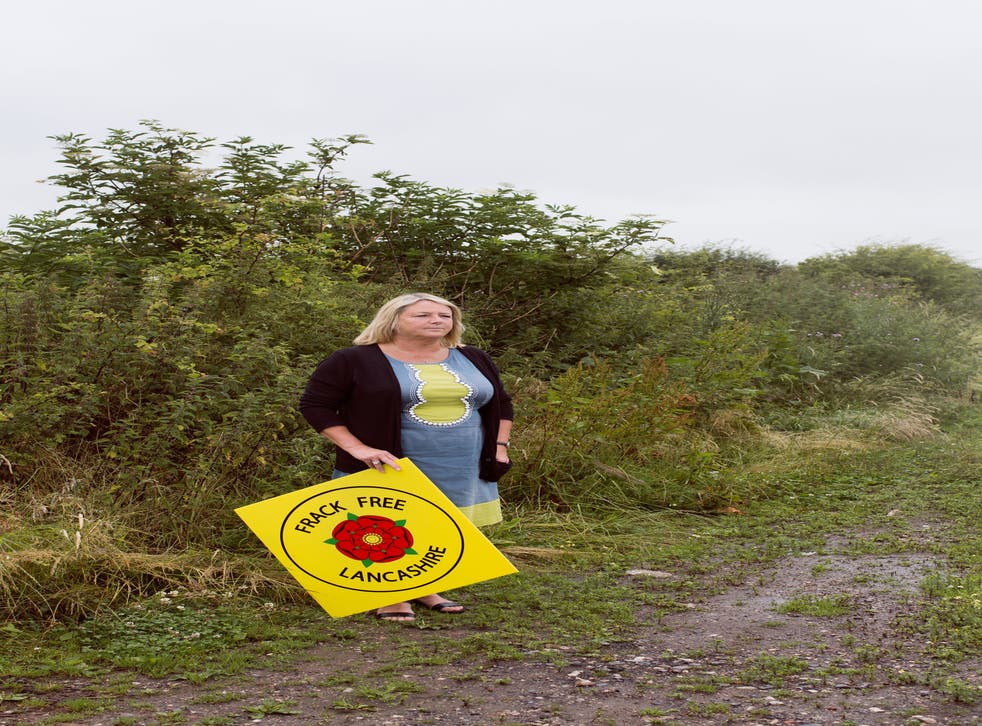 Anti-fracking
Barbara Richardson, retired IT manager
It is Friday afternoon and Barbara Richardson is on her way home from speaking to her local MP. The 59-year-old retired IT manager has broken a self- imposed rule. "Friday is Frack-Free Friday," she explains. "I always say I won't go to any meetings – especially in the evenings – but I always end up doing it."
In 2011, Mrs Richardson persuaded her husband to move from their detached house on the outskirts of Preston to a converted barn in the hamlet of Roseacre. She was after the quiet rural life. Then, in February last year, the energy company Cuadrilla announced plans to build a fracking facility 600 metres from the Richardsons' house. Mrs Richardson found herself setting up, and then chairing, an awareness group. She now puts in 40-hour weeks on the campaign. "I was brought up a true blue Tory but this has made me question everything," she says.
"I left my job because I was getting older and wanted to relax. So it's surprised me how involved I've got in this. But it's something I believe in so strongly. You just do everything you can."
Last month, Lancashire County Council rejected Cuadrilla's application to undertake exploratory drilling on the Roseacre site. But Cuadrilla has the option to appeal the decision or resubmit its plans. And is is pushing ahead with the installation of 91 seismic monitors in the area. Mrs Richardson says her fear is that drilling could yet happen 24 hours a day and that the site will resemble a high- security prison, lit up through the night. "And yet we're not even allowed to put a satellite dish on the front of our house because it's 'out of keeping with the area'!"
Mrs Richardson and her fellow campaigners are waging war on a number of fronts – holding meetings, issuing newsletters, lobbying politicians and speaking to the media. Recently, somebody in a restaurant recognised her. "They said, 'Oh, you're that fracking lady, aren't you?' I was mortified!" They have also set up a Facebook account. "We've got a large following. But we don't do Twitter. A woman in the group did try to get to grips with it, but we just don't understand it."
The hours may be long but when I ask if she would do it all again, Mrs Richardson answers unhesitatingly. "It's made me open my eyes at the age of 59. I'm more aware about the environment, about democracy. It's made me think, how do we get our energy in the future?"
Anti-HS2
Keri Brennan, human resources trainer
A few years ago, Keri Brennan unexpectedly found herself sitting on a sofa next to David Cameron. She was on a panel brought together by a magazine to discuss parents' concerns over children's online security. When she recently showed her daughters, now aged 12 and nine, a picture of the meeting, they were unimpressed. "Sian said, 'Mummy, I'm not proud of you'. To them, David Cameron is the man who's trying to steal their house."
Mrs Brennan, 39, and her husband bought their three-bedroom semi in Ruislip, on the north-west fringes of London, in 2009. In March the following year, the proposed route for the HS2 high-speed rail project was announced – and it ran through their back garden.
"I did think at that point, should I just move and get out of here? Do I really want to be the person spreading the word?" says Mrs Brennan. "Selfishly, you do think, if nobody else has realised, maybe I should just sell up." But she didn't sell. Instead, Mrs Brennan and a group of residents began emailing politicians and handing out literature. "Now, anyone on our patch would know what HS2 is and that it is a bad idea." Hillingdon Against HS2, of which Brennan is chair, has built a mailing list of many thousands, with more than 700 local people attending an average meeting.
Mrs Brennan is one of three core members who take care of the day-to-day administration of the campaign while also attending consultations, protesting at HS2 events and organising fundraisers. She also works full-time coaching people in human resources. "I don't know what happened but I've completely changed," she says. "It's like I'm a lioness and they're threatening my children. We've always had a nice life and we've got lovely kids. But they shouldn't have had this happen to them at all. They shouldn't be thinking about grown-up things such as that you can't trust the Government and that people aren't treated fairly in this country."
Mrs Brennan has a response to the accusation that this is just a case of nimbyism. "I can't say how much attention I would have paid to HS2 if it wasn't so close to me," she says. "But now I just can't get over the £50bn price tag. When you think of the numbers involved in Greece... Once you know the detail, you just can't let it go."
There is one aspect of the campaign that she says has been "soul-destroying": dealing with the accusations of nimbyism thrown around on Twitter. Then in January, the family had some good news – an announcement that the Ruislip section of the line would now go through an underground tunnel. "We're probably some of the luckiest people on the route," she says.
But the lioness isn't going away just yet. In what surely is a refutation of the charges of nimbyism, she plans to invest her energy in the national campaign. "There are people a lot worse off than me. Quite often, it's people in areas who don't really have a voice because it's a lot of renters or people who live in poverty. But we've also helped relatively well-off people in the Chilterns as well." She laughs and adds: "It's almost like comradeship."
Anti-Heathrow's third runway
Peter Willan, retired oil executive
The front door to Peter Willan's five-storey Georgian townhouse opens on to leafy Richmond Green in southwest London. Five minutes after sitting down to talk in his first-floor drawing room, an unmistakeable rumble begins to echo through the sash windows that look out over his large garden. It is the sound of a jet engine: Heathrow Airport is just seven miles away.
Last month, the Airports Commission, chaired by Sir Howard Davies, recommended building a third runway at Heathrow. If the expansion goes ahead, Mr Willan and his neighbours will see their daytime respite from overhead flights reduced from eight hours to four. "A lot of people move into areas near airports and they don't know what to expect," he says. "When I worked it didn't matter so much but now I'm retired, it affects me the whole time."
Mr Willan isn't a natural protester. In fact, he says, in his 72 years, he has never been involved in any type of campaign. But the threat to his peace and quiet, along with concerns about pollution, congestion and the cost of a new runway, has mobilised him. Following a career in the oil industry that culminated with the brokering of a $1bn loan to the Kuwaiti government for North Sea oil exploration, Mr Willan took early retirement. "I retired young, but it's the done thing in that industry."
Initially, he busied himself with his first passion: music. Against one wall of the drawing room is an upright piano. On top of a chest of drawers is a lute bought in either India or China, he can't remember which. On my arrival, he hands me a piece of paper that he has prepared for me, on which is printed his own potted life story. It mentions that he played clarinet in the National Youth Orchestra and that he is now vice-chair of the Yehudi Menuhin music school in Surrey. "Music for me is a hobby," he says. "It keeps me sane."
He also has another document in front of him: one volume of Sir Howard's 10,000-page report. "Davies' chief of staff said to me, 'Peter, you know you're the only person who has read the whole thing'," he says. He has, he says, in fact read only "most of it".
The campaign has an aggregate local membership of 2,000 but Mr Willan works most closely with seven other protesters, "taking the argument to the decision-makers". The group have all had distinguished careers: one as a BBC producer, another as a director at Transport for London, and two as civil servants. "Me and my colleagues feel we're spot on with what we're doing with our limited resources. We have to get Cameron and Osborne to rethink this."
How limited those resources are soon becomes apparent. The group has spent roughly £1,500 on the campaign in the past three years – with the printing of factsheets and letters their primary expense. Heathrow Airport, meanwhile, has invested £17m on the PR campaign that accompanied its push for expansion.
Despite this yawning disparity, and Sir Howard's recommendations, Mr Willan has plenty more fight in him. "We have lost a bit of ground but I am a natural optimist," he says. And once the final decision is made, might he continue to campaign on the issue of the nation's airports? "I think I'd want to be doing other things," he says with a smile.
Anti-NHS cuts
Gusharan Johal, doctor
On the evening of this year's general election, Gursharan Johal was on call in surgical triage at North Manchester General Hospital. Getting home late, she watched the results come in, but it was only the morning after, back at the hospital at 8am, that the Tory win sunk in. "It was very sobering to be there in the NHS, on the wards, wondering what the future of the health service was going to be," she says.
Ms Johal, 25, does not come from a political family and says that her attitude to campaigning when she was growing up was, "What's the point". Then, in her final year at Manchester Medical School, a friend persuaded her to attend a Save Our NHS meeting. She soon realised the importance of strength in numbers. "Getting involved in the campaign, it was like seeing all these sparks until you get a blaze of passion and the motivation going, so that you can actually change something."
If collective engagement is one side of the coin, Ms Johal believes that being informed is the other. "People have this misconception that campaigning is about being out there every single day with a placard," she says. "Those days are necessary, but it's also really important to make sure that you're educated on the issues. There's no point going out and campaigning if you don't know what you're talking about." Instead, she says, she "reads fast and reads a lot", and maintains dialogue with other groups about how they approach campaigning.
Ms Johal's fellow campaigners at Save Our NHS were as shocked as she was at the election result. "But you have to pick yourself up and dust yourself down. You have to get all your campaigning friends and allies around you and you have to say, what can we do about this that isn't wailing or crying or anger? We have to try and do something productive about this."
The group began holding monthly meetings in which attendees split into groups to brainstorm pressing issues within healthcare. Ms Johal's chief areas of concern are medical education – specifically the need to train students in whistleblowing – and the privatisation of sexual health services.
"Fortunately, sexual health problems don't affect everyone, but that means it's a lot harder for people to have empathy with them. But if something happened that was going to affect GP services, for example, everyone in the country would have reason to campaign. If a society and a government isn't going to stick up for the worst off, then really, what is the point?"
Register for free to continue reading
Registration is a free and easy way to support our truly independent journalism
By registering, you will also enjoy limited access to Premium articles, exclusive newsletters, commenting, and virtual events with our leading journalists
Already have an account? sign in
Register for free to continue reading
Registration is a free and easy way to support our truly independent journalism
By registering, you will also enjoy limited access to Premium articles, exclusive newsletters, commenting, and virtual events with our leading journalists
Already have an account? sign in
Join our new commenting forum
Join thought-provoking conversations, follow other Independent readers and see their replies