Funeral live-streaming might encourage 'lazy mourners'
Installing webcams in crematoriums brings comfort for those who live abroad and the elderly or infirm but critics say being there in person is entirely the point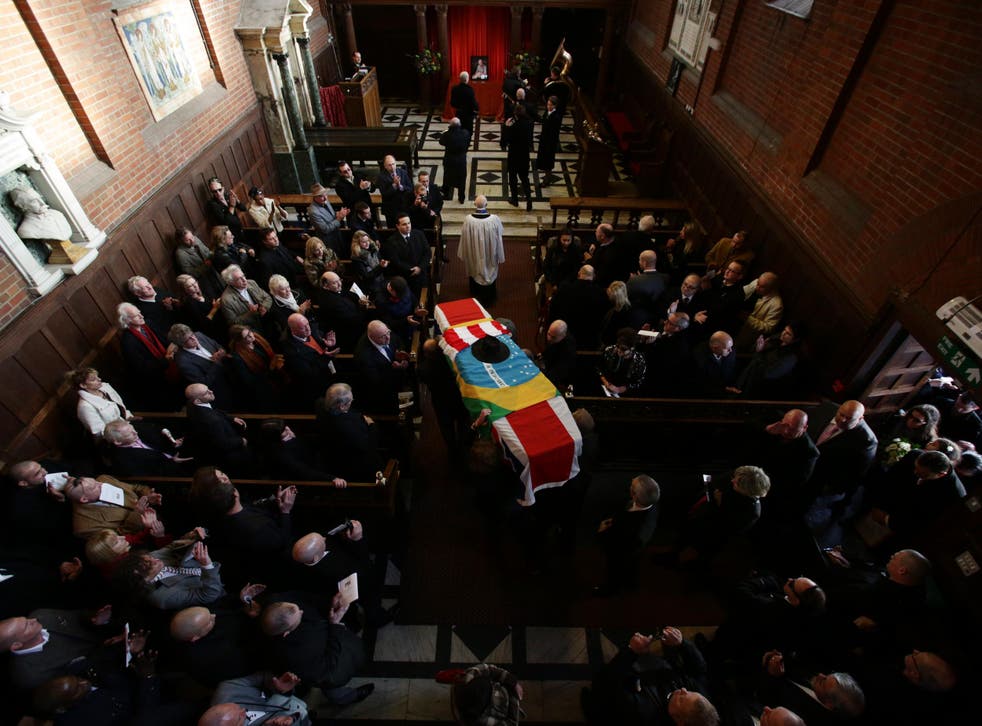 A growing number of crematoriums are fitting webcams so that mourners can watch funeral proceedings live online.
Around a fifth of Britain's 281 crematoriums already offered a live streaming service, according to a recent survey, while 61 per cent of funeral directors had received requests for services to be live-streamed.
Supporters of the new trend point out that live-streaming allows grieving friends and relatives who are unable to travel to feel part of a funeral from a distance.
However, some undertakers fear watching the service live online may be used as an excuse for not attending in person, depriving the dead person's family of crucial emotional support.
Paul Allcock, president of the Society of Allied and Independent Funeral Directors, said it would be a shame if live-streaming became ubiquitous.
"It's wonderful for those relatives who live abroad, but there's also a danger of pandering to people's laziness and not attending personally and sharing your condolences, which is such an important part of the grieving process," he told The Telegraph.
"Many funeral directors will tell you that a few kind words shared over a sandwich after the funeral can never be replaced by watching the event from a distance via a web-camera."
In order to live-stream a funeral, a digital camera is installed discreetly in a crematorium chapel. It captures the service and uploads it in real time to the internet, where it can be watched at any computer terminal around the world.
A secure username and password are usually issued to friends and family members in advance, so the proceedings cannot be viewed by strangers.
Live-streaming has been possible since the mid-1990s, but the technology did not enter the funeral industry until the early 2000s, according to The Atlantic, which reported has taken until recently for the trend to gain momentum.
"The funeral profession's like a cruise ship," said Joe Joachim, chief executive of funeralOne, a US-based company that was among the first to offer live-streaming in 2002. "It takes a while to turn, but it can turn."
Obitus, a company which installs and manages live-streaming technology for crematoriums in the UK, reported receiving one request a week for its services. It currently has cameras in more than 25 locations.
James Crossland, who owns the firm, said Britain's changing demographic had led to a surge in the popularity of live-streamed funerals.
He pointed out that with five million Britons living abroad — a 27 per cent rise since 1990 — and 8.5 million migrants living here — a 133 per cent rise in the same period — there is growing demand for technology that allows mourners to witness a funeral service without having to travel long distances to be there in person.
Elderly, ill, or disabled people may also find it difficult to attend funerals in person, and benefit from the option to watch online.
However, Caitlin Doughty, a death theorist and mortician, said that although she wasn't surprised by the development, it could have negative implications on the grieving process. "The physical dead body is proof of death, tangible evidence that the person we love is gone, and that we will someday be gone as well," Ms Doughty told The Atlantic. "To have death and mourning transferred online takes away that tangible proof. What is there to show us that death is real?"
But Dr Wendy Moncur, a researcher in socio-digital interaction at Dundee University disagreed, arguing webcasting and other technologies actually make death more visible by bringing it quite literally into our homes through computers and mobile devices, which she suggested is a positive change. "The availability of webcasts for funerals play a part in the 'de-sequestration' of death and bereavement," Dr Moncur said. "Death is becoming less hidden, more public, in our society because of the Internet and contemporary online responses to grief and loss."
Within the funeral industry, it seems live-streaming is viewed as a compromise. It is not ideal, but it can be a useful addition to the service which increases accessibility.
"It's not designed to replace folks attending funerals," Walker Posey, a fourth generation funeral director told The Atlantic. "A lot of folks just don't live where their family grew up and it's difficult to get back and forth."
John Childs, 87, recently live-streamed his wife Joan's funeral so that their son Wayne could watch from his home 9,500 miles away in Australia.
Ms Childs, of Calmore, Southampton, Hants, was married to Mr Childs for 51 years before she died of lung cancer in March 2008 at the age of 69, The Telegraph reported. Though her son and his family were able to visit her in her final weeks, he had to leave to return to work in Perth, Australia, before the funeral.
The Southampton Crematorium offered a live-streaming service for an additional £50 charge.
Death becomes her: Meet the very modern mortician who champions 'cool' funerals

Show all 4
Mr Childs, a retired book keeper, said: "Wayne was able to see it as it happened, it meant the world to him.
"I would of course recommend it to other families. It was successful and wasn't all that expensive either. I got a CD of the whole thing as well."
Register for free to continue reading
Registration is a free and easy way to support our truly independent journalism
By registering, you will also enjoy limited access to Premium articles, exclusive newsletters, commenting, and virtual events with our leading journalists
Already have an account? sign in
Register for free to continue reading
Registration is a free and easy way to support our truly independent journalism
By registering, you will also enjoy limited access to Premium articles, exclusive newsletters, commenting, and virtual events with our leading journalists
Already have an account? sign in
Join our new commenting forum
Join thought-provoking conversations, follow other Independent readers and see their replies