G4S faces investigation over running of immigration detention centre where detainees were abused
Former employee accuses firm of falsifying records to overcharge Home Office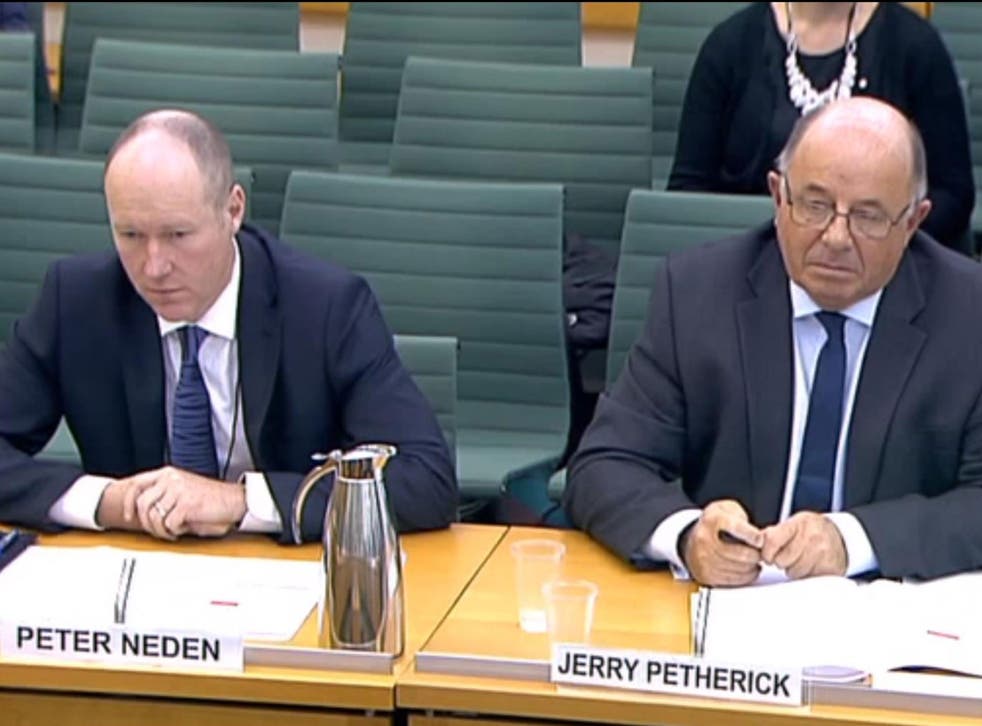 G4S faces an investigation over allegations it has been overcharging the Home Office to run a scandal-hit immigration detention centre where migrants have been abused and humiliated.
The Home Affairs Select Committee said it would probe the claims, which the firm denies, after a heated hearing that saw directors grilled by MPs.
Yvette Cooper, the chair of the committee, said G4S had failed to get "a grip" on abuses at the Brook House immigration removal centre near Gatwick.
Undercover footage showed vulnerable detainees being abused, restrained, insulted and humiliated by guards, amid drug abuse, self-harm and suicide attempts.
Peter Neden, president of G4S UK and Ireland, said he felt "ashamed" watching the footage and claimed BBC Panorama's exposé was the first he heard of the abuse.
"I was ashamed of what I saw," he told the committee. "I am very sorry…if we were in any way aware of any of that behaviour we would have taken action.
"We are undertaking an immediate action plan to make sure that this can't happen again. We take these events very seriously indeed. There is no place for behaviour of that kind in our business."
G4S accused of 'culture of intimidation' against asylum seekers
MPs heard evidence from witnesses including G4S' former duty director for Brook House, Nathan Ward, who alleged the contractor had given inaccurate information to the Home Office on costs.
G4S has been hit by numerous scandals in the past over its handling of international security contracts, being forced to repay £108.9m to the British Government in 2014 after overcharging for electronic tagging.
The Serious Fraud Office had opened an investigation into G4S and Serco after it emerged that both firms had been charging for tagging criminals who were either dead, in jail or never tagged in the first place.
Rev Ward, who has become a vicar since resigning in 2014, claimed that while working at the now-closed Cedars immigration detention centre, a G4S accountant gave him a spreadsheet of what the Home Office was being charged for.
"They asked me to highlight the ones I knew we'd never be buying, on the premise that Home Office only asked for invoices over the sum total of £5,000 so anything under that wouldn't be scrutinised," he added.
"I'm also aware of inaccurate staffing reported to the Home Office and that's part of the concern I raised on my resignation [in 2014]."
Rev Ward claimed that G4S had made cost savings but not passed them on to the Government as required, using them instead to drive up profit.
Asked by Ms Cooper whether G4S may have been "deliberately been giving false information to the Home Office", the former employee replied: "Categorically yes."
G4S managers said they "did not recognise" the allegations later in the hearing, and also said its profits had been inaccurately reported by the press.
The Guardian reported it had seen documents suggesting that in 2016, the company's margin on its trading profit at Brook House was 20.7 per cent, while at another immigration centre Tinsley House, the margin was 41.5 per cent.
The newspaper said that while the permitted profit margin is not published, it had obtained a copy of the original contract that put the agreed limit on profits at 6.8 per cent.
Mr Neden confirmed the contract for Brook House was worth £11.2m a year but would not give the exact profit margin because it would put the company at a competitive disadvantage.
"We are making a profit on these contracts, but we are not making the profits reported," said Mr Neden. "We don't make a profit of 20 per cent. That is overstated."
He also denied that G4S charged the Home Office for staff or activities that were not provided, adding: "If the Home Office have concerns, the Home Office should raise them."
A Home Office spokesperson, said: "These claims are inaccurate. When open, Cedars pre-departure accommodation was covered by a fixed-price contract. Under this contract G4S would have been required to seek approval from the Home Office for any additional spending – whatever the value.
"G4S is required to meet set service standards – including ensuring minimum staffing levels are met – and must provide financial reports to Home Office and Cabinet Office on a quarterly basis."
Mr Neden said that he did "not recognise" specific claims made by Rev Ward, adding: "The Cabinet Office commissioned an independent audit and found our charging to be correct."
He and Jerry Petherick, the managing director of G4S's custodial and detention centres, were forced to repeatedly defend the company's actions and record during the hearing.
It was sparked by a BBC Panorama documentary that showed detainees being abused and humiliated by G4S staff, including one man who was "choked" while trying to self-harm.
Naz Shah, a Labour member of the committee, said the distressing footage showed that G4S's systems had "failed drastically".
"I'm surprised we have not seen a death on your watch, whether that be by spice, whether that is by abuse of staff, whether that be by strangulation [or] by cold-blooded murder by your staff," she added.
Three members of staff have so far been dismissed as a result of the Panorama investigation and seven more are suspended pending further investigation, amid a separate police inquiry.
The Home Affairs Committee heard that vulnerable asylum seekers and people with mental health difficulties are mixed with foreign nationals who have served prison sentences at Brook House, where drugs including synthetic Spice are being smuggled in.
The immigration detention centre – one of two run by G4S in the UK – was designed to hold up to 508 men for 72 hours ahead of deportation but some people have been detained there for almost two years.
G4S managers claimed adequate training, monitoring and enforcement systems are in place to regulate staff behaviour, including a whistleblowing hotline run by an external company.
Ms Cooper said the response was "remarkably similar" to that during a similar scandal at G4S's Medway young offenders unit last year, when the firm also vowed to take action.
"I'm afraid the answers that you have given do not suggest you have any grip on this at all," she told Mr Neaden and Mr Petherick.
They denied "systematic" failings but said an investigation into events at Brook House would be conducted by an independent organisation.
Campaigners are calling for the firm to be stripped of contracts to run immigration centres, where detainees can be held indefinitely despite two inquiries calling for a 28-day limit.
Celia Clarke, director of the Bail for Immigration Detainees charity, wrote to Amber Rudd demanding a public inquiry and for G4S's contracts to be suspended.
Meanwhile, the Scottish National Party called the immigration system "rotten to the core".
Its immigration spokesperson, Stuart McDonald, called for an independent inquiry into the "serious allegations of fraudulent activity", adding: "The recent allegations of abuse by G4S staff of incredibly vulnerable people is deeply worrying.
UK news in pictures

Show all 50
"We know from a number of reports and investigations that we need to look more broadly at the serious harm being caused to people by the UK Government's inappropriate use of unnecessary, expensive and ineffective large scale immigration detention facilities."
Jonathan Bartley, co-leader of the Green Party, said the Brook House scandal had "lifted the lid" on Britain's detention system.
He added: "The Government appears so hell-bent on creating a hostile environment for refugees and migrants it is happy to flout its duty to safeguard the rights of those in immigration detention centres.
"There should be a truly independent inquiry, separate both of the influence of the Home Office and G4S to establish exactly what has happened at Brook House."
Following the committee hearing, Ms Cooper said the answers given over evidence of abuse and mismanagement by G4S were "simply not good enough".
"They were unable to tell us what lessons were learned from similar problems in Medway. Nor could they tell us why management failed to identify these problems," she added.
"This raises extremely serious questions about their management, training, oversight and whistleblower policies and their ability to safely operate this contract.
"We also heard disturbing allegations that G4S misled the Home Office to increase their profit, which we will pursue further.
"Clearly it would be completely unacceptable for a company to earn substantial profits from providing a service which has abused or harmed some of those in its custody."
Join our new commenting forum
Join thought-provoking conversations, follow other Independent readers and see their replies