Phone conversation transcript reveals Colonel Gaddafi warned Tony Blair about the rise of Islamic extremism
Transcripts of phone calls between the pair have been released by the Foreign Affairs Committee as it investigates British intervention in Libya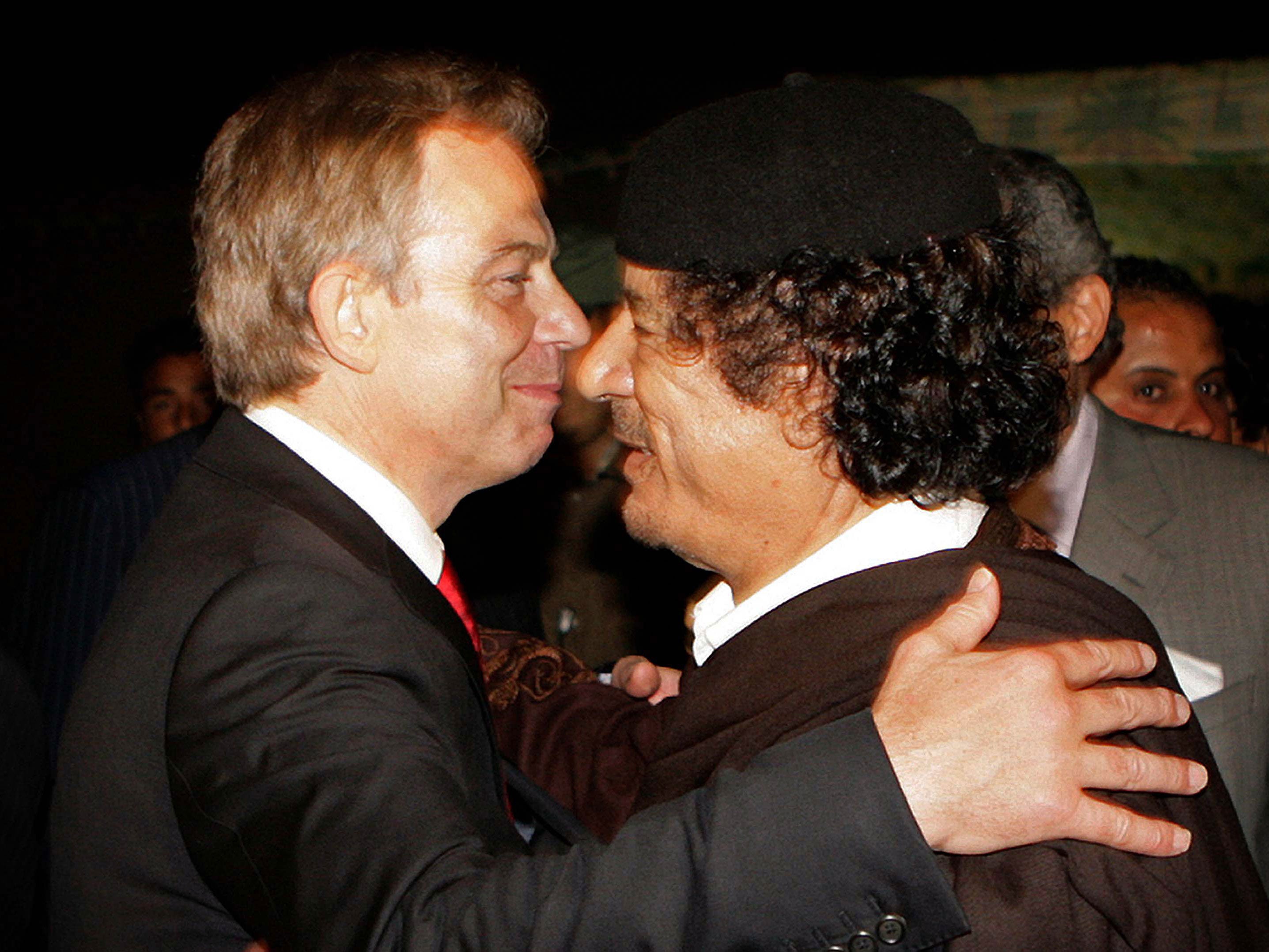 Muammar Gaddafi accused Tony Blair of supporting al-Qaeda as he refused calls to stand down during the height of the Libyan uprising, newly-released transcripts have revealed.
Records of two phone conversations between the pair on 25 February 2011 have been published by the Foreign Affairs Committee as its inquiry into Britain's intervention continues.
Mr Blair made his first call to the Libyan dictator at 11.15am, saying he had tried to reach him for days as the "difficult and dangerous situation" escalated with global calls for intervention.
As Arab Spring protests grew and were brutally crushed by Libyan forces, sparking the formation of militarised anti-government rebel groups that started to seize territory, Gaddafi blamed al-Qaeda for the violence.
"The fight is against al-Qaeda…we are not fighting them, they are attacking us," he told Mr Blair as the former British Prime Minister emphasised the need for peaceful dialogue with rebel leaders.
In a second phone call at 3.30pm the exchange grew more heated, as Gaddafi accused his former ally of being part of a plot to colonise Libya.
"We have no problem, just leave us alone," the Libyan leader said. "If you are really serious and you are looking for the truth, get on a plane and come and see us."
Blair on Gaddafi relationship
When urged to step down and open negotiations with rebels before the situation worsened, Gaddafi lashed out.
"Those people (the rebels) are from Guantanamo, we know them by name, they support al-Qaeda – do you support al-Qaeda?" he asked Mr Blair. "Are you supporting terrorism?"
The politician replied that he was "absolutely not" but warned that if the violence continued it would pass a "point of no return" with growing pressure for military intervention.
He urged Gaddafi to "keep the lines open" before the call was cut off but received no reply.
Emails released by the US State Department originally revealed excerpts of the former Prime Minister's call to the Libyan dictator in October.
The Gaddafi archives - Libya before the Arab Spring
Show all 10
The world had condemned Colonel Gaddafi's regime after security forces fired on crowds of pro-democracy protesters and the UN was drawing up a resolution against "the gross and systematic violation of human rights".
The day after Mr Blair's phone call, the UN Security Council passed a resolution freezing Gaddafi's assets, restricting his travel and referring his government to the International Criminal Court.
Read the full exchange between Gaddafi and Tony Blair below:
By March, Britain had joined an international coalition enforcing a no-fly zone and naval blockade against the Libyan government as rebels continued fighting on the ground.
Gaddafi eventually went into hiding in August but was captured and killed two months later during the Battle of Sirte.
Join our commenting forum
Join thought-provoking conversations, follow other Independent readers and see their replies