Attacks on LGBT people surge almost 80% in UK over last four years
More than one in five LGBT people verbally or physically attacked due to their sexual orientation or gender identity in last 12 months, figures show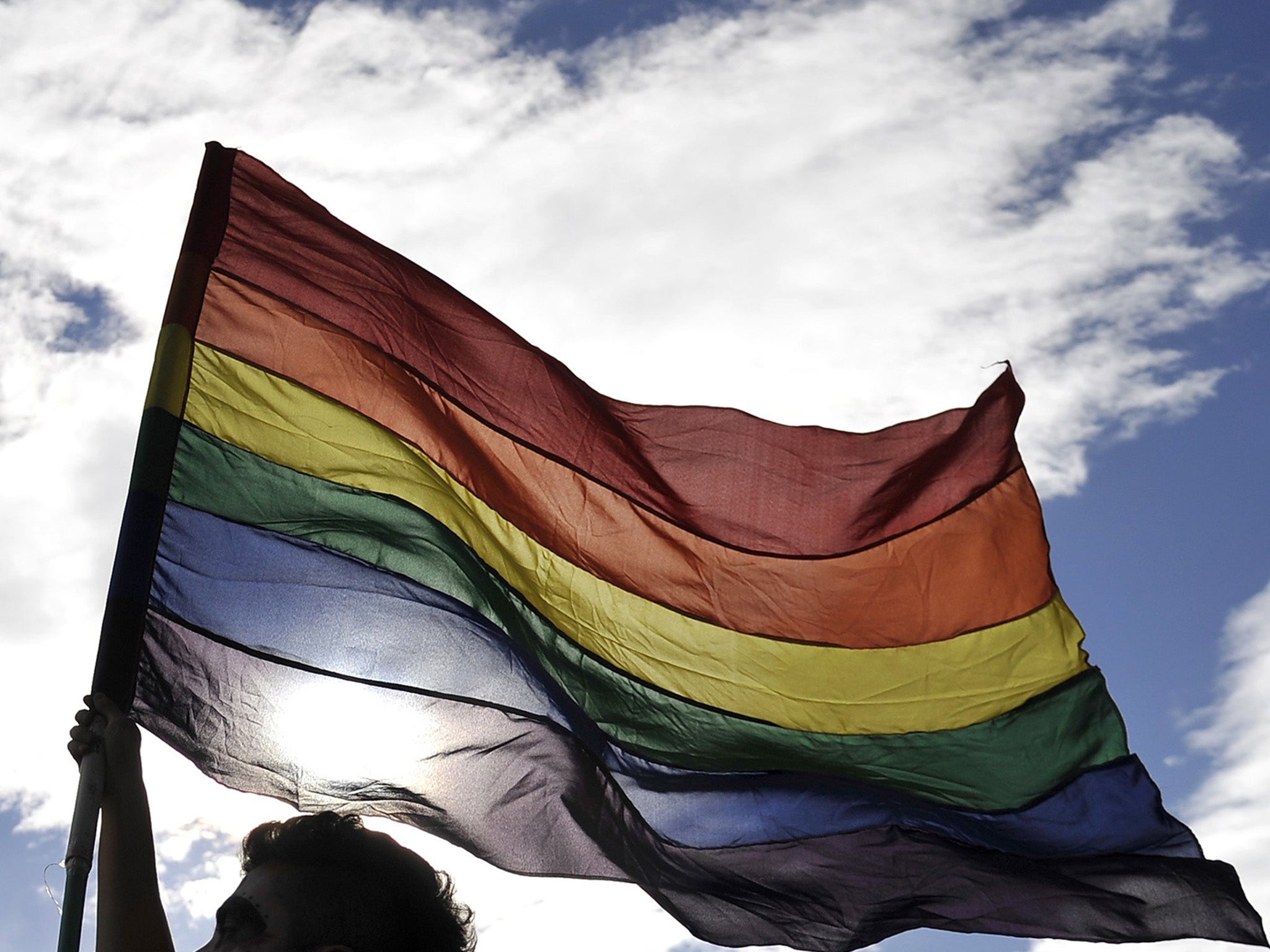 The number of attacks on lesbian, gay and bisexual people in the UK has soared by nearly 80 per cent in the past four years, new data shows.
More than one in five LGBT people have experienced a hate crime or incident due to their sexual orientation or gender identity in the last 12 months, compared with 16 per cent in 2013.
The findings, released by charity Stonewall and based on YouGov polling of more than 5,000 LGBT people in Britain, reveal verbal and physical attacks are taking place against the LGBT community in all spheres of public life – from bars and restaurants to while trying to find a house or access vital services.
Alarmingly, amid the soaring scale of hate crime, there has been widespread underreporting, with the study showing that four in five LGBT people who experienced a hate crime or incident in the past 12 months did not report it to the police.
The rise in crimes has created a pervading fear among the LGBT community as they go about their daily lives, with many avoiding certain streets and avoiding holding hands with their partners in public for fear of being attacked.
For trans people, the findings are particularly alarming, showing that two in five trans people have experienced a hate crime or incident based on their gender identity in the last 12 months.
Black, Asian and minority ethnic LGBT people are also disproportionately affected, with a third having experienced a hate crime or incident in the last year, compared to one in five white LGBT people.
The most common type of hate incident experienced by the LGBT community was being "insulted, pestered, intimidated or harassed" – with nearly nine in 10 people receiving such treatment, according to the study.
Unwanted sexual contact and threats of violence or use of force were also common – experienced by 26 per cent and 21 per cent of people respectively – while 13 per cent were physically assaulted by their abusers.
The report shows that fear of discrimination and harassment in public places pervades the LGBT community, with one in five LGBT people who have been a victim of hate crime in the last year not feeling safe where they live.
As a result of rampant abuse, three in 10 LGBT people said they avoid certain streets because they do not feel safe there, while more than a third (36 per cent) said they don't feel comfortable walking in public while holding their partner's hand.
One woman, who didn't want to be named but described herself as a 25-year-old who works in the media in London, told The Independent she and her girlfriend experience harassment on a daily basis, to the point where she is forced to be "constantly aware" of addressing her safety when in public.
"I've been with my girlfriend for 18 months and we've experienced this daily harassment ever since our first dates. It's still continuing now, whether we're going for a walk in the park on a Sunday morning or catching the bus," the woman said.
"We regularly get remarks in the street from creepy men approaching us, which often turns quickly sour and they shout things like 'dyke' at us. You have to be constantly aware of and assessing your safety, which obviously impacts your day-to-day life, and can affect your mental health and your relationship.
"So for heterosexual people to tell me 'things are different now' is highly ignorant and silences what's really happening in LGBT people's daily lives."
Much of the hate crime takes place in public spaces, with one in six LGBT people (17 per cent) having been victims of hate crime in the last 12 months when they visited a café, restaurant, bar or nightclub, and one in seven experiencing discrimination when in a shop or department store.
London Pride 2017
Show all 14
The discrimination also occurs when LGBT are interacting with landlords or public services. One in 10 said they had been discriminated against while looking for a house or flat to rent or buy in the last year, while 12 per cent said the same for when they had approached their local council. And a quarter of trans people were discriminated against when contacting emergency services.
The abuse also translates into the online world, with homophobic, biphobic or transphobic abuse being targeted towards one in 10 LGBT internet users in the last month – a figure that increases to one in four for trans people.
Non-binary LGBT people were found to be significantly more likely than LGBT men and women to experience personal online abuse, at 26 per cent compared to 10 per cent of men and eight per cent of women.
A geographic breakdown of LGBT hate crime shows that LGBT people in the North East experience the most hate crime, at 35 per cent, while Yorkshire and the Humber, the North West and the South West experience the least, at 18 per cent.
Amy, 52, from the North East of England, told researchers she felt unable to start her shift after she was harassed and abused by a group of teenagers on her way to work.
"I was walking to work and a group of young teens followed me and were making remarks about not having a man in my life and if I did have sex with them they would make me straight," she said.
"They followed me up to my ward and they were still going at me. My work mates and manager were all there. My work mate told them to go. I didn't feel good and cried. It took some time before I could start my shift."
On the issue of the underreporting of LGBT hate crime, four in five LGBT people who experienced a hate crime or incident in the last 12 months did not report it to the police, while seven in ten did not report the incident to the police or to anyone else, such as their authority, social worker or charity.
Young people emerged as the least likely to report hate crime to the police, with only 12 per cent of people age 18 to 24 doing so.
LGBT people surveyed by YouGov said it was because they felt that they weren't "taken seriously" by authorities they approached about hate crime they had experienced.
In pictures: Pride in London 2016
Show all 10
Noah, 23, from the West Midlands, told researchers: "Me and some friends were victims of a homophobic attack in town and after contacting the police, they basically blew it off and said that we need to be more resilient."
In another case, Leo, age 53 from the North East of England, said: "I had occasion to report that I had been harassed and suffered an injury. I talked, they listened, but it was their attitude and I got the impression that it was not being taken seriously."
In response to the rise in hate crimes and the scale of those going unreported, Stonewall has made a series of recommendations to authorities such as police forces, the Home Office and the Crime Prosecution Services (CPS) to adapt and improve their systems for reporting homophobic abuse.
The charity urged that while the figures demonstrate that the UK has taken "huge strides" in achieving equality for LGBT people in Britain, it is clear that much still needs to be done in order for them to feel safe, included and free to be themselves.
Ruth Hunt, chief executive of Stonewall, said: "The study also finds that anti-LGBT abuse extends far beyond acts of hate and violence on our streets. Many LGBT people still endure poor treatment while using public services and going about their lives, whether in their local shop, gym, school or place of worship.
"While we have come so far in the past 25 years, it is clear that much must still be done before all LGBT people can feel safe, included and free to be themselves in Britain today.
"These findings warn against complacency, and stand as a call to action. Building on the achievements of the past and working together as we look ahead, we can all play a role in bringing forward the day when every LGBT person, everywhere, is accepted without exception."
The increase in LGBT hate crimes is in line with an overall increase in recorded hate crimes, with Home Office statistics showing that hate crime in general has risen by 48 per cent over the past three years. The number of recorded hate crimes and incidents based on sexual orientation has risen by 70 per cent over the same period.
Greater awareness of hate crime and efforts to improve recording of hate crime are thought to have played a role in the increase in recorded hate crimes in recent years, but the latest research also points to a genuine increase in incidents of hate crime committed against lesbian, gay and bisexual people.
Responding to the findings, the minister for countering extremism, Baroness Susan Williams, said: "All forms of hate crime are completely unacceptable and those who commit these awful crimes should be met with the full force of the law.
"We are clear there can be absolutely no excuse for targeting someone because of their gender identity or sexual orientation. We put victims at the heart of everything we do, which is why we work closely with partners to support victims of LGBT hate crime.
"Our Hate Crime Action Plan is improving the response of law enforcement and criminal justice system to these horrendous attacks, including ensuring more victims have the confidence to come forward and report such incidents.
"In the longer term, we will use the results from our national LGBT survey – launched this summer – to inform our plans to improve LGBT equality."
Join our commenting forum
Join thought-provoking conversations, follow other Independent readers and see their replies