Fox hunting campaigners 'plotting to use Tory landslide to repeal ban'
Polls suggest the blood sport continues to be very unpopular with the public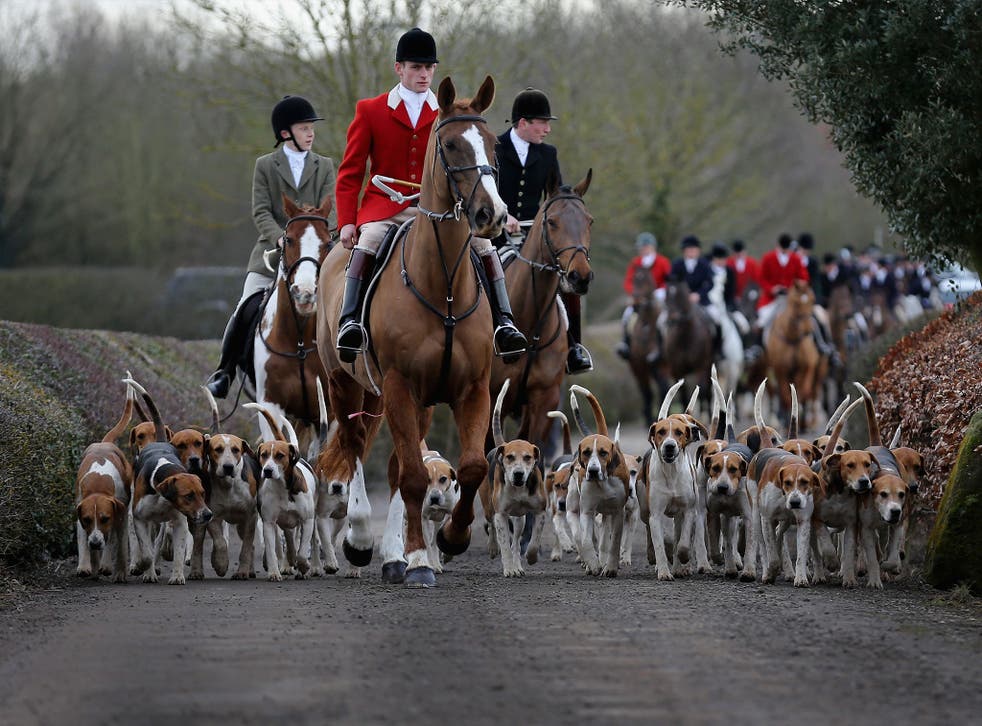 Pro-fox hunting campaigners are plotting to use a predicted Conservative landslide at the general election to repeal a 2004 ban of the blood sport, according to a report.
Tory Lord Mancroft, chairman of the Council of Hunting Associations, described the 8 June vote as "the chance we have been waiting for" to overturn the ban, according to an email seen by the Daily Mirror.
He said a sizeable majority for Theresa May could usher in a new era for fox hunting and a vote on the issue could be scheduled for as early as this year.
"A majority of 50 or more would give us a real opportunity for repeal of the Hunting Act," he said.
"We have repeatedly made clear that we need a Government that has both a manifesto commitment to repeal the HA [Hunting Act], and a big enough majority to get repeal through the Commons and then the Lords.
"It now looks, unexpectedly, as if there is a very real chance we could get such a Government.
"While nothing in politics is certain, this is by far the best opportunity we have had since the ban, and is probably the best we are likely to get in the foreseeable future."
Lord Mancroft claimed to have "received assurances" that a parliamentary vote would be included in the Tory manifesto.
He also appealed to the group's supporters to "mobilise" to ensure a big win for Ms May next month.
"This is the chance we have been waiting for," the Conservative peer said.
"We have six weeks to show, yet again, what we are made of, and our undying commitment to our way of life.
"We have six weeks to win back all that has been taken from us. Masters, if ever there was a time to give a lead, this is it.
"Please don't waste a single day of those six weeks."
Responding to the email, Labour candidate Angela Smith told the paper: "This is exactly why we must not give the Tories a blank cheque.
"If Theresa May wins a big majority on June 8 we will see all the worst excesses of an unrestrained Tory Government.
"Bringing back fox-hunting, one of the cruellest blood sports imaginable, will be just the start."
It was reported in September that Theresa May was planning to push ahead with a vote to repeal the Hunting Act in Parliament, a pledge included in the 2015 Conservative election manifesto.
But polls suggest fox hunting continues to be very unpopular, with even most Conservative voters unsupportive of repealing the ban.
Opposition to fox hunting rose to historic levels in December, when 84 per cent of the public said the blood sport should not be made legal again.
Register for free to continue reading
Registration is a free and easy way to support our truly independent journalism
By registering, you will also enjoy limited access to Premium articles, exclusive newsletters, commenting, and virtual events with our leading journalists
Already have an account? sign in
Register for free to continue reading
Registration is a free and easy way to support our truly independent journalism
By registering, you will also enjoy limited access to Premium articles, exclusive newsletters, commenting, and virtual events with our leading journalists
Already have an account? sign in
Join our new commenting forum
Join thought-provoking conversations, follow other Independent readers and see their replies