General Sir Hugh Beach denies paedophile ring involvement after being outed by former Conservative MP Harvey Proctor
He has been interviewed by police investigating the sexual abuse claims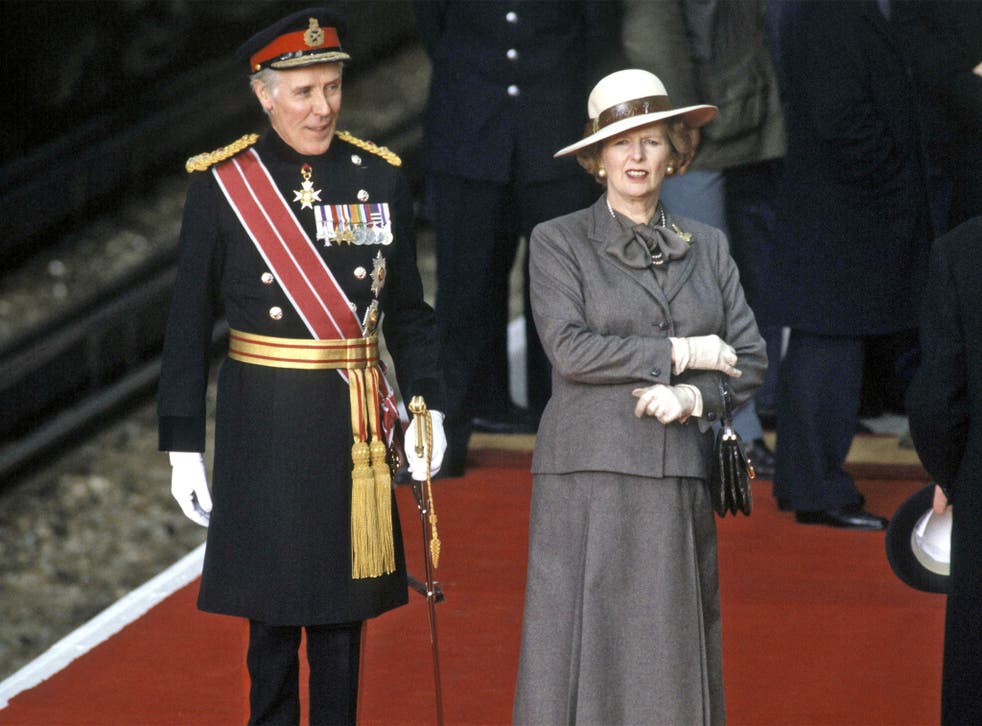 A retired senior general outed by the former Conservative MP Harvey Proctor as an alleged "co-conspirator" in an Establishment paedophile ring has denied any involvement in child abuse.
General Sir Hugh Beach told The Independent he had been interviewed by police investigating claims of historical sexual abuse, but that he was not a suspect and no allegations had ever been made against him.
Sir Hugh's link to the Metropolitan Police's historical abuse inquiry was made public on Tuesday by Mr Proctor during his own vehement denial of involvement in the three reported murders of young boys.
Mr Proctor claimed he was asked by police about a list of eight alleged co-conspirators, whom he named at a press conference. Four are dead – including the former Prime Minister Ted Heath, and the former Home Secretary Leon Brittan – but at least three of the others are alive.
One is Sir Hugh, 92, a decorated Second World War veteran and deputy commander-in-chief of the UK land force in the 1970s. The others include Lord Janner, the former Labour MP who is suffering from dementia and faces sex abuse allegations, and Lord Bramall, the UK's former highest-ranking soldier, whom police interviewed under caution in April.
The home of Lord Bramall, head of the UK land forces in 1976-78 with Sir Hugh his deputy, was searched but he strenuously denied anything to do with child sex abuse.
Sir Hugh, a father-of-four who lives in Surrey, said: "The police have confirmed that despite what has been reported in the press, no allegations of any kind have been made against me. In connection with their investigations, the police have interviewed me on one occasion but not in any sense as a suspect."
He declined to comment further about the nature of the police questioning, but denied any wrongdoing. Asked if he wished to comment on Mr Proctor's outing of him as an alleged "co-conspirator", he said: "What I've said to you is my comment on that."
Mr Proctor named the high-profile, high-ranking men as he sought to distance himself from suggestions of an "Establishment" abuse ring.
In a BBC interview, a man called "Nick" (not his real name) said his abusers were "very powerful people and they controlled my life for the next nine years.
"They created fear that penetrated every part of me, day in day out. You didn't question what they wanted, you did as they asked without question and the punishments were very severe."
Mr Proctor said: "I did not move in such circles. As an ex-secondary modern school boy from Yorkshire, I was not part of the Establishment. I had no interest being part of it. I cannot believe that these other eight people conspired to do these monstrous things. I certainly did not."
Mr Proctor – whose parliamentary career ended following a rent boy scandal – said that he did not contact the other men, or their families, before he decided to name them in what he said was a "spirit of openness".
Mr Proctor also named the late Maurice Oldfield, seventh head of the secret intelligence service, MI6; and the late Sir Michael Hanley, head of MI5 from 1972 to 1976 – a time when Harold Wilson, then the Prime Minister, suspected MI5 of plotting against him.
This year MPs called for anonymity for people arrested for sexual offences, with a "zero tolerance" approach to those behind the leaking of names following arrest.
The chairman of the Home Affairs Select Committee, Keith Vaz, said: "We have seen how destructive this can be to a person's livelihood, causing irreparable reputational damage and enormous financial burden."
Explainer - Operation midland
Q | How did we get to this point?
Operation Midland was launched last year after a man – named only as "Nick" – came forward to report that he had been abused by groups of men from the age of about seven to 16, at locations including Dolphin Square, the upmarket residential block popular with MPs because of its close proximity to Westminster. He said some of those men were open about who they were and he got to know the identity of others.
After first speaking to the news website Exaro, he went to the police and handed officers a list of 12 prominent people who he says abused him. They included the former diplomat Peter Hayman – a member of the notorious Paedophile Information Exchange – and Leon Brittan. He also told the police he had witnessed an MP killing two boys. He said that police had taken his claims "very seriously" because of the detailed level of questioning that he faced.
In December, officers said they believed his claims were credible and true. Midland emerged from the wider Operation Fairbank, sparked by allegations of a high-level Westminster paedophile ring made in Parliament by the Labour MP Tom Watson.
Q | What have we learnt this week?
During interviews, "Nick" said that he had been abused by Tory MPs and other people, including a cabinet member, but did not name anyone. But on Tuesday, Harvey Proctor effectively identified himself as allegedly being involved in the killing of the two boys and an associate of men behind a third "killing". The former MP denied these allegations and suggested that "Nick" should be "medically examined to ensure he is of sound mind". In a tweet, Exaro's editor-in-chief, Mark Watts, said that "Nick" had been left distressed by "Harvey Proctor's over-the-top theatrics".
Q | Where is the investigation now?
In November, police appealed for help to track down other witnesses or suspects about the alleged abuse. Since then, police have revealed that two men have been interviewed under caution. They were not named by Scotland Yard, but are known to be Lord Bramall and Harvey Proctor. Police also searched the former Conservative MP's home in March.
The retired General Sir Hugh Beach was also named as an alleged "co-conspirator" by Mr Proctor. Although Sir Hugh said that police have spoken to him, it was not under caution, and he was not treated as a suspect.
It is not known if other witnesses have come forward to police to back up, or counter, the claims made by "Nick". Scotland Yard said it was not prepared to provide a "running commentary" on the matter, but nobody has so far been arrested or charged. Mr Proctor – who on Tuesday challenged police to charge him with murder or prosecute the anonymous witness for wasting police time – claims he was asked only about the allegations made by "Nick" during his police interviews.
Q | Who are the "victims"?
"Nick" did not name the boys whose deaths he said he witnessed, but Scotland Yard said last year that it had spoken to the family of Martin Allen, the son of the chauffeur for the Australian High Commissioner, who disappeared in 1979. Officers were also in contact with Sussex Police, who were carrying out a review into the disappearance and murder of eight-year-old Vishal Mehrotra in 1981. Vishal disappeared as he was walking home to Putney after watching the royal wedding of the Prince of Wales and Diana, Princess of Wales.
Register for free to continue reading
Registration is a free and easy way to support our truly independent journalism
By registering, you will also enjoy limited access to Premium articles, exclusive newsletters, commenting, and virtual events with our leading journalists
Already have an account? sign in
Register for free to continue reading
Registration is a free and easy way to support our truly independent journalism
By registering, you will also enjoy limited access to Premium articles, exclusive newsletters, commenting, and virtual events with our leading journalists
Already have an account? sign in
Join our new commenting forum
Join thought-provoking conversations, follow other Independent readers and see their replies