Twelve-year-old 'genius' believed to have higher IQ than Stephen Hawking and Albert Einstein
'I'm good at mental maths, general knowledge and I find it quite easy to memorise stuff compared to most of my peers'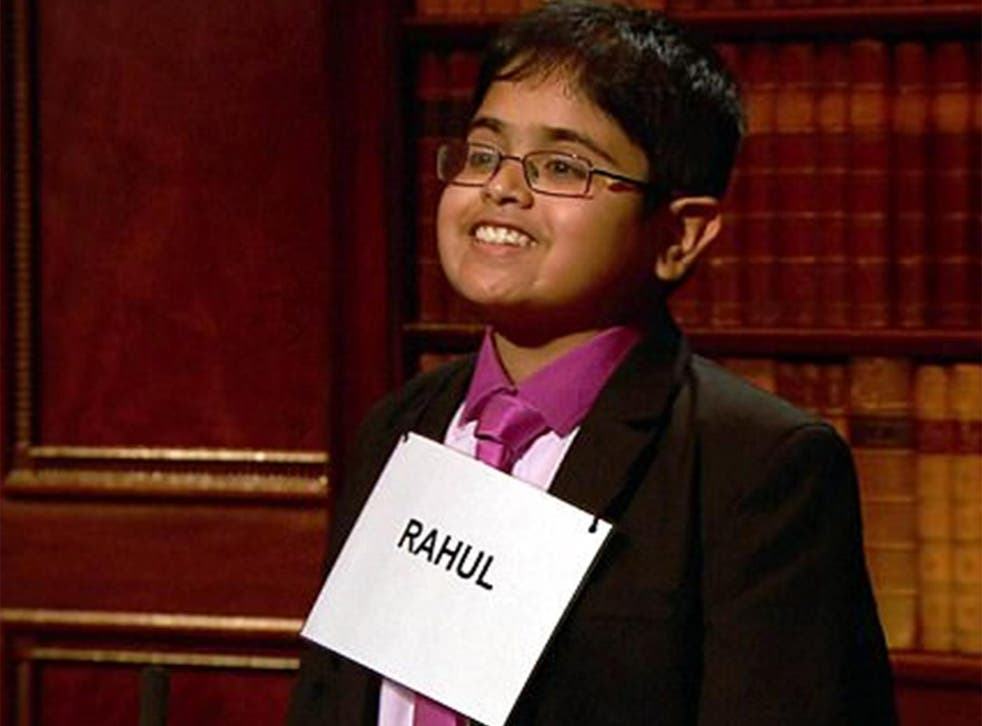 A 12-year-old boy from North London has been found to have an IQ of 162 – higher than the estimated scores of Stephen Hawking and Albert Einstein.
Rahul, from Barnet, is a contestant on Channel 4's Child Genius and shocked viewers during Monday's show by answering every single question correctly.
The self-declared "genius" correctly memorised the scientific name for the apricot tree (prunus armeniaca) and knew that phoenix dactylifera refers to the date palm. During a spelling test, he was able to spell words including accouchement, hyponatraemia and garrulous.
In the timed question round, he beat every other contestant by scoring 14 out of 15. The timer ran out before he could answer the last question.
However, Rahul lost out to rival Joshua during Tuesday's maths test, prompting him to lose his cool.
Having initially said he "accepted" that Joshua had won and that he would now focus on the next round, Rahul then attempted to walk off set, saying: "I don't want to comment on my defeat so do you mind if I just leave, please?"
The 12-year-old, whose favourite subject is Latin, had earlier said: "I think I'm a genius.
"I'm good at mental maths, general knowledge and I find it quite easy to memorise stuff compared to most of my peers."
"Most kids want immediate gratification but I also want long term gratification.
"If I could play maybe my Xbox now I would be really happy now but then I might be sad later on because I haven't revised for my test."
UK news in pictures

Show all 50
His father, Minesh, said: "As a comparison Rahul is as clever as Albert Einstein or Stephen Hawking.
"We're all achievers," he added. "I used to play table tennis for Barnet Council. We're always trying to better ourselves. It's about taking the next step."
Neither Mr Hawking nor Mr Einstein have publicly taken an IQ test, but both are estimated to have scores of 160.
Child Genius has divided opinion, with some viewers claiming some of the contestants' parents are so pushy that their behaviour amounts to child abuse.
Minesh told the show: "My role is to bring out the confidence in Rahul that he is the best in the competition. He'll say 'Maybe'. But the 'maybe' has to become 'Yes I will win'.
Another contestant's mother said she schedules every minute of his time and confiscates his iPad if he answers just one question wrong.
The show is on every night until Saturday, as 20 contestants are whittled down to one winner.
Join our new commenting forum
Join thought-provoking conversations, follow other Independent readers and see their replies