George Osborne cautiously toasts 'improved outlook' for global economy after G7 meeting
The Chancellor also pledged UK action on tax evasion and avoidance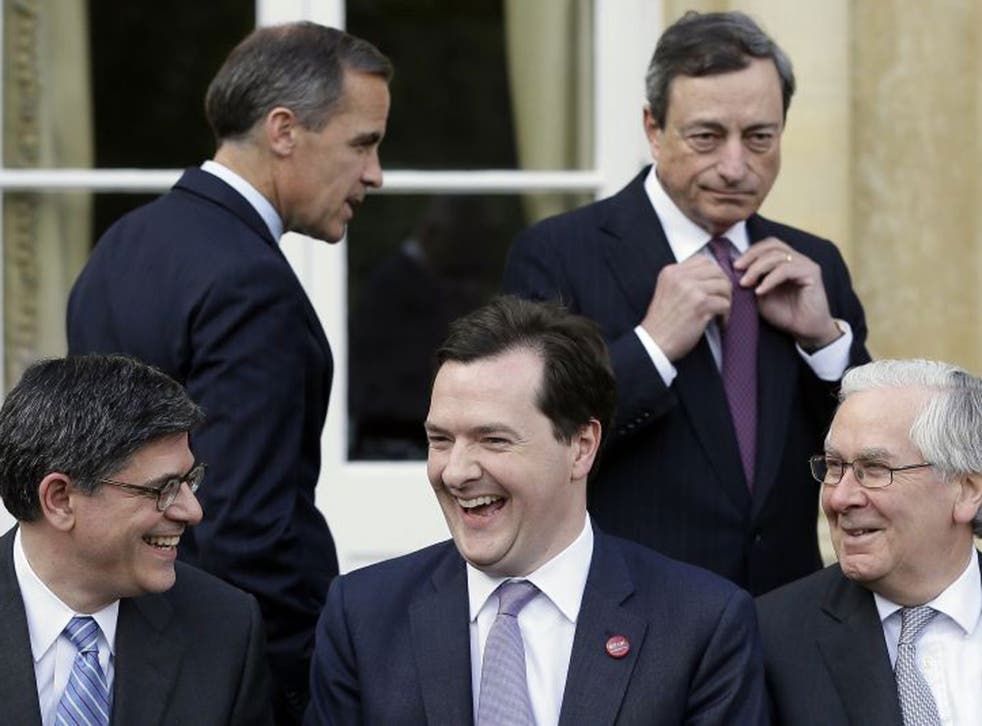 George Osborne closed the meeting of some of the world's richest countries in Buckinghamshire today, claiming an "improved outlook" for the world economy and more agreement between national policymakers than there might appear.
The Chancellor also claimed the G7 talks - between finance ministers from United States, Germany, Japan, the UK, Italy, France and Canada - had been "successful and constructive."
Particular areas of consensus he cited were tackling tax avoidance and ensuring banks are no longer "too big to fail".
He declined to give specific details of the talks, which took place on an informal basis in a country hotel in Aylesbury.
He said he recognised that the larger G20 group - which includes emerging economic powers such as China, India and Brazil - was now the "primary economic forum for setting the global rules of the game," but insisted the smaller club still wielded "major economic firepower," representing around half the global economy between them.
Speaking alongside Bank of England Governor Sir Mervyn King at the close of the two-day gathering, Mr Osborne said: "We have had a successful and constructive meeting.
"We are of course meeting at a time when financial market sentiment has improved and there are signs that this is feeding through to an improved outlook in some of our economies.
"However we all agreed that growth prospects remain uneven and we can't take the recovery for granted."
While there were "still many challenges", he said, "this meeting confirmed that there are more areas of agreement between us on fiscal policy than is commonly assumed."
Among those attending the talks were the managing director of the International Monetary Fund (IMF), Christine Lagarde, and Canada's central banker Mark Carney, who takes over from Sir Mervyn in July.
The IMF, which will deliver its verdict later this month, has already suggested Mr Osborne must be more flexible with his austerity measures.
On tax cheats, Osborne said: "We all agreed on the importance of collective action to tackle tax avoidance and evasion."
"This is a key priority for David Cameron and myself and we are absolutely determined to make progress this year with the British presidencies of both the G7 and the G8.
"It is incredibly important that companies and individuals pay the tax that is due and this is important not just for Britain and for British taxpayers but also for many developing nations as well."
Asked about the future of tax havens such as Jersey or the Cayman Islands, he said he had already been "very tough" in his message to them but wanted to see more action.
"Of course we would like these jurisdictions to do more," he said.
"We want them to commit to some of the existing agreements that are in place on tax information and transparency and we have these initiatives which we are pursuing in the G8, for example around beneficial ownership, which we would also expect all jurisdictions to be able to sign up to.
"Of course you have to respect that many of these territories have important industries and we don't want to unnecessarily damage them.
"But it is necessary to collect tax that is owed and it is necessary to reduce tax avoidance and the crown dependencies and the overseas territories need to play their part in that drive and they need to do more."
Register for free to continue reading
Registration is a free and easy way to support our truly independent journalism
By registering, you will also enjoy limited access to Premium articles, exclusive newsletters, commenting, and virtual events with our leading journalists
Already have an account? sign in
Register for free to continue reading
Registration is a free and easy way to support our truly independent journalism
By registering, you will also enjoy limited access to Premium articles, exclusive newsletters, commenting, and virtual events with our leading journalists
Already have an account? sign in
Join our new commenting forum
Join thought-provoking conversations, follow other Independent readers and see their replies