Guildford Four's Gerry Conlon dies: Man wrongly jailed for 15 years for pub bombing dies aged 60 in Belfast
Family pay tribute to man who 'changed the course of history'
Lizzie Dearden
Saturday 21 June 2014 19:40 Comments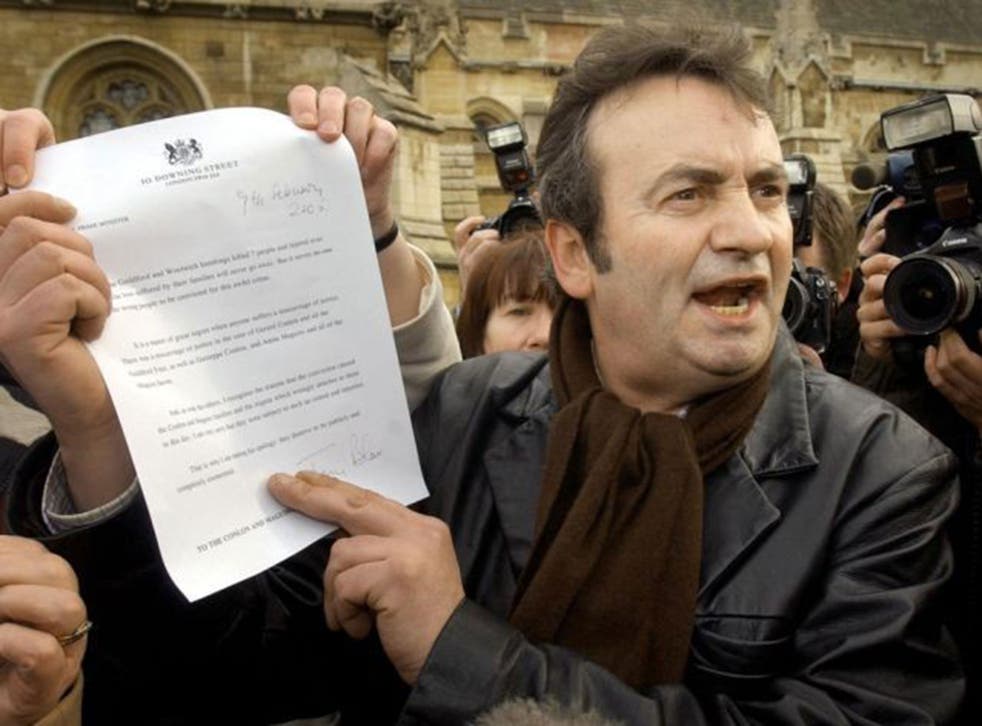 Gerry Conlon, who spent 15 years in prison after being wrongly convicted for the IRA Guildford pub bombings, has died aged 60.
He and other members of the Guildford Four served part of their life sentences for that attack that killed five people and injured 65 more before they were cleared in 1989.
Doubts were raised about the police evidence against Mr Conlon and his co-defendants Paul Hill, Carole Richardson and Paddy Armstrong and an investigation into Surrey Police's handling of the care found serious failings.
It was one of the biggest miscarriages of justice in British history but an inquiry in 2009 found that an establishment cover-up was not to blame.
Emerging from the Court of Appeal a free man in 1989, Mr Conlon said: "I have been in prison for something I did not do. I am totally innocent."
In 1991, sentences for the Maguire Seven, who were arrested because of a family connection to Mr Conlon, were also overturned.
Tony Blair, then the Prime Minister, wrote the 11 people wrongly imprisoned letters of apology in 2005.
Mr Conlon's autobiography, Proved Innocent, told of his battle for justice through the ordeal.
It was adapted for the Oscar-nominated film In the Name of the Father, which starred Daniel Day-Lewis and Emma Thompson.
In later life, he joined a campaign to free the "Craigavon Two" - Brendan McConville and John Paul Wootton – convicted of murdering a police officer in Northern Ireland.
A statement from his family said he died on Saturday morning.
It continued: "He brought life, love, intelligence, wit and strength to our family through its darkest hours.
"He helped us to survive what we were not meant to survive.
"We recognise that what he achieved by fighting for justice for us had a far, far greater importance - it forced the world's closed eyes to be opened to injustice; it forced unimaginable wickedness to be acknowledged; we believe it changed the course of history.
"We thank him for his life and we thank all his many friends for their love."
Additional reporting by PA
Register for free to continue reading
Registration is a free and easy way to support our truly independent journalism
By registering, you will also enjoy limited access to Premium articles, exclusive newsletters, commenting, and virtual events with our leading journalists
Already have an account? sign in
Join our new commenting forum
Join thought-provoking conversations, follow other Independent readers and see their replies