'Gigantic' eagle Rex returns home after flying off 'for a jolly'
Rex, who has an 8ft wingspan, went missing on Sunday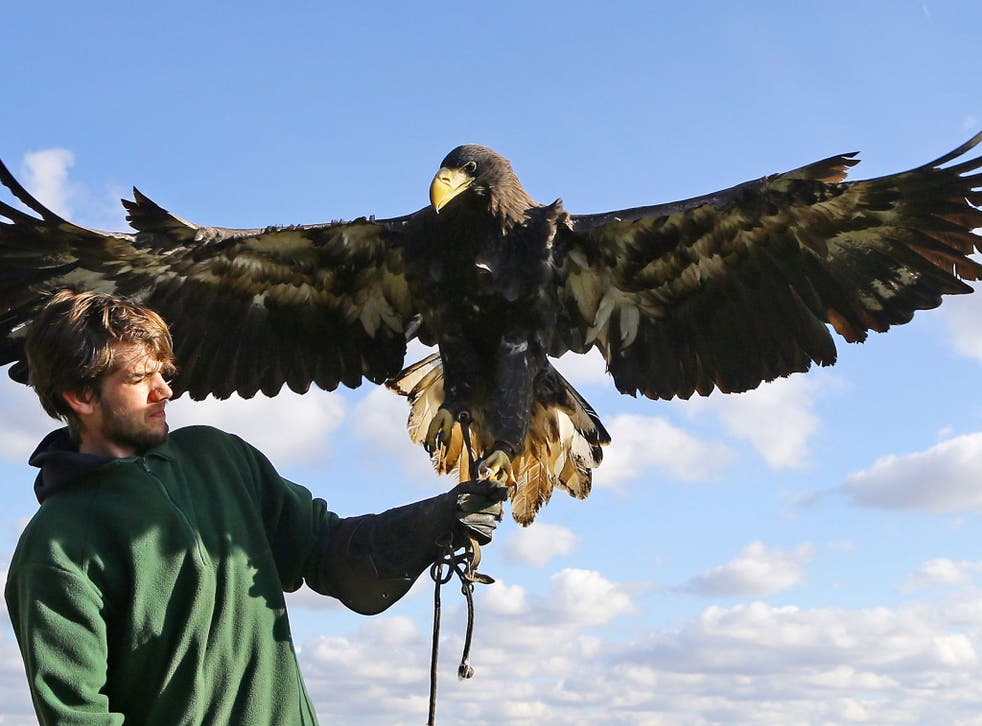 A "gigantic" bird of prey which had been on the loose since the weekend has returned home.
Rex, the Steller's sea eagle, went missing during a flying display at the Eagle Heights Wildlife Foundation (EHWF) in Eynsford, Kent, on Sunday.
It was feared the eagle could carry off small animals such as a Shih Tzu, a miniature poodle or an Italian Greyhound, as it can carry prey weighing up to 13lbs.
EHWF's Nicky Hopkins, who described the bird as "gigantic" with an 8ft (2.4m) wingspan, said: "Rex has come back all on his own.
"He was sighted and photographed in flight in Tonbridge today, and then landed at 1pm in Eagle Heights flying arena all by himself.
"We are so happy he is back safe and well, and thank you for all your help."
Rex - who is about 18 months old, fully grown, and has a bright yellow beak - was last seen over Lullingstone golf course near Eynsford.
It is believed the transmitter used to trace him had failed and was not working.
Steller's sea eagles can weigh 13lb to 20lb (6kg to 9kg) and are considered "the most powerful and aggressive of its cousins, the bald eagle and the white-tailed sea eagle", according to National Geographic.
Ms Hopkins said of Rex's disappearance: "He was in a flying display and just went for a jolly.
"Sometimes they might just go off for 10 minutes but they come back.
"He is not dangerous."
He would attack only if something attacks him, such as a fox, she said.
Press Association
Join our new commenting forum
Join thought-provoking conversations, follow other Independent readers and see their replies