Sturgeon condemns 'utterly shameful' violence after rival protesters clash in Glasgow
Those caught up in Glasgow altercations 'should really take a long hard look at themselves', first minister says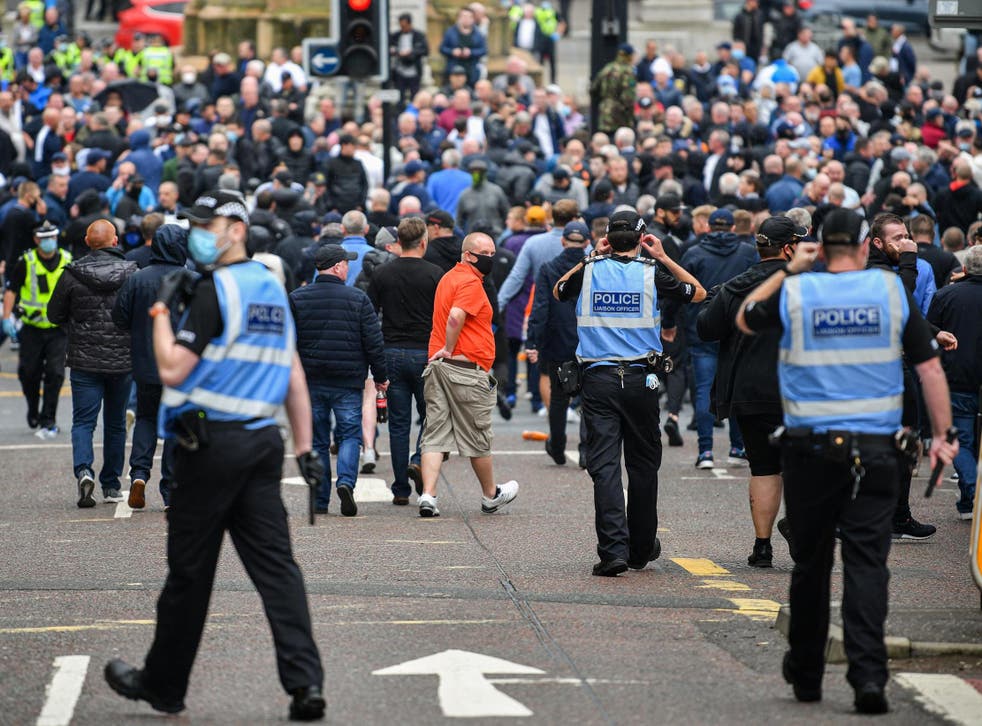 Scotland's first minister Nicola Sturgeon has decried violent protests as "utterly shameful" after police in Glasgow worked to avert a clash between two rival groups in the city's George Square.
Hundreds of people affiliated with loyalist organisations arrived at the square under the statue of Metropolitan Police founder Robert Peel after protestors called for the monument's removal.
Despite the original protest - organised by the Glasgow Youth Art Collective - over the statue being called off, police were forced to put themselves between those who had gathered in the square and a small group with unknown affiliations as the two sides lobbed projectiles at one another.
Officers have said the second group, who were forced back up North Hanover Street and away from the square by officers, are not believed to be connected to Black Lives Matter protestors who have demonstrated across the UK since the death of black American George Floyd in Minneapolis.
It comes amid a weekend of protest in the UK which saw more than 100 people arrested in London after far-right activists clashed with police outside Westminster.
UK news in pictures

Show all 50
The Scottish first minister, who welcomed the cancelling of planned anti-racism protests in the city, denounced those involved in violent altercations.
Ms Sturgeon said: "Violent protest is never acceptable. I say to anyone that has found themselves on the streets of Glasgow in an altercation with other groups or with the police, that they should really take a long hard look at themselves.
"That is not acceptable behaviour at any time, but at this time of crisis that the country faces, I think it's particularly shameful behaviour."
She added: "I am a fundamental believer in the importance in a democracy of peaceful protest. I have taken part in many peaceful protests in my life and it is a fundamental right in any democracy.
"That said right now people in my view should not be taking part in mass gatherings because it is not safe, it puts health at risk and potentially puts life at risk given the threat we face from the coronavirus".
Police Scotland said both factions contained members of "known football risk groups" and that no arrests had been made.
Chief Superintendent Alan Murray said: "A sizeable number of individuals identified as being from various groups gathered in George Square this morning with a stated intention of protecting statues.
"Throughout the day, police officers were required to intervene due to the presence of opposing groups to maintain order and public safety. Both factions included known football risk groups.
Additional reporting by PA.
Register for free to continue reading
Registration is a free and easy way to support our truly independent journalism
By registering, you will also enjoy limited access to Premium articles, exclusive newsletters, commenting, and virtual events with our leading journalists
Already have an account? sign in
Register for free to continue reading
Registration is a free and easy way to support our truly independent journalism
By registering, you will also enjoy limited access to Premium articles, exclusive newsletters, commenting, and virtual events with our leading journalists
Already have an account? sign in
Join our new commenting forum
Join thought-provoking conversations, follow other Independent readers and see their replies