Glasgow taxi 'bursts into flames' at city airport
The fire was started by an electrical fault
Alexandra Sims
Sunday 14 February 2016 15:14 Comments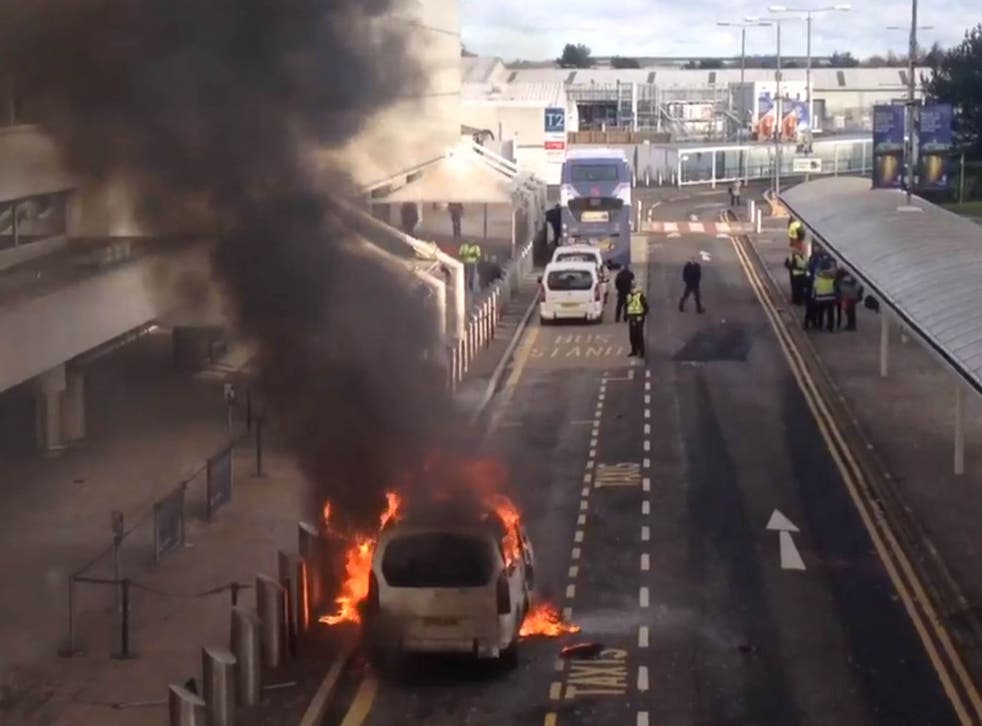 A taxi has exploded outside Glasgow airport with flames and plumes of black smoke cascading over nearby buildings.
Footage taken by eye witnesses show the white taxi ablaze on a road outside the airport.
A spokesperson from Glasgow airport confirmed the fire was started by an electrical fault in the vehicle.
No one is believed to have been injured during the incident.
Scottish Fire and Rescue service are believed to have attended the scene around an hour ago and have since put out the blaze.
The incident has had "no impact on the airport whatsoever," the spokesman said.
No evacuations were made, there have been no road closures and people are still free to come and go from the airport.
No flights are delayed and airport operations continue to run as normal.
Greater Glasgow Police Division have issued the following statement: "At around 1355 hours on Sunday 14 February, police and emergency services responded to an electrical fire within a vehicle outside the main terminal building of Glasgow Airport.
"The fire was extinguished and the vehicle will be recovered in due course. The airport is operating as normal."
Register for free to continue reading
Registration is a free and easy way to support our truly independent journalism
By registering, you will also enjoy limited access to Premium articles, exclusive newsletters, commenting, and virtual events with our leading journalists
Already have an account? sign in
Join our new commenting forum
Join thought-provoking conversations, follow other Independent readers and see their replies