Hot spot of spirituality residents call in private security officers to fight surge in crime and violence
Householders in Glastonbury consider paying for extra street patrols as antisocial behaviour spirals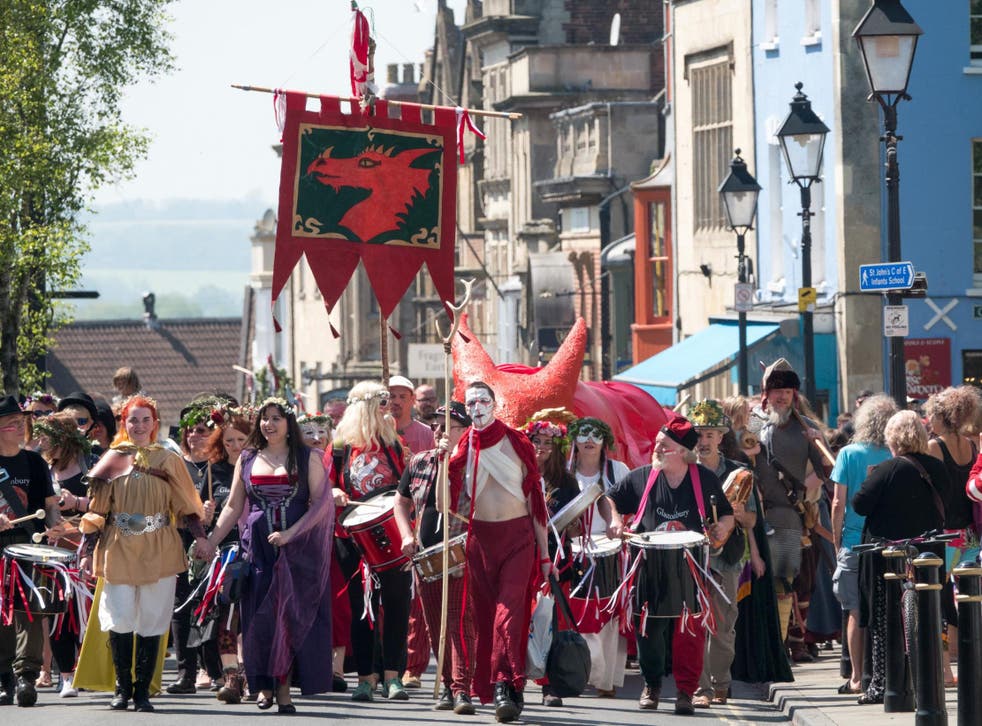 Residents of a town famed for its peace-loving and spiritual-lifestyle visitors are considering hiring a private security company to tackle an upsurge in crime and violence.
Householders in Glastonbury, Somerset, say they are fed up after the number of crimes reported more than doubled in the past year and the number of reports of antisocial behaviour tripled between May and July.
Many locals say they now avoid walking along the main street in the afternoons because of fighting and "obnoxious" behaviour, which includes drug dealing and drunks relieving themselves in the street.
To avoid the troublemakers some visitors have taken to following different routes, avoiding the main road, to Glastonbury Tor, the hill linked with ancient folklore, particularly King Arthur.
A group of shopkeepers and residents is in talks with a security company about launching patrols.
Atlas UK Security Services has been employed to do so in nearby Martock for the past five months to combat "threats of violence, late night noise and loud music".
Residents have reported a reduction in antisocial behaviour and the parish council has said the company's patrols, which cost about £1,000 for two nightly patrols on four nights a week, have made "a marked difference".
The hundreds of thousands of annual visitors to Glastonbury keep its new-age-style shops, cafes, B&Bs, crystal vendors and alternative therapists in business.
Liz Williams, a science-fiction writer and owner of an occult bookshop in the town, said: "We have to deal with drug-dealers, with people drunk in the street, with fights, and people are constantly asked for money.
"The other day a naked man was urinating in the jeweller's doorway. The police came and they got thumped. We need changes."
Under the plan, Atlas employees would also gather evidence and hand over offenders to police. They wear uniforms including "tactical vests" equipped with handcuffs and body-worn cameras.
At a public meeting last week organised by the town council to thrash out the issues, residents reported stabbings and beatings, and claimed some of the troublemakers armed themselves with needles.
Police chiefs said their plans included extra patrols on horseback, "action days" and recruiting volunteers to help staff the CCTV control room.
Officers had previously said the problems in Glastonbury – also famous for its annual music festival - did not warrant extra force resources.
One resident, Paul Lund, said: "We have a lot of people who are very scared. Tourists are seeing what is happening. The traders are complaining, and residents are angry and upset. A town can decline through lack of maintenance and control measures."
Stonehenge: Origins of those who built world-famous monument revealed

Show all 6
Insp Mark Nicholson said the town drew people who led a "chaotic lifestyle" and antisocial behaviour in the high street had been "particularly bad" this year. He said: "The vast majority of my officers' time is spent dealing with the situation up there."
Assistant Chief Constable Steve Cullen, who is in charge of frontline policing in Avon and Somerset, said "Dealing with antisocial behaviour is a core responsibility of the police service," adding: "If a local community choose to pay for additional eyes and ears, clearly that's their choice."
Twitter users blamed the lack of police resources for the town's resorting to a private security firm.
Register for free to continue reading
Registration is a free and easy way to support our truly independent journalism
By registering, you will also enjoy limited access to Premium articles, exclusive newsletters, commenting, and virtual events with our leading journalists
Already have an account? sign in
Register for free to continue reading
Registration is a free and easy way to support our truly independent journalism
By registering, you will also enjoy limited access to Premium articles, exclusive newsletters, commenting, and virtual events with our leading journalists
Already have an account? sign in