20-year-old goldfish makes full recovery after family pay £200 for life-saving surgery
Tumour cut out using miniature pair of scissors and forceps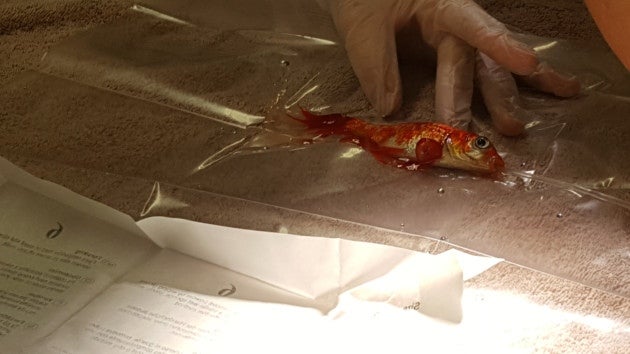 A 20-year-old goldfish has made a full recovery after a family paid £200 for life-saving surgery on a tumour.
The fish, Bob, had been struggling to swim in his tank for a number of weeks after developing the lump on its fin, so the unnamed family took him to their local vet.
Dr Faye Bethell led the 30-minute operation at Toll Barn Veterinary Centre in Norwich. The operation was so successful he returned home later the same day, according to the Eastern Daily Press
The veterinarian said: "The option was to remove the lump or put him to sleep and now he is doing brilliantly. They (the family) were really, really pleased because the goldfish is older than their children and considered part of the family."
To keep Bob alive during the operation, Dr Bethell fed anaesthetic water into its mouth through a tube and used a tiny monitor to measure its heartbeat.
She then cut out the tumour using a miniature pair of scissors and forceps.
"It's pretty complicated because everything is so small and they don't have a massive volume of blood," she added.
The average lifespan of a goldfish kept in a tank is five to 10 years, with Dr Bethell confirming Bob was the oldest one she had ever operated on.
Join our commenting forum
Join thought-provoking conversations, follow other Independent readers and see their replies