Junior doctors' contract: Government rejects proposal of 'five-day truce' with BMA
'We need both sides to put aside their anger, pride and personal emotions to help end what has become a classic Mexican standoff,' says Prof Simon Wessely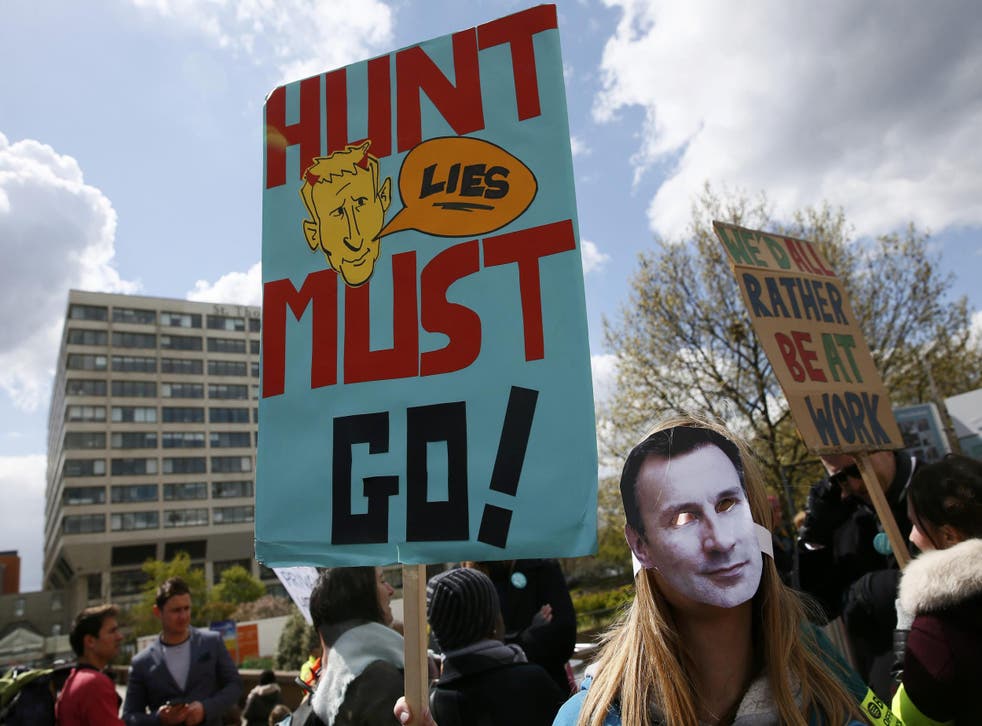 The Department of Health has rejected a proposal to suspend the imposition of seven-day contracts for five days as part of a 'truce' with striking junior doctors.
As part of the same proposal by the Academy of Medical Royal Colleges, the British Medical Association (BMA) were asked to suspend any new threats of strikes for the same period.
The academy, made up of 22 medical colleges and facilities, were hoping such a truce - described as a "five-day pause without ifs, buts and maybes", would allow "genuine dialogue" and a "way out of this impasse".
The chair of the academy, Prof Dame Sue Bailey said 22 medical royal colleges and faculties were "unanimously calling" on the secretary of state for health, Jeremy Hunt, and the chair of the BMA's junior doctors' committee, Dr Johann Malawana, to "take a deep breath, dial down the rhetoric and get back to the table for talk facilitated, perhaps, by a senior independent figure".
The BMA's junior doctors' committee has expressed willingness to suspend industrial action if the Department of Health suspend the imposition of the contract.
The Government has said it is too late to change the process of bringing in the contracts but that the "door remains open" to discuss contract implementation and other non-contractual issues.
Prof Simon Wessely, the president of the Royal College of Psychiatrists, said: "We need both sides to put aside their anger, pride and personal emotions to help end what has become a classic Mexican standoff.
"You don't have to be Henry Kissinger to realise that we are in a desperate impasse.
"One side is saying it won't talk unless the other removes the threat to impose the contract and the other says it won't lift that threat. Both sides should drop their preconditions immediately and start talking because it's those preconditions that preclude any form of negotiation."
In pictures: Junior doctors first all-out strike

Show all 10
A spokesman for the Department of Health said: "The BMA directly caused the introduction of new contracts after we agreed to suspend imposition last November, because they went back on their word to talk about Saturday pay.
"It is now too late to change the process of bringing in contracts which is well underway throughout the country.
"However, the door remains open to talk about implementation and many other non-contractual issues of concern to junior doctors, so if this intervention helps those talks to go ahead, we welcome that."
Dr Johann Malawana, BMA's junior doctor committee chairman, said: "The government itself has admitted that there are serious, outstanding issues with the proposed contract.
"As such, the BMA would be prepared to agree to this proposal and temporarily suspend industrial action so that talks can resume with a mutually agreed facilitator, if the government is also prepared to suspend the threat of imposition."
Join our new commenting forum
Join thought-provoking conversations, follow other Independent readers and see their replies