Grandmother who lived with partner until his death wins High Court battle after his estranged wife inherited half their home
Joy Williams lived with dentist Norman Martin for 18 years after he split with his wife, but he never divorced or updated his will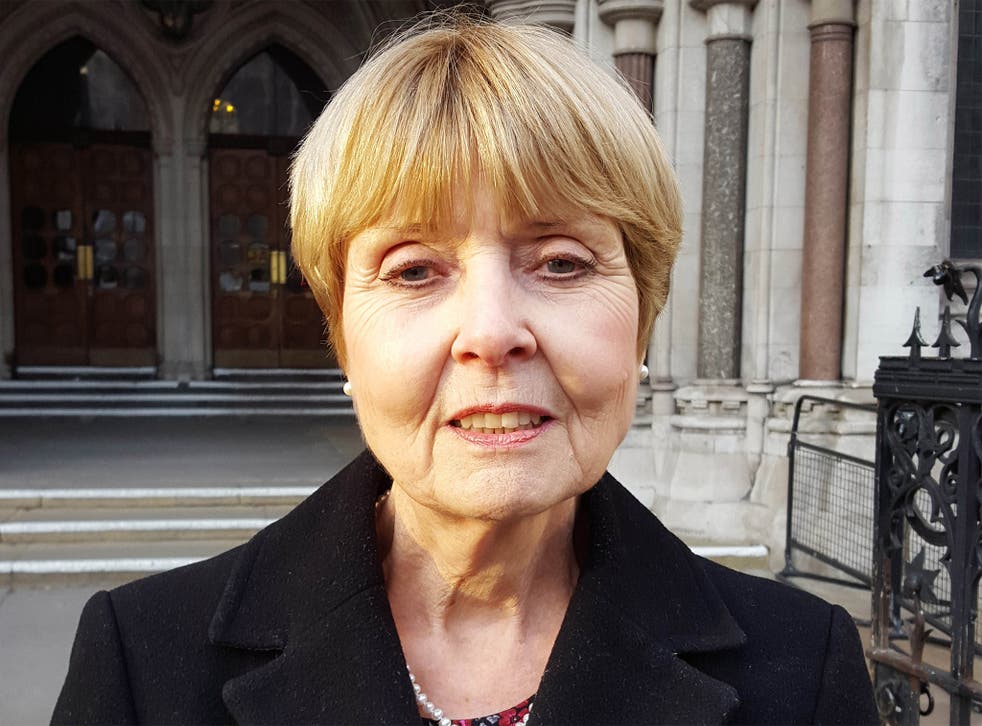 A grandmother who lived with her partner for almost two decades until his death has won a High Court battle after his estranged wife inherited half their home.
Joy Williams, 69, lived with dentist Norman Martin for 18 years after he split with his wife, Maureen, with whom he had twin daughters.
But Mr Martin never divorced nor did he update his will, so when he died of a heart attack four years ago, his half share of the £320,000 three bedroom bungalow in Dorchester, Dorset, went to Mrs Martin – despite leaving her in 1994 to start living with Ms Williams.
She had lived with Mr Martin as "tenants in common", which meant the property did not automatically pass on to her and faced losing the home as she could not have afforded to buy out Mrs Martin.
A judge at the Central London County Court was urged at a recent hearing to award Mr Martin's share to Ms Williams, who he said was living "around subsistence level".
Mrs Martin contested the case but in a ruling yesterday/on Tuesday Judge Nigel Gerald ruled in favour of Ms Williams. He said her award for "reasonable financial provision" against her partner's estate, which she made under inheritance law, was "a fair and reasonable result".
To be successful, Ms Williams had to establish that for two years up to 25 June 2012, when Mr Martin died aged 69, she had lived in the same household as him as his wife, or that immediately before his death she was being maintained either "wholly or partly" by him.
Mrs Martin, 73, contested the claim saying that she had at all times remained his wife and rejected any suggestion that she and her husband were "estranged".
UK news in pictures

Show all 50
She also denied that he was maintaining Ms Williams in the manner required under the relevant law.
However, Judge Gerald said it was "quite plain" that Ms Williams and Mr Martin had in "all material respects" lived in the same household as husband and wife in a committed and loving relationship "in which they expected to spend the rest of their lives".
He said the reason Mr Martin did not divorce his wife was "purely financial" and that Mrs Martin and her daughters were "well provided for…The marriage therefore continued in name only".
After the ruling, Ms Williams said: "I am relieved and delighted that this case is finally over because it has taken a huge toll on me and my family.
"All I wanted was for the court to recognise that I needed to have his share of the housethat was our home to provide me with some security for my future and this judgment has done just that. I believe that that is what Norman would have wanted for me."
Legal experts said that the case highlighted the need for co-habiting laws to be reformed and warned that the widely held belief in the idea of a common law husband or wife was currently an "urban myth".
Paula Myers, from specialist will dispute lawyers Irwin Mitchell, who represented Ms Williams, said: "There is no such thing as a common law husband or wife and couples who live together do not automatically have the same rights as a married couple or those in a civil partnership," she said.
"Unmarried couples who live together should have co-habitation agreements in place outlining who owns property and how bills are divided. People should also ensure that their wills are up to date and reflect their wishes, particularly if their circumstances or relationships change."
Mrs Martin, who was not in court, was ordered to pay £100,000 costs within 42 days, a sum her counsel described as "eye-watering" and one she did not have.
Mrs Martin's daughter, Louise, said her mother has been "a loyal faithful wife" and that she intended to appeal.
Register for free to continue reading
Registration is a free and easy way to support our truly independent journalism
By registering, you will also enjoy limited access to Premium articles, exclusive newsletters, commenting, and virtual events with our leading journalists
Already have an account? sign in
Register for free to continue reading
Registration is a free and easy way to support our truly independent journalism
By registering, you will also enjoy limited access to Premium articles, exclusive newsletters, commenting, and virtual events with our leading journalists
Already have an account? sign in
Join our new commenting forum
Join thought-provoking conversations, follow other Independent readers and see their replies