Grangemouth oil refinery plant closure threatens North Sea production
Up to 1,400 jobs at risk as petrochemical operation is shut down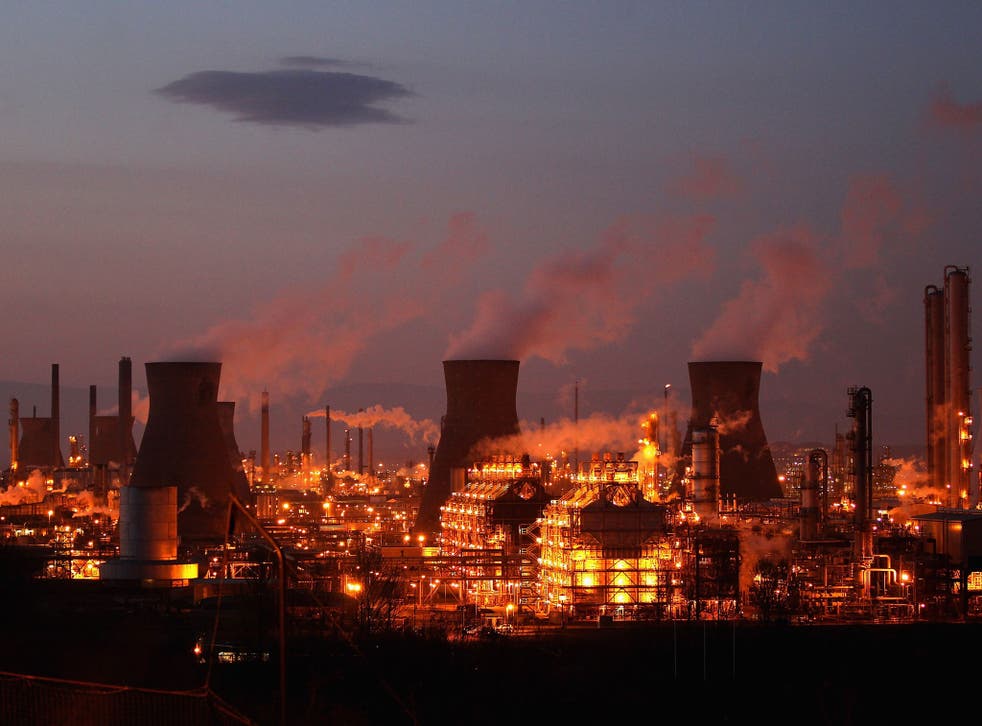 North Sea oil production has come under threat after the owners of the Grangemouth refinery and petrochemical plant in Scotland shut part of the site in a move that threatens all 1,400 of its employees.
The decision to close the petrochemical plant raised fears that the refinery next door would also shut down permanently, potentially dealing a significant blow to the North Sea's oldest and biggest oil field – the BP-operated Forties field 110 miles east of Aberdeen.
The oil produced by the field is a constituent of the benchmark Brent Crude price and comes ashore through the Forties Pipeline System, which delivers about a third of the North Sea's total production directly into the Grangemouth site.
Grangemouth supplies steam and power to BP's Kinneil terminal, which processes oil from the Forties field. About 70 North Sea platforms were forced to shut down or reduce production in 2008 when a strike at Grangemouth closed the terminal and pushed world oil prices higher.
Scotland's First Minister Alex Salmond, Prime Minister David Cameron and Ed Davey, the Environment Secretary, said they would do what they could to find a buyer for the business.
The petrochemical plant employs about 800 people and most, if not all, are expected to lose their jobs unless an emergency buyer can be found.
"This outcome matches our worst fears... In preparing for this extremely difficult position we have been pursuing the contingency of potential buyers – we will now be actively exploring this as the main option as a matter of urgency," said Mr Salmond.
Jim Ratcliffe, the shy billionaire chief executive and main shareholder in Grangemouth, said at the weekend that the closure of the petrochemical plant – which produces chemicals for everyday products such as plastic bags and packaging – would "likely lead to the demise of the refinery".
This is because the refinery – already struggling in the face of rising competition from mega-refineries in Asia and the Middle East – was being partially propped up by sharing production costs with the petrochemicals business.
Edmund King, the president of the AA, said he was concerned at the situation, arguing that in the longer term the closure of the refinery could contribute to a rise in petrol prices, with five or six European refineries also expected to close over the next two years.
The decision to close the petrochemicals plant sent shockwaves through the company and the town of Grangemouth. One worker, who did not want to be named, said: "I feel sick. It's gone. There's no livelihoods left and we don't even know if we're going to get redundancy out of it. I hope they're happy with themselves."
He added: "There are folk in there have a husband and wife work here. That's it. Folk will be lucky if they have a house at Christmas."
The deal also comes as a blow to the Scottish economy, as Grangemouth accounts for an estimated 8 per cent of the country's manufacturing industry. This, in turn, could have a significant bearing on whether Scotland votes to become independent next year, as the referendum is likely to hinge on the strength of its economy.
The eventual decision by the chemicals company Ineos to close the Grangemouth petrochemical plant stems from a long-running dispute over the treatment of a union official that escalated into the threat of strike action.
This threat was dropped, but Ineos closed the plant and issued an offer of revised terms and conditions in a "survival plan".
About half of the 1,370-strong workforce rejected the proposed changes to contracts, which included a pay freeze for 2014-16, removal of a bonus up to 2016 and the end of the final-salary pension scheme.
Ineos closed the refinery last week and said it is now working out whether to reopen it. "This will be primarily dependent on the removal of the threat of further industrial action," a spokesman said.
Decision makers: The men who closed plant
Calum MacLean Grangemouth Petrochemicals chairman
Mr MacLean got some bad press when a staff member claimed that he had been "smiling" when he announced to them that the petrochemicals plant would be closing – an outcome many suspect management wanted.
Mr MacLean has denied the allegation, but the 49-year-old remains far from popular after a bout of hardball with employees.
A chemistry graduate with a diploma in business studies, Mr MacLean is a key member of INEOS worldwide, an international conglomerate with operations in 11 countries. He has played a lead role in managing and integrating the businesses INEOS has bought since then.
He said yesterday: "This is a hugely sad day for everyone at Grangemouth. We have tried our hardest to convince employees of the need for change but unsuccessfully. There was only ever going to be one outcome to this story if nothing changed and we continued to lose money."
Jim Ratcliffe Chief executive of Ineos, owner of Grangemouth
He is known in Scotland as JR, a reference to the oil baron JR Ewing from the television series Dallas. Mr Ratcliffe, 61, trained as a chemical engineer, before becoming an accountant and entrepreneur. According to the Sunday Times Rich List he had a fortune of £3.3bn in 2007, although this had tumbled to about £150m by 2010 after the financial crisis decimated demand for the kind of products containing oil and plastics, varying from cars to television sets. His wealth has since risen and is thought to be about £1bn.
A grammar school boy from Beverley, in Yorkshire, Mr Ratcliffe has built and almost lost one of the world's largest chemical empires in 15 years. He bought 22 unloved chemicals businesses from companies such as BP, ICI and BASF – before coming close to losing it all after breaching his banking covenants in the recession.
Join our new commenting forum
Join thought-provoking conversations, follow other Independent readers and see their replies