Grenfell fire chief U-turns on comments she 'wouldn't have done anything differently'
Survivors have called for fire chiefs to be prosecuted for sticking to 'stay put' advice after report concluded it cost lives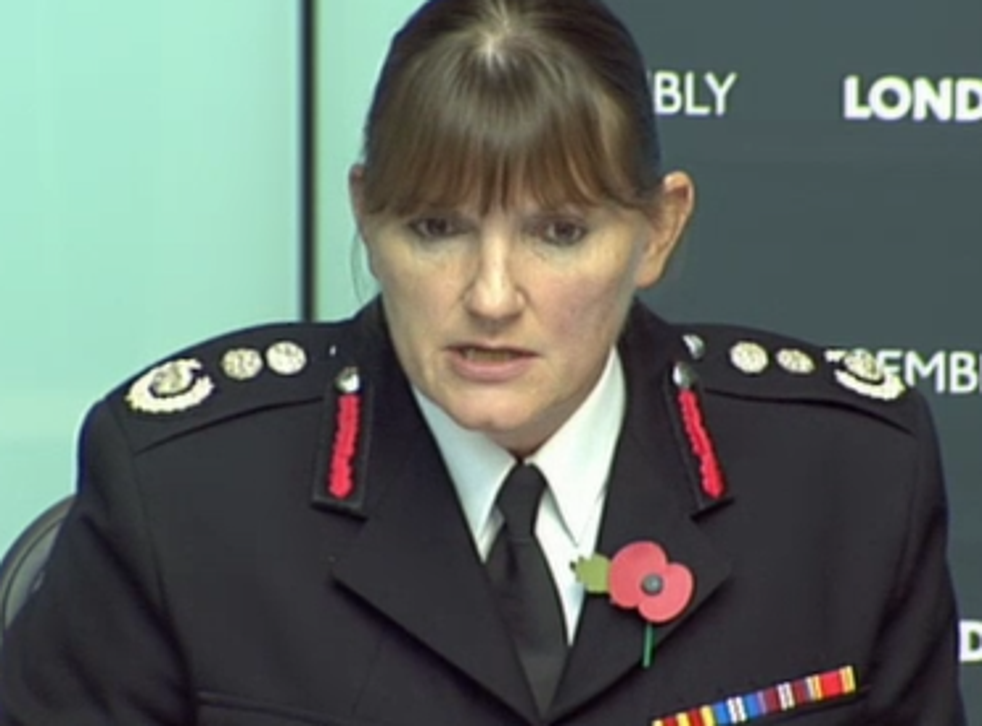 The head of the London Fire Brigade (LFB) has promised "a very different" response to any future tower block fires in the wake of the Grenfell tragedy – a marked contrast to her controversial previous defence of the brigade's actions on the night.
Dany Cotton said after the first report by the inquiry into the blaze, which concluded people's lives could have been saved had the LFB adapted its tactics to the fire's spread, more fire engines and firefighters would be sent into any such emergency in future.
Last year, she told the inquiry she would not have done anything differently on the night of the fire in June 2017 – prompting a furious reaction from those who lost loved ones.
Speaking before the London Assembly on Tuesday, Ms Cotton said: "Clearly, knowing what we know now about Grenfell Tower and similar buildings with ACM cladding, our response would be very different.
"If we are called to a high-rise fire now, we've increased the number of engines we'd send. If there are several calls to the same building and if the caller state that the outside of the building is on fire, we will send an initial attendance of 10 engines plus officers and ensure we have large numbers of staff there at a very early stage."
The Commissioner said specialist equipment would also be deployed to ensure "better communication", such as drones with loudhailers used to alert residents to the fire.
Last week, phase one of the Grenfell inquiry concluded that fewer people may have died in the fire if the LFB had not stuck so rigidly to its "stay put" policy and evacuated the block instead.
Sir Martin Moore-Bick said the brigade had failed to educate its firefighters in the dangers associated with combustible cladding systems and also failed to visit the tower following its refurbishment to ensure the risk assessment was accurate and up-to-date.
In the wake of these findings, survivors and relatives of the 72 people who died in the fire called for Ms Cotton and other senior officers in the LFB to be prosecuted for the brigade's response on the night, telling a press conference last week that they felt "let down" by the advice they were given by firefighters.
It comes after Jacob Rees-Mogg sparked anger by saying the victims of the Grenfell Tower disaster should have used "common sense" and fled the building.
Register for free to continue reading
Registration is a free and easy way to support our truly independent journalism
By registering, you will also enjoy limited access to Premium articles, exclusive newsletters, commenting, and virtual events with our leading journalists
Already have an account? sign in
Register for free to continue reading
Registration is a free and easy way to support our truly independent journalism
By registering, you will also enjoy limited access to Premium articles, exclusive newsletters, commenting, and virtual events with our leading journalists
Already have an account? sign in
Join our new commenting forum
Join thought-provoking conversations, follow other Independent readers and see their replies