Grenfell fire: Tens of thousands of people could be living in lethal tower blocks, tests reveal
Fears grow residents could be waiting weeks for assurances after at least 11 council-owned high rises found to have similar cladding to north Kensington building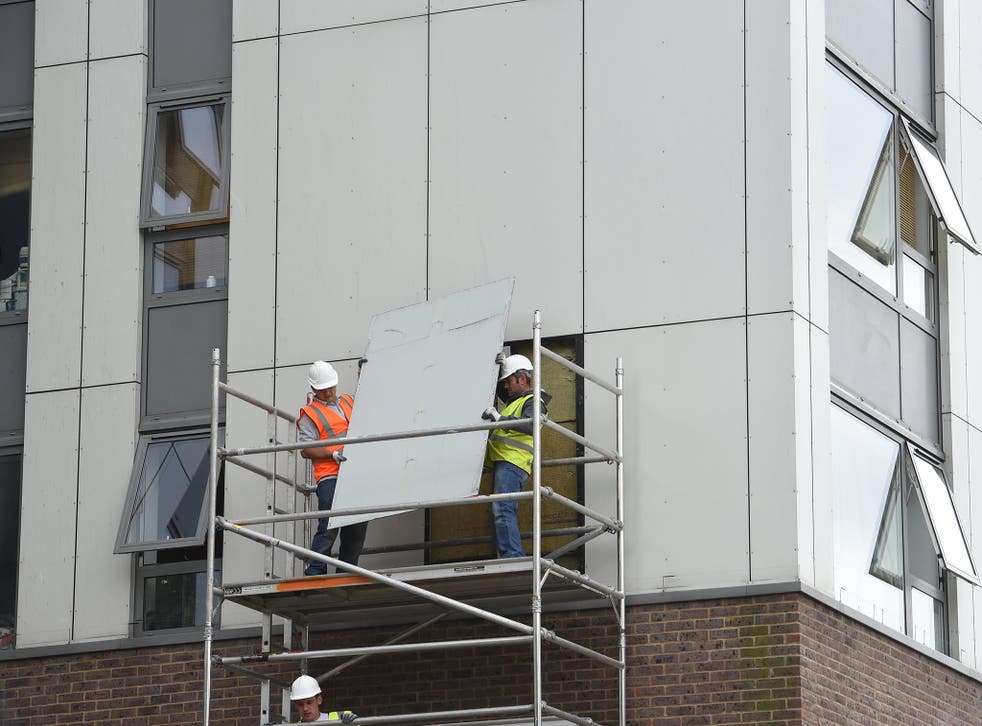 Tens of thousands of people could be living in potentially lethal tower blocks as it emerged at least 11 council-owned high rises are fitted with similar combustible cladding to that used on Grenfell Tower.
Tests revealed blocks in eight areas across the UK were fitted with flammable panels after a "small number" of samples were analysed, the Department for Communities and Local Government (DCLG) said.
A further nine blocks in Salford, that were recently refurbished, have similar cladding, a city council spokesperson confirmed, but have yet to be checked by DCLG.
A total of 600 council blocks have been fitted with cladding that needs to undergo testing to determine if it is safe, the Government confirmed yesterday, with residents being forced to wait to find out if their homes are safe.
Theresa May announced urgent testing would be carried out to see how many buildings could be at risk following the devastating blaze in north Kensington that killed at least 79 people.
She said: "We cannot and will not ask people to live in unsafe homes" and also pledged to rehouse any tenants that are found to be living in unsafe buildings.
But the comments caused widespread confusion after it emerged some local authorities had disregarded the government recommendations.
In Pictures: Grenfell Tower after the fire

Show all 51
In Camden, five buildings on the Chalcots Estate were fitted with aluminium panels with a polyethylene core that "were not to the standard" ordered by the council.
The main contractor on the renovation of the five blocks was Rydon, the same company that worked on Grenfell Tower, according to the council's and its own website.
Rydon said last week its work on Grenfell Tower "met all required building regulations – as well as fire regulation and health and safety standards".
Camden Council leader Georgia Gould announced panelling from the buildings would be immediately removed after testing found they were combustible, but none of the estate's residents will be rehoused in the meantime.
Ms Gould said the council will instead carry out 24/7 safety patrols on the estate's corridors and enhanced safety checks.
A spokesperson for DCLG said it was up to the local authority to "do what is right in their area" and said it would offer support to the council.
But Camden Councillor Sian Berry said residents were "very, very anxious" and is calling on the council to rehouse those who want extra guarantees.
"Some residents don't want to move. Some want a fire engine to be permanently based on the estate," she said. "The residents want reassurance but no matter what you do, some will not feel comfortable living there."
Bob O'Toole, chairman of Chalcots Estate's residents association, said tenants are unable to sleep at night for fear their blocks will go up in flames.
"A lot of them can't sleep at night time, they've got kids, we've got a lot of vulnerable people here. Not a lot of people whose English is their first language," he said.
Ms Berry said 13 blocks in the Borough were being looked at by the council, and that private blocks would also be considered in due course.
The Government has also encouraged private landlords to send in samples for testing but they are under no obligation to do so, raising concerns for those renting in the private sector.
Ms Berry said: "I think good private landlords have got to step up and do that as well, everyone should be doing this."
It was unclear whether the same rigorous testing would also apply to other high-rise buildings outside of the housing sector. The Independent contacted the Cabinet office to ask whether hospitals, schools and other publicly-owned high-rise buildings would also be tested but did not receive a response.
Three tower blocks in Plymouth were also found to have combustible cladding, the DCLG confirmed. Social housing landlord Plymouth Community Homes (PCH) also pledged to introduce a 24/7 patrol of the high-rises in Devonport but stopped short of offering to rehouse residents.
It comes after the Government asked local authorities to identify if any panels used in new or refurbished social housing had been made of Aluminium Composite Material (ACM). Councils were told to provide the Government with details of the cladding used on high-rises by Monday.
"There has been much public concern and comment about potential flaws in the cladding that was on Grenfell Tower. While the exact reasons for the speed of the spread of fire have yet to be determined, we have concluded that there are additional tests that can be undertaken with regard to the cladding," the letter sent to local authorities on Sunday read.
The Government said teams would be working around the clock and over the weekend to test any cladding sent in by local authorities or private landlords. The Building Research Establishment, which is carrying out the testing, has the capacity to analyse 100 samples a day, with results being received within minutes.
PM calls Grenfell Tower an 'unimaginable tragedy'
But fears were being raised that residents may have to wait weeks for reassurances. The Government could not confirm how many samples had been received so far, nor how long it would take for all the samples to be tested.
It comes after a block of flats in Tottenham was also found to have similar cladding to that used on Grenfell Tower.
Increased fire safety checks will be implemented at Rivers Apartments, a private development, according to Newlon Housing Trust that manages the flats.
Tottenham MP David Lammy said: "I have spoken to the leadership of Newlon and made it clear that this cladding must be replaced. Newlon need to make sure that my constituents are safe in their homes and if this involves decanting them whilst refurbishment takes place, Newlon must foot the bill for this.
"I have received assurances that no other tower blocks in Tottenham have this cladding, and the council leadership will be speaking to tower block residents at a public meeting I have organised on Monday".
DCLG said the 11 tower blocks in eight areas would be identified publicly once landlords have informed tenants about the failed tests and the "next steps". Councils have no obligation to inform tenants that a building has flammable cladding until the DCLG confirms the result of tests.
A number 10 spokesperson said failing this test did not necessarily mean that buildings would be declared unsafe.
"It will be subject to further testing that is undertaken by the fire services to do that and if that is the case then we will be obviously working with local authorities and the landlords to make sure that nobody stays in a building that's proved to be unsafe," they said.
Questions continue to be raised over the role of flammable panelling in last week's fire at Grenfell Tower.
Combustible cladding is suspected to have aided the rapid and "unprecedented" spread of the blaze, trapping dozens of residents inside.
Sam Webb, an architect who investigated 2009's deadly Lakanal House fire, said similar aluminium composite material (ACM) cladding was found to be "flammable" elsewhere, being linked to fires in Australia, Russia and the United Arab Emirates.
A coroner's inquest into the previous disaster caused the All-Party Parliamentary Fire Safety and Rescue Group to call for a nationwide review of regulation but successive Conservative ministers have failed to launch the initiative.
Experts also warned that a gap between the cladding and original building beneath could cause a "chimney effect" that creates a rapid airflow and draws flames upwards.
Ms May promised to rehouse survivors of the fire within three weeks and said 164 suitable properties had been identified.
"In the longer term, everyone whose home was destroyed will be guaranteed a new home on the same terms as the one they lost," she said.
The Independent has contacted Rydon for comment.
Join our new commenting forum
Join thought-provoking conversations, follow other Independent readers and see their replies