Grenfell Tower fire: Bonfire night could retraumatise survivors, warn authorities
More than 360 adults and children in the borough are currently undergoing treatment for post-traumatic stress disorder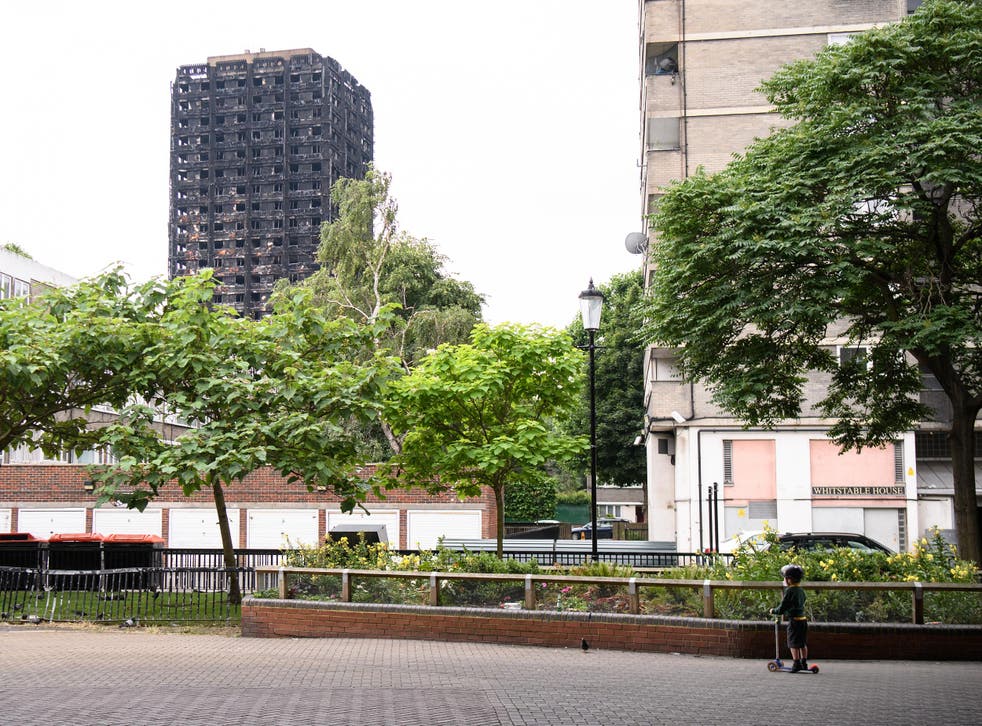 Bonfire night displays in Kensington could trigger traumatic memories for those psychologically scarred by the Grenfell Tower fire, authorities have warned.
Kensington and Chelsea Council has informed local schools that the 5 November event could pose an "emotional risk" to students, just under five months after the deadly blaze that killed 80 in the borough.
But the council will allow the annual display at the Kensington Roof Gardens to go ahead, just yards away from where many survivors of the blaze are still staying in hotels.
Displaced families will be warned about the showcase and extra support will be deployed, the council said, but some have questioned whether this year's display should take place as planned.
It comes just days after it emerged more than 1,300 people in the borough have already been seen by medical professionals, either for post-traumatic stress disorder (PTSD) screening or Grenfell-related physical health concerns.
More than 360 adults and children, including survivors and bereaved families, are currently undergoing PTSD treatment, which has been completed by 28 adults and three children.
There are also 60 people undergoing treatment for a variety of mental health issues who are not from the direct Grenfell area and have been remotely affected by the tragedy.
Kensington MP Emma Dent Coad told The Independent last month many survivors were facing the prospect of lifelong mental health problems.
In Pictures: Grenfell Tower after the fire

Show all 51
"Some survivors will never ever be able to work again, they are ill now. PTSD is a very, very serious problem. It's not just people being a bit upset," she said.
"People might have no idea, they might just be trying to get through the day or feeling like they are making progress, but in six months or a year or in five years it will hit them. I don't think people understand the effect of trauma."
Health professionals in London estimate that about 11,000 people in the area could experience problems, while the fire may also have been triggering for others across the country.
How the Grenfell Tower fire happened, explained
Dr John Green, clinical director at the Grenfell Tower NHS Mental Health Response, said: "I think this is the biggest programme there's ever been in Europe, certainly in terms of mental health. There's never been anything like it.
"It does strike us that this is a much bigger push than there's ever been anywhere else ... so it is very novel, there are a lot of things that we're doing that people have never done before."
Part of the difficulty is that PTSD can be unpredictable, with trauma able to "spontaneously recede" or make an unexpected return, Dr Green added.
So far, 755 adults and children have been screened, with 667 adults in urgent need for treatment who are being fast-tracked so they can start immediately if practical.
Emma Will, from Kensington and Chelsea Council, accepted the possibility the event could trigger traumatic memories, and said the council would be providing extra support for the vulnerable.
"Traumatic memories can be revived by many sensations – a sight, a smell, a noise. These can trigger a response that takes a person back to the most traumatic of times," she said.
"We want to make sure that, if that happens, people have the support available. We are working with NHS, Hestia and our incredible schools and teachers to makes sure that happens."
Mental health workers from the NHS and nearby Hestia charity will be drafted in to provide support across North Kensington across the weekend, the council added.
The Independent has contacted Kensington Roof Gardens for comment but none had arrived at the time of publication.
Additional reporting by agencies
Join our new commenting forum
Join thought-provoking conversations, follow other Independent readers and see their replies