Grenfell-style cladding has only been replaced on 10 out of 159 social housing towers
Pace of work 'failing tower block tenants all over the country', says shadow housing minister
Harriet Agerholm
Friday 01 June 2018 16:45 Comments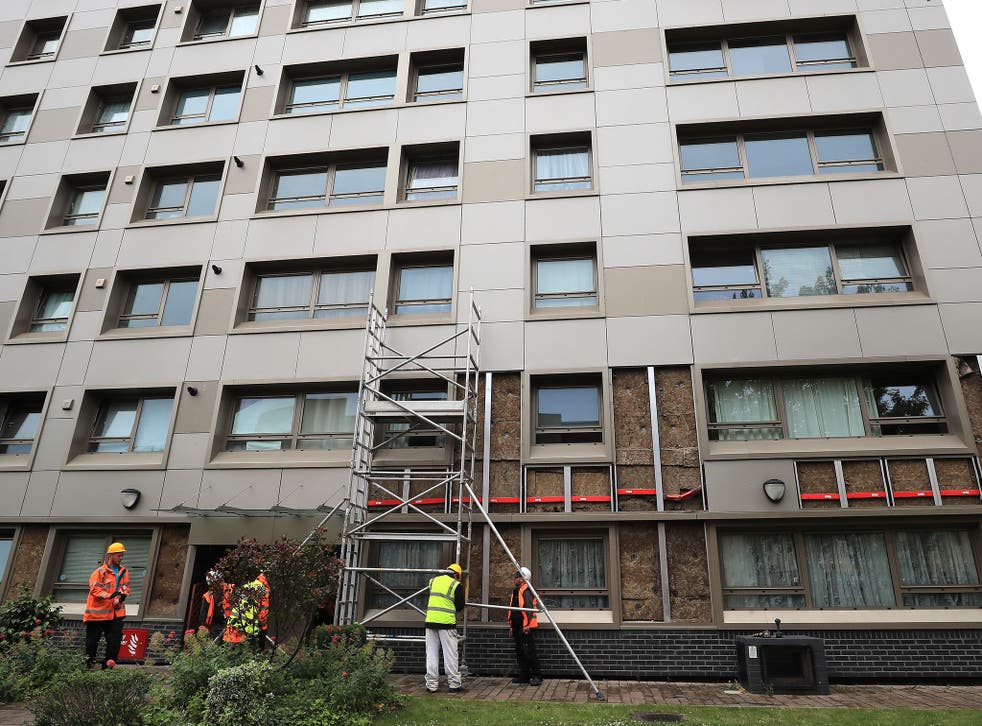 ​Only 10 of more than 150 social housing towers across England covered with Grenfell-style cladding have been made safe in the wake of the deadly Kensington fire.
New official statistics, released less than two weeks before the one-year anniversary of the deadly blaze, have prompted critics to say the Government is "failing" tenants across the country.
Some 159 social housing blocks rising above 18 metres have been identified as having dangerous cladding and the number is rising.
But almost 12 months on from the fire, panels on only 10 of those buildings – or 6 per cent – have been stripped and replaced. Work to remove the panelling has yet to begin on a third – 33 per cent – of the buildings.
In addition to the social housing towers, 138 privately-owned residential high-rises have been found to have Grenfell-style cladding, but the status of the removal work is not yet known, since data "is still being collected", according to the bulletin.
Cladding on 14 publicly-owned buildings, including hospitals and schools, has also failed laboratory fire testing.
Shadow housing secretary John Healey said the figures "confirm that essential fire-safety work is failing tower block tenants all over the country".
"The anniversary of the Grenfell Tower fire is less than a fortnight away, so ministers must act to speed up the pace of this safety work," he said.
"Almost a year on, more than 300 other tower blocks still have dangerous Grenfell-type cladding, but only 10 have had it removed and replaced. And more blocks are still being found unsafe.
"The Government needs to take the next necessary step and back Labour's plan for a £1bn Fire Safety Fund to finance vital safety work and retrofit sprinklers in high-rise social housing blocks.
"Ministers must also publish the block-by-block details they hold on location, safety status and ownership so residents know where they stand."
A spokesperson from the Ministry of Housing, Communities and Local Government said: "Around 70 per cent of social housing buildings with unsafe cladding have started remediation.
"This complex work will take time and must be done properly. Interim safety measures are already in place so that people can feel safe in their homes."
Grenfell Tower memorial service: in pictures

Show all 31
The Government said in May it would foot the £400m bill to remove and replace the dangerous cladding from social housing buildings. But it later emerged the funds were to come from the budget for affordable homes, meaning fewer cut-price houses would be built over coming years.
A review into housing safety by Dame Judith Hackitt commissioned in the aftermath of the blaze in north Kensington attracted criticism after it failed to recommend a blanket ban on combustible cladding.
Dame Judith Hackitt concluded that "restricting or prohibiting certain practices, will not address the root causes [of risk]". But the Government is considering a ban and Theresa May said last week she was "minded" to outlaw the combustible cladding.
Register for free to continue reading
Registration is a free and easy way to support our truly independent journalism
By registering, you will also enjoy limited access to Premium articles, exclusive newsletters, commenting, and virtual events with our leading journalists
Already have an account? sign in
Join our new commenting forum
Join thought-provoking conversations, follow other Independent readers and see their replies