Grenfell Tower: Cladding scandal could cost councils millions after Government says no guarantee of extra funding
'There is no way we can afford to reclad our tower blocks. If we have to find that money, it will come from other projects'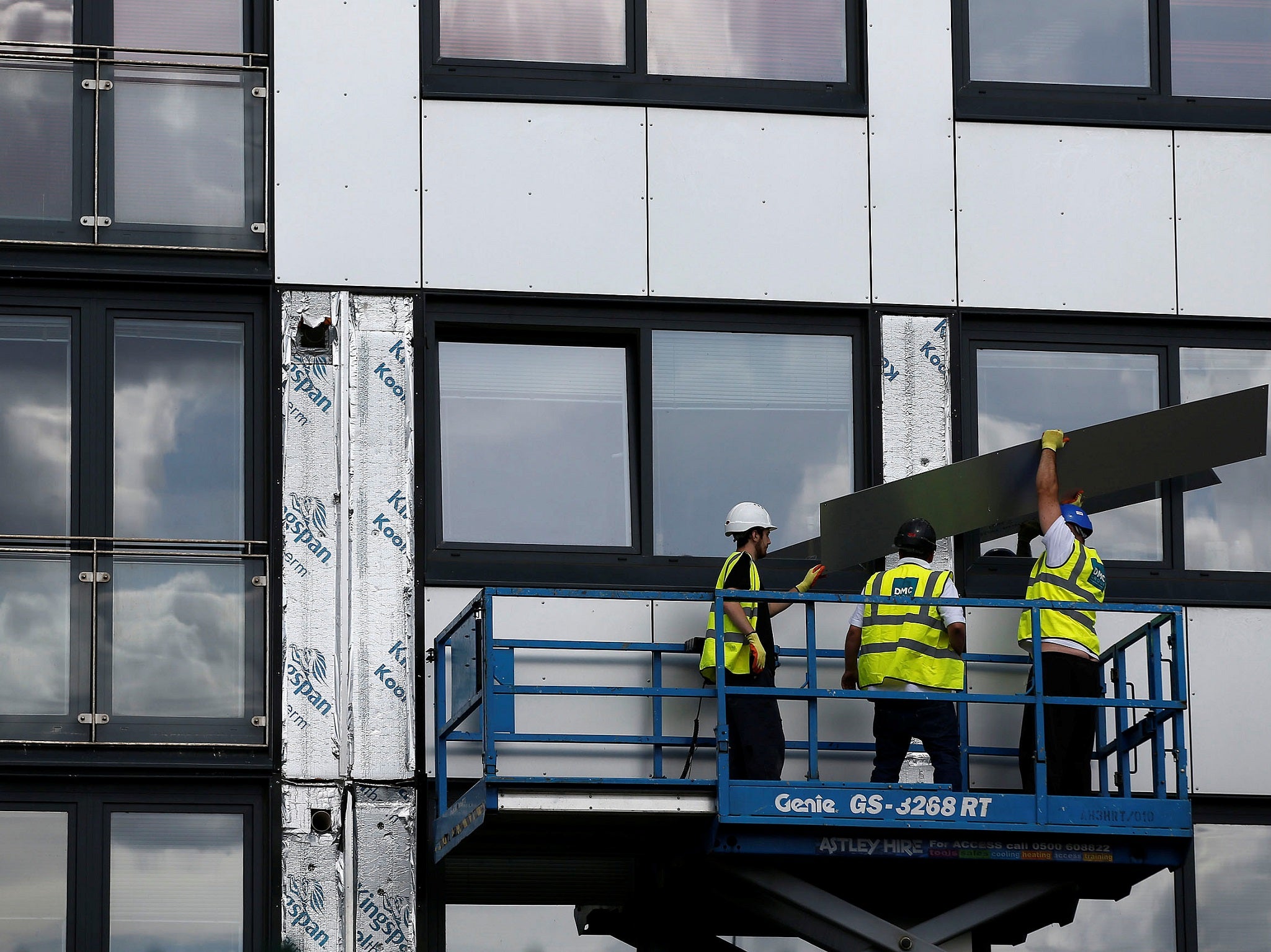 Councils face bills running to hundreds of millions of pounds to make tower blocks safe after the Government said it would not guarantee extra money to pay for vital work to prevent a repeat of the Grenfell disaster.
Ninety-five high-rise buildings in 32 local authority areas have failed safety tests, the Department for Communities and Local Government (DCLG) said yesterday, with hundreds more blocks still to be tested.
The findings prompted Theresa May to announce a "major national investigation" into the use of cladding on high-rise blocks, with every sample so far tested in the wake of the Grenfell found to be unsafe.
But despite emergency fire safety checks being carried out nationwide under central government direction, councils will not be reimbursed for refurbishment work carried out.
A DCLG spokesperson said there was "no guarantee" of central government funding and that it would be "up to local authorities and housing associations to pay" for the work needed to ensure residents' safety.
The spokesperson said financial support would be considered on a "case by case" basis for those that could not afford to carry out the necessary work, but did not clarify what the criteria for that consideration would be.
The announcement was met with severe criticism from some of the councils affected, with local authorities already having their budgets severely squeezed after years of austerity measures.
Julie Dore, leader of Sheffield City Council, which is among the authorities to have discovered unsafe cladding, said "starved" councils would be forced to make cuts to other areas, including schooling, if central government did not help with costs.
"Local authorities have been starved of money over the past seven years. Our spending power has decreased," she said. "There is no way we can afford to reclad our tower blocks. If we have to find that money, it will come from other projects, from investing in the fabric of our schools, capital investment in our infrastructure, the money has to come out of that. And it can't really be done.
"I say absolutely, categorically that the Government should pay. If they can find £1bn to send to Northern Ireland, that gets more spending per capita than anywhere else, to buy 10 votes, then these people, living in high-rise towers, deserve better."
In Pictures: Grenfell Tower after the fire
Show all 51
The warning came as the youngest victim yet of the Grenfell fire was named as five-year-old Isaac Paulos. He vanished in the dense fumes as his family attempted to escape the blaze from their 18th floor flat, Westminster Coroner's Court was told.
Meanwhile, Grenfell survivors and residents of nearby flats sent a letter to Theresa May and Home Secretary Amber Rudd on Tuesday to set out their demands so that "justice is served for everyone on the estate".
The group, part of the Justice4Grenfell campaign, wrote: "The investigation must leave no stone unturned. It must identify each and every individual and organisation who must bear responsibility and accountability for this tragedy and the mishandling of the aftermath."
Cladding was also removed from halls at Edinburgh's Napier University on Tuesday as further blocks across the country were found to pose a fire risk. In Manchester, a total of 16 high-rise buildings owned by One Manchester have now been found to be encased with combustible material.
With almost 100 tower blocks already found to be unsafe – and with more than 500 still to be tested – there are fears that the final refurbishment costs will run to hundreds of millions or even billions of pounds.
Labour's Shadow Secretary of State for Housing John Healey said the Government response in refusing to guarantee money to councils was "not good enough".
"The issue of funding is crucial because significant work and alterations now have to be done, and quickly. So it's essential that ministers make funding available immediately and upfront for any council or housing association that needs it for fire safety measures including recladding and the installation of sprinklers, starting with the highest-risk high-rise blocks," he said.
Grenfell locals adjust to life after the fire two weeks on
Between 2009-10 and 2014-15, local government funding was cut by 20.4 per cent, representing a reduction of spending per person of 23.4 per cent, according to the Institute for Fiscal Studies.
Councillor Robert Atkinson, leader of the Labour party at Royal Borough of Kensington and Chelsea, where Grenfell is situated, said it was "outrageous" that central government would make stretched local councils pay for a national problem.
"In the background of the Government providing £1bn to stuff the mouths of the DUP, it seems the Tories have decided they do have a magic money tree and it seems they should shake it to help local authorities.
"If central government isn't going to finance councils, it's going to be at the expense of other services. I regard this as outrageous and they clearly don't understand the depths of the problem.
"How many cheques have they given the Queen to repair Buckingham Palace, they are all open arms for the monarchy but not for local government, which has a direct impact on the life of ordinary people."
Camden Council evacuated four of five tower blocks on Chalcots Estate after firefighters said they could not guarantee the safety of the buildings due to concerns over fire doors, gas pipes and insulation, combined with external cladding.
Camden said it would pay residents' hotel bills of up to £200 a night and would also offer displaced residents £20 a day for food and toiletries. Residents have been advised that they may be out of their homes for as long as four weeks.
Camden councillor Sian Berry said she believes total costs incurred by the council could reach £20m.
"In the first day we spent £500,000 on hotel rooms alone, obviously we're going to have to compensate the leisure centre, there is going to be an awful lot of expenses plus the cost of doing the work, which will be under a new contract," she said.
"The council is going to have to get some money back from somewhere and I worry it might put off or put on hold other projects like people getting decent homes, getting their windows done. It might have a long-term effect on getting improvements done."
Paul O'Brien, chief executive of the Association for Public Service Excellence, said he was extremely concerned how the scandal will impact local authorities who are already in a "very difficult funding situation".
"Local government will need to find the funding to address these issues but that will mean that other things are put back, other things are set aside and that's coming already on top of very, very, very difficult funding situation," he said.
"Local government funding is the worst it's been in a few generations, it will be 50 per cent less in 2020 than it was in 2010 and as a percentage of GDP that is its lowest point since 1948, so we're already in that situation before things like this happen. Having to find further funding on top of this just adds to the problem."
The missing people from Grenfell Tower
Show all 23
It comes after three-quarters of councils in England and Wales said they had little or no confidence in the sustainability of local government finances, according to the Local Government Information Unit (LGIU) think tank. Local government finances faced cuts of £11.3bn in 2015-16, according to Unison, the public service union.
It was unclear whether the same rigorous fire safety testing would apply to other high-rise buildings outside of the housing sector, but NHS Improvement has asked all NHS Trusts to check cladding on hospitals. The Care Quality Commission also advised more than 17,000 care homes, hospices and private hospitals to carry out fire safety checks.
The Government has also encouraged private landlords to send in samples for testing but they are under no obligation to do so, raising concerns for those renting in the private sector.
Questions continue to be raised over the role of flammable panelling at Grenfell Tower.
Combustible cladding is suspected to have aided the rapid and "unprecedented" spread of the blaze, trapping dozens of residents inside and killing at least 79 people.
The Government announced a new independent building and fire safety panel on Tuesday, chaired by former London fire commissioner Sir Ken Knight, to advise on fire safety measures in the immediate aftermath of the Grenfell fire.
Secretary of State for Communities and Local Government Sajid Javid said: "We have been very clear that local authorities and housing associations must not hesitate at all.
"As soon as they learn about any action and necessary steps that they need to take to ensure public safety in terms of fire risk, they must take that action.
"If they are not able to pay for that themselves, we will of course work with them and put a financial support package in place with the individual organisation."
Join our commenting forum
Join thought-provoking conversations, follow other Independent readers and see their replies