Grenfell Tower fire: Six-month-old baby found dead in mother's arms in stairwell, inquest hears
Leena Belkadi's parents and sister also died in the blaze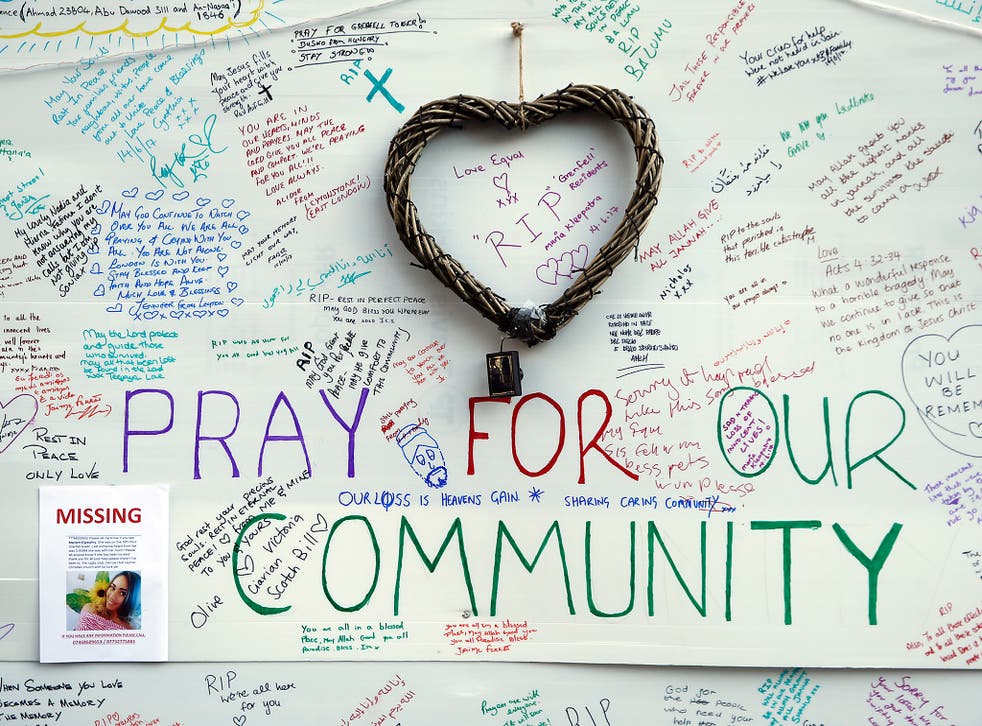 A six-month-old baby was found dead in her mother's arms after being killed by fumes as they attempted to flee down the stairs in Grenfell Tower, an inquest has heard.
Leena Belkadi was the youngest member of the family to die in the fire, which also killed her parents and sister.
Westminster Coroner's Court heard Leena's body was found in a stairwell between the blocks 19th and 20th floor, where the family lived.
Coroner's officer Eric Sword said she was "found in her mother's arms".
Leena and her eight-year-old sister Malak Belkadi both died from inhalation of fire fumes, the court was told.
Malak was recovered from the 20th floor and died later at St Mary's Hospital, where she was taken alongside her sister Tazmin, aged six.
Their mother Farah Hamdan and father Omar Belkadi also died in the blaze and inquests into their deaths have been opened and adjourned.
They were among seven people considered by Dr Fiona Wilcox on Wednesday, including the first named victim, Syrian refugee Mohammed al-Haj Ali.
The 23-year-old's body was found outside the tower block and his preliminary cause of death was given as multiple injuries consistent with a fall from a height, the inquest heard.
Dr Wilcox gave her "sincere condolences" to two of his family members, believed to be his brothers, who attended the hearing.
His funeral was held a week after the disaster and was attended by his family, some of whom came over from Syria, and the mayor of London Sadiq Khan.
At the service, the family said he "loved London and loved the people he met here", and had begun pursuing his dream of studying engineering, adding: "He was a loving and caring person, always showing support and solidarity for friends and family stuck back in Syria.
"His very last words to us were how much he missed us. Ever since he moved away from us, we tried to be united with him and his brothers, and now, instead, we have been united by his body."
Also named among the dead at the inquest were Husna Begum, 22, and her relative Rabeya Begum, 64, who were identified using dental records after dying of causes "consistent with the effects of fire".
The missing people from Grenfell Tower

Show all 23
Husna's body was found in the lobby near the lifts on the 17th floor, while Rabeya's was recovered from the family's flat on the same floor.
It is not yet clear what happened to three other members of the family who were reported missing after the disaster.
The inquest into the death of Mohamed Amied Neda, who lived on the 23rd floor, was also opened.
The 57-year-old was found outside the tower and died from multiple injuries consistent with a fall, the court was told.
He was reported missing after the fire and members of his family were also said to have been severely injured and taken to hospital.
Zia Popal, who described Mr Neda as his uncle, posted on Facebook: "He was on the top floor of the building trying to help."
Dr Wilcox thanked three of his family members for attending the inquest, telling them: "I'm impressed with your dignity."
The final inquest was into the death of Abdeslam Sebbar, 67, who died from inhalation of fire fumes and was found in a flat on the 11th floor of the tower, being identified by DNA.
Grenfell Tower death toll of about 80 came mainly from 23 flats
All the inquests were adjourned until an internal hearing on 12 July.
Dr Wilcox said they are expected to be suspended to allow the public inquiry and police investigation to continue, extending her "sincere condolences" to all those affected.
The funeral of victim Tony Disson will take place on Thursday afternoon.
The 65-year-old Fulham fan was described as a "real family man" and "one in a million dad" by his relatives.
At least 80 people died when fire swept through the 24-storey tower block in the early hours of 14 June, although there are fears the toll could be far higher and police say it may be impossible to identify all the victims.
"We are many months from being able to provide a number that we believe accurately represents the total loss of life inside Grenfell Tower," said Detective Chief Superintendent Fiona McCormack
"Only after we have completed the search and recovery operation, which will take until the end of the year, and then months afterwards, when experts have carried out the identification process, will we be in a position to tell you who has died."
She said a list of tenants provided by the management organisation was "not accurate", following warnings by volunteers that sub-letters and undocumented migrants were unaccounted for.
"If you do know of someone who was living in or visiting Grenfell Tower on the night of the fire but have concerns about speaking to police, please do not worry," Det Ch Supt McCormack added.
"We are not interested in sub-letting or immigration issues - we need any information that you may have. Please call us on 0800 032 4539."
Investigators said the blaze started in a Hotpoint fridge-freezer, before spreading to "combustible" cladding and insulation on the outside of the building.
All 120 cladding samples so far tested throughout the UK have failed safety tests as local authorities examine tower blocks for other issues seen in Grenfell, including inadequate fire doors and insulation of gas pipes.
The National Housing Federation has called on the Government to stop the testing and instead focus on making people safe.
Chief executive David Orr said: "These tests were the right thing to do, but the results are now conclusive: Aluminium Composite Material (ACM) cladding simply does not pass these tests and is deemed unsafe.
"Across the country, valuable resources - from specialist equipment to expert time - are being poured into a testing process of which the results are already known."
As the criminal investigation into the fire continues, 60 organisations have been identified as having a hand in the tower's refurbishment, which is suspected to have helped the blaze spread.
A public inquiry into the fire will be led by a retired Court of Appeal judge, Sir Martin Moore-Bick.
Theresa May has insisted residents will be given a say over the direction of the investigation, having called a full inquiry to ensure the causes of the disaster are "properly investigated".
The Government has promised to house survivors in temporary homes by next week but ministers have been confronted by angry residents over the prospect of being moved out of Kensington and Chelsea borough.
Additional reporting by PA
Join our new commenting forum
Join thought-provoking conversations, follow other Independent readers and see their replies