Grenfell Tower cladding discussions focused on 'appearance and price' rather than fire safety, architect tells inquiry
Budget concerns appeared to bring aobut switch to cheaper ACM panels, Tomas Rek says
Samuel Osborne
Thursday 12 March 2020 03:23 Comments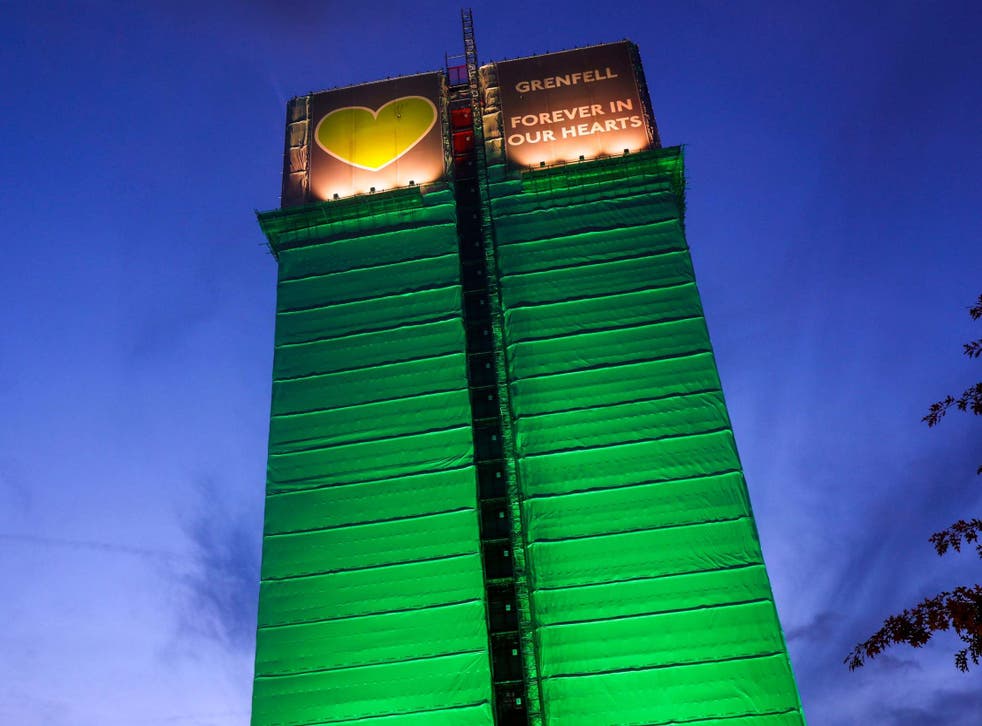 Discussions about cladding during the Grenfell Tower refurbishment focused more on "appearance and price" rather than safety, an architect who worked on the project has told the inquiry into the disaster.
Tomas Rek, a former employee of architects Studio E, said budget concerns appeared to bring about the switch from the proposed zinc to the cheaper aluminium composite material (ACM) panel, which was flammable and fuelled the fire's spread.
Mr Rek, who worked on the project between September and December 2013, also said he was unaware of several fire safety requirements for buildings and considered it a "subject outside of my competence".
The architect, who trained in the Czech Republic, said he could not recall talking about the fire safety of materials used to coat the tower, despite helping produce the project's National Building Specification (NBS), a document used by designers to describe required materials, standards and workmanship.
During a meeting in September 2013 with external wall subcontractor Harley Facades, Mr Rek said in a witness statement he thought the focus was "more to do with the appearance and price of the various materials and not their fire performance or fire rating".
Grenfell community prepare for Notting Hill Carnival

Show all 10
His evidence on Wednesday came as the government announced a £1bn fund to cover the cost of removing unsafe materials from high-rise residential buildings - 1,001 days after the fire, which killed 72 people.
After the meeting in September 2013, lead Studio E architect Bruce Sounes sent an email to Mark Harris, of Harley Facades, saying his "back-of-a-fag-packet" figure for the cladding had been deemed over-budget, according to disclosed emails.
The next month, Mr Harris emailed Mr Rek regarding pricing, saying from a "Harley selfish point of view our preference would be to use ACM".
Mr Harris added that it was "tried and tested (on many Harley projects), and we are confident in the cost base".
The inquiry has heard that combustible ACM panels were chosen in 2014 over the originally proposed zinc in a bid to save £454,000 on the Grenfell refit.
Grenfell architect apologises to victims: It shouldn't have happened
Under questioning by the inquiry's chief lawyer, Richard Millett QC, Mr Rek also said he had only a limited knowledge of building regulations and approved fire safety guidance.
Mr Rek said: "I mean, retrospectively looking at it, I think it would help if I had a better understanding, of course.
"We had a fire consultant on the job and I considered fire-related issues a complicated subject outside of my competence."
Mr Rek also said he was unaware of previous high-rise fires involving cladding and did not have an understanding of how a panel with a polyethylene (PE) core would behave in a fire, the inquiry heard.
Describing it as "some sort of plastic", he said he recalled that the panels had already been selected prior to his involvement in the refurbishment.
He added in his witness statement: "I may have assumed that compliance with building regulations had already been confirmed prior to my involvement, since I had simply been asked to obtain samples of these materials and the focus appeared to be on the appearance and cost of the product."
The ACM Reynobond PE panels used in Grenfell's cladding system had a heat combustion akin to diesel and close to lighter fluid and possessed a high-calorific value compared with other construction materials, the inquiry has previously heard.
They were found to have fuelled the fire's rapid spread at the 24-storey west London block in June 2017, which was sparked by an electrical fault with a fridge-freezer.
The inquiry also heard the chief architect of the revamp sought to prevent the London Fire Brigade from obtaining provisional fire strategy plans for the project, saying the service was "likely to support the severe interpretation of the regulations".
Bruce Sounes sent the documents to an official at the Kensington and Chelsea Tenant Management Organisation (KCTMO) in April 2014, writing: "I would not show this to the LFB", the inquiry heard.
Inquiry counsel Kate Grange QC suggested it displayed a "less than transparent" attitude towards working with firefighters.
But Mr Sounes, who was giving evidence again after being taken ill last week, insisted the plans were provisional, were subject to change, and he wanted to be clear "what proposals we were actually going to be making".
He said: "If it was going to be a problem I wanted to be sure. In a sense, you don't get many opportunities to speak to the fire brigade.
"The services strategy was still not clearly resolved and the fire strategy was still evolving.
"I thought it best to be sure what we were proposing before we did so to the fire brigade."
On 1 April 2014, Claire Williams, a project manager at KCTMO, asked Mr Sounes in an email for fire plans and drawings, writing: "We had another meeting with the fire brigade (the next quarterly one), and there was a fire engineer liaison chap there.
"I want to get our fire strategy onto their radar, particularly in terms of understanding any issues they may have over the smoke venting system to the lobbies."
Mr Sounes replied: "Attached is Exova's fire strategy and RBKC's markup of our fire strategy plan. I would not show this to the LFB.
"They are likely to support the severe interpretation of the regulations which Exova believe are unnecessary because this is in an existing building. It is to be superseded too."
Ms Grange asked if it was in the interest of his client, a reference to lead contractor Rydon, to get through the council's building control process without "too many issues being raised".
Mr Sounes replied: "It's not my role as an architect to be devious, I'm sorry."
Additional reporting by Press Association
Register for free to continue reading
Registration is a free and easy way to support our truly independent journalism
By registering, you will also enjoy limited access to Premium articles, exclusive newsletters, commenting, and virtual events with our leading journalists
Already have an account? sign in
Join our new commenting forum
Join thought-provoking conversations, follow other Independent readers and see their replies