Grenfell Tower housing firm hands control of 9,000 homes back to Kensington council
'This is not a way to avoid accountability,' council promises as KCTMO to remain a legal entity during investigations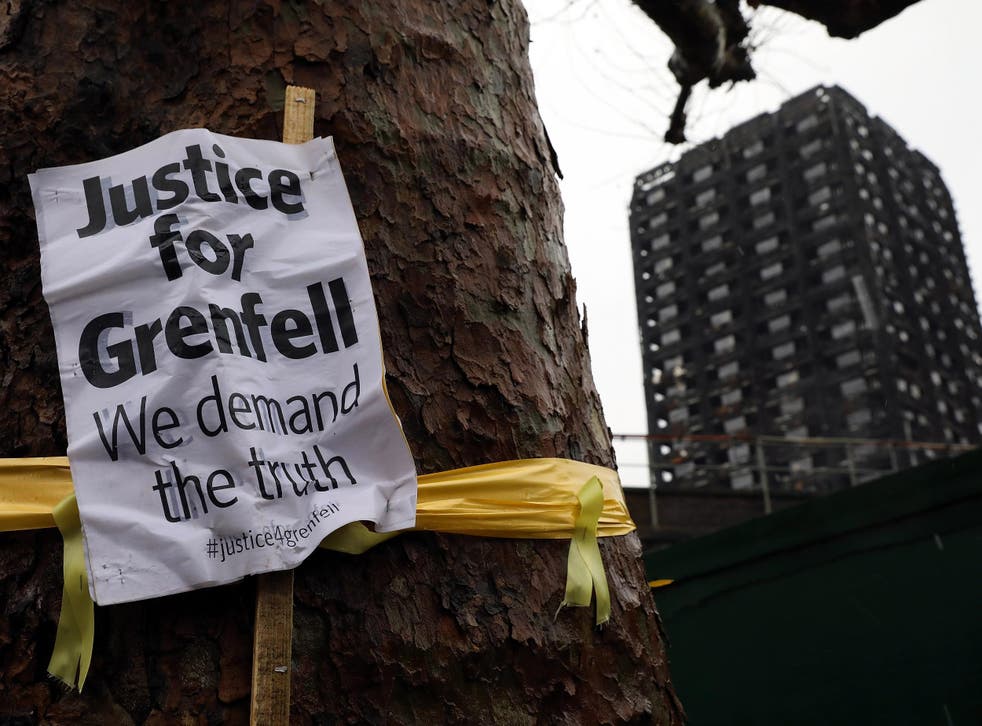 The organisation in charge of Grenfell Tower is handing control of around 9,000 homes back to the local council after admitting it could "no longer guarantee that it can fulfil its obligations".
Kensington and Chelsea Tenant Management Organisation (KCTMO) was stripped of its contract to maintain social housing following a vote of no confidence from all 25 residents' associations earlier this year.
Survivors of the Grenfell fire and relatives of the 71 victims who died in the blaze raised fears that the company could evade scrutiny in an ongoing criminal investigation and public inquiry if it dissolved.
But the Royal Borough of Kensington and Chelsea emphasised that it will remain a legal entity so leaders can be held to account, including over potential corporate manslaughter charges.
In a letter to residents, the council said KCTMO's board unanimously agreed to hand back management duties of housing, including repairs and day-to-day services.
"This is only an interim measure – the council is not taking over for good," it continued.
"The council will run services and improve services while you, the residents, decide how you want your homes managed in the future.
Children survivors of Grenfell Tower deliver alternative Christmas message
"We know this is the most important aspect for you – and we want to work with communities to begin a true and meaningful consultation."
Joe Delaney, who lived in a block formerly managed by KCTMO in the shadow of Grenfell Tower, raised fears over the council's ability to take on the huge responsibility.
"My main concern at the moment is capacity – RBKC hasn't even shown the capacity to deal with the Grenfell disaster, so how can they demonstrate that they have got capacity to bring stuff in-house at this time?" he said.
It came after some extra payments promised to help survivors cover the cost of the festive season failed to materialise in time for Christmas.
Mr Delaney, who is a member of the council's Grenfell recovery scrutiny committee, questioned whether payments to KCTMO would be cut during the transfer period, adding: "It is still going to be getting money from the council to keep itself up and running, but it won't have a job."
Deputy council leader Kim Taylor-Smith said residents would have a say in how they wish their homes to be managed in future, but the council is expected to hand all or part of its stock back to another privatised tenant management organisation.
It is running its own urgent review into KCTMO's operations, including health and safety, finance and estate management and will make the results public.
In their joint letter, Mr Taylor-Smith and housing director Doug Goldring said the organisation would "continue to exist as a legal entity so that leaders can be called to the public inquiry and held to account in any criminal or civil legal proceedings", adding: "This is not a way for the KCTMO to avoid accountability."
Its future has hung in the balance for several months after the council stripped away its responsibilities for the Lancaster West estate, which includes Grenfell Tower.
Grenfell Tower memorial service: in pictures

Show all 31
Survivors managed to postpone a vote that could have seen the council end all arrangements with the arms-length firm in October.
At the time, the council and KCTMO issued a joint statement vowing to secure an "orderly transition" to new management arrangements and identify a "preferred option" early in 2018.
Fay Edwards, chair of KCTMO, said the full handover of responsibilities would be complete by 31 January.
"The TMO board has reluctantly decided that it can no longer guarantee that it can fulfil its obligations with respect to the delivery of services contained in its contract with the council (known as the modular management agreement or MMA) to a standard that residents should expect," said a letter dated 22 December.
"The board has decided that it would be in the best interests of all residents that the services which the TMO currently provides are temporarily handed back to the council while it carries out consultation with you about the future management of its housing stock.
"This decision has been made because this consultation will take some time. While the board acknowledges that this longer period is necessary (it may be a year or longer), this has greatly increased the risks of maintaining the service levels we provide to you."
She said a resident-led board will continue scrutinising services under the MMA, as well as ensuring ongoing assistance to the public inquiry and criminal investigation.
KCTMO was established in 1996 to manage almost 10,000 properties in Kensington and Chelsea – becoming the largest organisation of its kind in the UK and the only to run a council's entire housing stock.
A refurbishment of Grenfell Tower saw flammable cladding installed that spread fire up the outside of the block rapidly on 14 June.
Additional reporting by PA
Join our new commenting forum
Join thought-provoking conversations, follow other Independent readers and see their replies