Grenfell Tower fire: More than 17,000 care homes, hospitals and hospices ordered to carry out new safety checks
Care Quality Commission urges care sector workers to review procedures after tower block disaster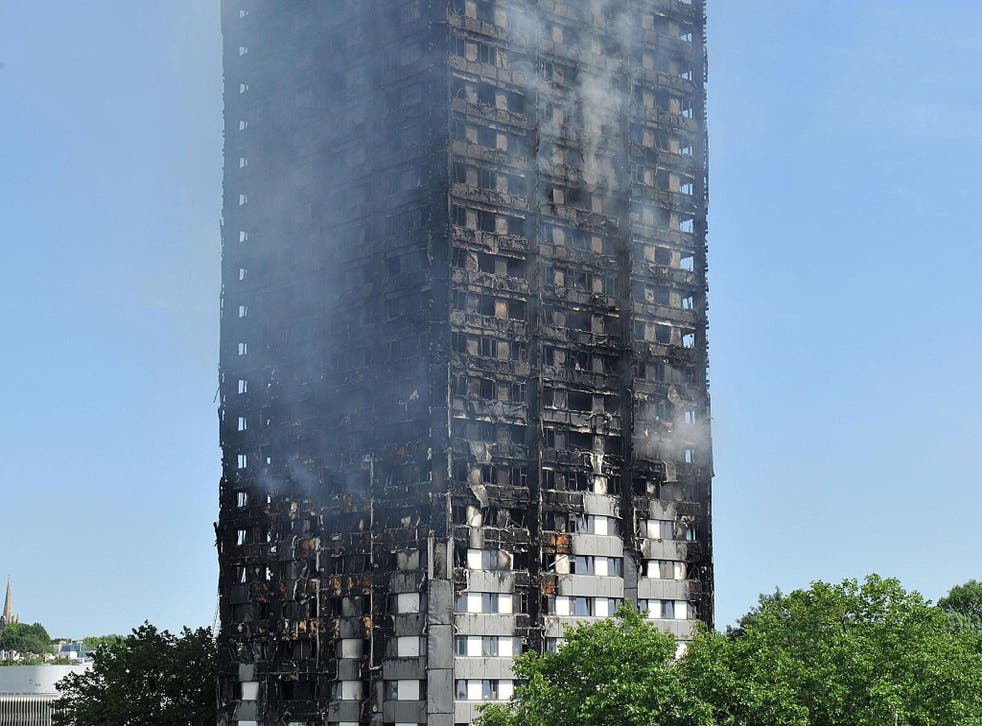 More than 17,000 care homes, private hospitals and hospices have been ordered to carry out new safety checks in the wake of the Grenfell Tower fire.
A letter sent to around 31,000 care sector workers by Sir David Behan, chief executive of the Care Quality Commission, said: "With recent events in mind, I am writing to ask that you review your fire safety processes in your registered premises ... In particular, I ask you to pay attention to the size and fabric of your registered premises."
After the disaster in west London, the Government asked councils and landlords across the country to send samples of any potentially dangerous cladding to London for testing as soon as possible.
By Tuesday afternoon, 95 buildings in 32 different local authorities had failed fire safety tests – every one examined so far.
At the weekend, Health Secretary Jeremy Hunt instructed all NHS trusts to test the safety of inpatient units. But fire departments warned the task was impossible and complained they had not received prior notice of the instruction.
The letter from the Care Quality Commission reminded providers of their legal obligations to ensure buildings were safe. They had a duty to pay particular attention to the safety of those more vulnerable because of mobility issues or learning disabilities, the letter said.
"We know from our inspections that there have been occasions when we have identified safety issues, some of which we have had to escalate to the local fire authorities," it added.
"These issues include blocked fire exits, fire doors wedged open, escape routes used as storage areas, low awareness among staff of what to do in emergency situation and no evidence of fire drills having been undertaken recently."
In Pictures: Grenfell Tower after the fire

Show all 51
During a cabinet meeting on Tuesday, Ms May called for a "major national investigation" into the unsafe cladding.
"There will need to be a major national investigation into what's gone wrong, when cladding that's failing the tests has been fitted on buildings in this country over a number of decades," she told ministers.
Officials later said the new investigation could form a second phase of the public inquiry already announced focussing on the Grenfell Tower fire, which killed at least 79 people.
US company Arconic said on Monday afternoon it would discontinue sales of Reynobond PE for use in high-rise applications amid growing concern about safety.
The firm said in a statement: "We believe this is the right decision because of the inconsistency of building codes across the world and issues that have arisen in the wake of the Grenfell Tower tragedy regarding code compliance of cladding systems in the context of buildings' overall designs."
It comes against a backdrop of growing anger about the way Government has handled information during the tragedy, with Labour MP David Lammy saying that the true number of people killed in the disaster may have been covered up to stop riots.
"What people say is that if you put the numbers out early, there could be civil unrest. That's what they say," he told BBC2's Newsnight.
Register for free to continue reading
Registration is a free and easy way to support our truly independent journalism
By registering, you will also enjoy limited access to Premium articles, exclusive newsletters, commenting, and virtual events with our leading journalists
Already have an account? sign in