Grenfell Tower fire: Firefighters tell of running into an 'apocalypse'
'It was like a giant had taken a flaming sword and cut a diagonal swathe top to bottom through it,' says Jon Warnsby 
Narjas Zatat
Sunday 18 June 2017 12:30 Comments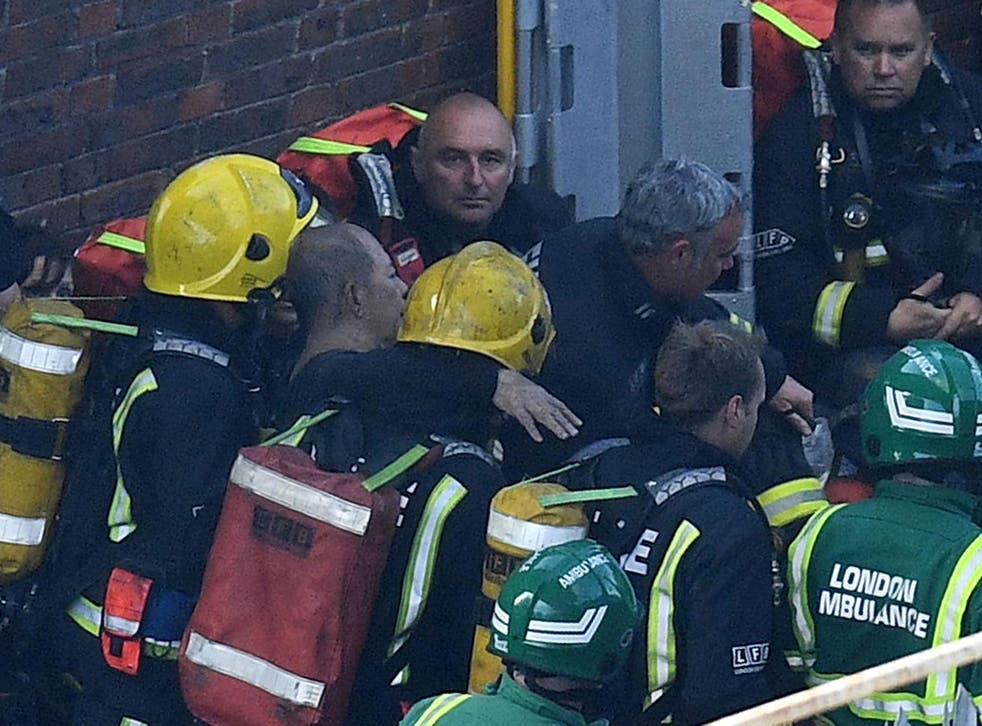 Firefighters who tackled the Grenfell Tower fire have said they ran into an "apocalypse" as they tried to save people.
"It was like a giant had taken a flaming sword and cut a diagonal swathe top to bottom through it," Jon Warnsby told The Mail on Sunday.
"We ran into an apocalypse like every firefighter that night."
The 37-year-old father, who was among hundreds of firefighters to attend the scene, added: "It was organised chaos."
Arriving at the scene, he said he was instructed to answer a call for help on the 14th floor, Flat 113 – where people were known to be waiting for help – along with his crew mate Terry Lowe.
However their first attempt to reach it failed and on the 10th floor the duo discovered a mother attempting to carry her daughter away from the flames.
They decided to take the two people down to the third floor, where they were handed over to other crew members and evacuated.
The pair tried to get to the 14th floor for a second time, but only managed to get to the eighth before they were confronted by another woman and a small girl in her pyjamas.
After taking them down, they were ordered to leave the building because the consuming smoke had rendered the environment too dangerous even for those wearing fire safety equipment.
"Where you had seen a torch signalling, or a blanket or flag waving to attract our attention, one by one they slowly disappeared," said Mr Warnsby. "I'm no expert but to me the exterior cladding altered everything. When that ignited we were suddenly fighting a fire that was outside, that wasn't contained, that was spreading upwards with astonishing speed and was then working its way back inside to trap people in their homes."
London Fire Commissioner Dany Cotton visited the exhausted fire fighters as first light broke, and Mr Warnsby said she was "personally handing out bottled water".
Additionally, she was insistent that those who need counselling can receive it.
Miss Cotton told The Observer: "Sometimes we have buildings that are under refurbishment, that are covered in scaffolding and netting, and when [these] catch fire it looks dramatic and everything blazes, but it doesn't affect the flats.
"But I thought 'these are actually premises on fire', and it was a truly shocking moment, looking at that for the first time."
In Pictures: Grenfell Tower after the fire

Show all 51
The Fire Commissioner was forced to make a risk assessment of the tower, as a local authority structural surveyor was not available.
She said: "Had we just followed standard fire brigade procedures, we would not have been able to commit fire fighters in and conduct the rescues we did."
Register for free to continue reading
Registration is a free and easy way to support our truly independent journalism
By registering, you will also enjoy limited access to Premium articles, exclusive newsletters, commenting, and virtual events with our leading journalists
Already have an account? sign in
Join our new commenting forum
Join thought-provoking conversations, follow other Independent readers and see their replies