Grenfell Tower survivors still living in hotels despite Government promise to rehouse everyone by today
Just 14 out of 158 households have accepted offers for temporary accommodation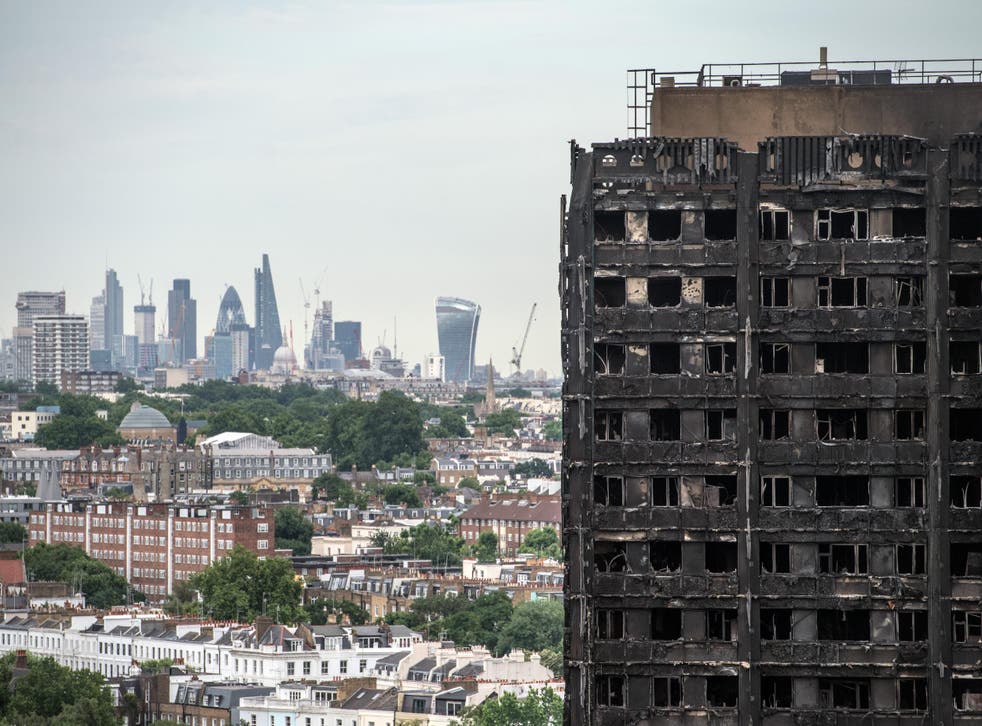 The majority of the Grenfell Tower fire survivors remain in hotels three weeks on from the deadly blaze, despite a Government guarantee to rehouse all those affected by Wednesday.
Just 14 out of 158 households have accepted offers for temporary accommodation, according to the Grenfell Response Team (GRT).
A total of 139 offers have been made, but advocates for the survivors said the proposed accommodation had been entirely "unsuitable".
The Government has also failed to make any housing offer to 19 affected families.
Pilgrim Tucker, a campaigner working with Grenfell Tower families, told The Independent survivors feel they are still not being listened to.
"The offers being made, either they are out of borough in Queen's Park, SW3 or Mozart Estate, or they are unsuitable, with a view on Grenfell Tower for example," she said.
Some of those who have accepted accommodation have been receiving text messages from the Government to confirm they will not have to pay rent for a year, but that they will be required to pay higher rates than they paid previously thereafter.
Some survivors have reportedly been offered new accommodation with rent up to triple the amount they paid before.
"They are receiving text messages to say they will pay no rent for a year and then will pay rent thereafter, which is scaring a lot of people," she said.
"Money shouldn't be an object for this council, they shouldn't have the same problem with funds, they have stockpiled millions in reserves."
GRT said every household that wanted to move from emergency accommodation had been made offers in the Royal Borough of Kensington and Chelsea (RBKC) or neighbouring boroughs, while 19 families were contacted and had either refused assistance or were abroad.
This was for a range of reasons, including some who were looking after relatives in hospital, and the response team was "ready to provide them with accommodation when they were ready".
In Pictures: Grenfell Tower after the fire

Show all 51
Jamal Williams, a resident from a block nearby which has also been evacuated, said he had spoken to survivors being offered homes in different boroughs.
He said: "I spoke to one woman who has been offered a place in Harlesden. The concern really is that residents are not happy about the tenancy agreements - it is not clear enough.
"There have been some that are being offered ones where they will be put for a year.
"The concern is what it will be afterwards. I think people are looking for a lifetime tenancy arrangement."
Speaking in Prime Minister's Questions, housing minister Alok Sharma said he did not want any family to be placed in unsuitable accommodation after Kensington MP Emma Dent Coad raised the case of a man who was offered a home in a "poorly maintained and rat-infested estate" due to be demolished.
Mr Sharma said: "We do not want any family to be placed in accommodation that is unsuitable, so could I invite Ms Dent Coad to join me and the shadow minister, let us go and visit some of these properties and make sure that she is also happy with the quality of what's on offer."
He also said hearing the stories of the affected families had been the most "humbling" experience of his life.
"The families that I've met have been through unimaginable pain, this is a tragedy (that) should never have happened," he said.
"And we are determined to do all that we can to make sure something like this never happens again."
Housing Minister fights back tears recalling Grenfell Tower stories
Most of the 160 households evacuated from the Lancaster West estate surrounding the tower - Testerton Walk, Hurstway Walk, Barandon Walk and Grenfell Walk - are still in emergency accommodation, a RBKC spokesperson said.
Hundreds of flats that overlook the site of the tragedy where at least 80 people died are still without basic amenities after the fire destroyed centralised gas and water lines under the building.
While gas has been restored to most of the flats, none have hot water, according to local residents.
Zeinab, who has four children, moved out of her block that faces the tower on the night of the fire. She told The Independent the family-of-six were forced to share one hotel room between them so she moved back home, despite there being no hot water or gas.
"How can you stay in a hotel like a box? They put three beds in one room, you couldn't even move, you couldn't pray, there was no space to eat. We're not animals, we are humans. We need our space," she said.
Repair work on a broken boiler affecting the properties was due to be completed by Wednesday, a RBKC spokesperson added.
It comes after cladding from 190 high-rise buildings in 51 local authority areas failed combustibility tests conducted by the Department for Communities and Local Government (DCLG).
Every sample sent in has been found to be combustible, continuing the 100 per cent failure rate, the DCLG said.
Buildings at three NHS trusts in England – North Middlesex University Hospitals, King's College Hospital and Sheffield Children's NHS Trusts – have also failed the tests, health officials said.
Join our new commenting forum
Join thought-provoking conversations, follow other Independent readers and see their replies