Grenfell firefighter describes frantic search for 12-year-old girl who died in blaze
'We were shouting out and searching by stamping and sweeping to feel our way round,' says officer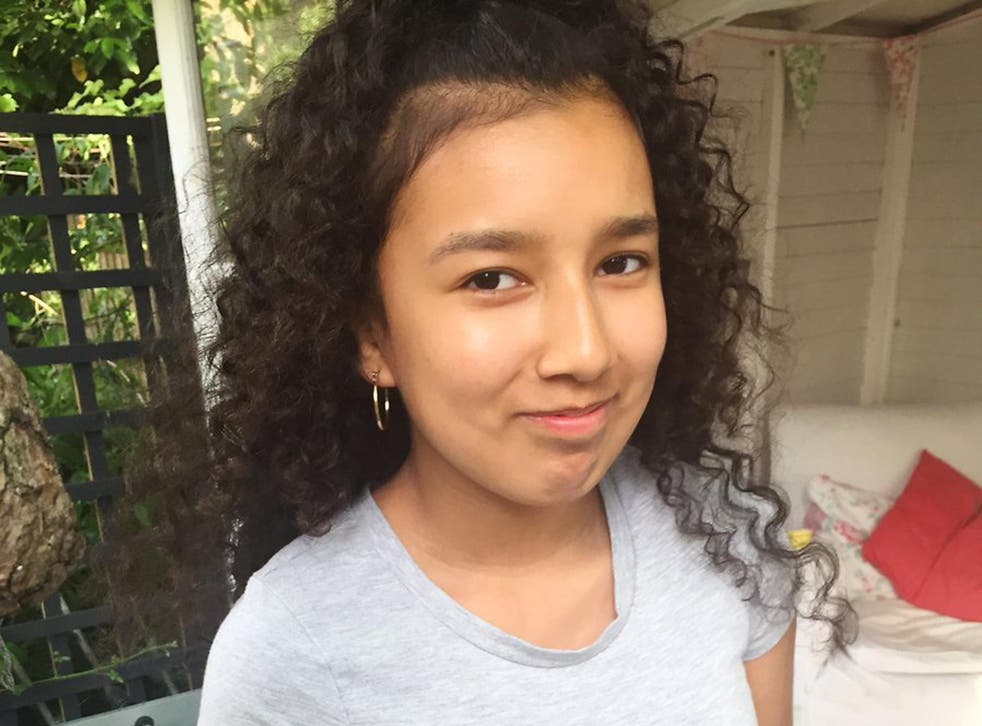 A firefighter who attempted to rescue a 12-year-old girl from Grenfell Tower has described his frantic search for her.
David Badillo – who was in the first crew that attended the blaze – was asked by a woman to find her sister, Jessica Urbano Ramirez, who lived in flat 176.
The officer broke down in tears as he told the inquiry into the inferno about his two attempts to find the child.
Mr Badillo was forced to return to ground level because a colleague on his rescue team was running out of air in his breathing appartus. Jessica's remains were later found in flat 201 on the 23rd floor.
The officer, who has been a firefighter for 20 years, also faced questions over whether he knocked on the door of flat 175 while he was looking for Jessica.
Becoming tearful, he replied: "No. To the family of people in flat 175 – I was looking for another girl. I did not know there was anyone in there." Four members of the Belkadi family died in flat 175.
In his witness statement, Mr Badillo described the scene in North Kensington as "like a disaster movie", with pieces of flaming cladding falling from the tower that at one point set a fire engine alight.
He said he was stopped by a woman who said her little sister was on the 20th floor of the tower.
"She said that her sister was 12-years-old and called Jessica and that she was in the flat alone. The lady asked me if she could go up with me to get her," he said.
"She looked very distressed – panicked and anxious. I told her not to worry and that I would go and get Jessica on my own as I didn't want to endanger her. She then gave me the keys to the flat."
At that point, he said he thought the "fire was on a couple of the lower floors", rather than "a raging inferno".
"I just wanted to go and get the little girl out of the flat, as she was alone," he added.
"I didn't tell anyone what I was doing as there was so much going on. I also thought that I would be told: 'No', but I was worried about the girl's safety."
The inquiry heard the fire brigade was not able to gain control of the lift in Grenfell Tower on the 14 June, meaning it was dangerous to use, since it could become stuck in the shaft or open on a floor where the fire was burning.
Nevertheless, Mr Badillo thought the lift was the fastest way to get to Jessica, so he got in and pressed the button for the 20th floor, he said.
"It seemed to take forever and I felt very alone, but the lift opened on the 15th floor, which surprised me," he said in his witness statement.
"I was even more surprised when the lift immediately filled with thick, black smoke [which] means that something is burning and no water had been put on it yet.
"I held my breath and shut my eyes and started to feel my way out to the stairwell.
"It was eerily silent for a smoke-filled lobby. It was completely silent. No comms were coming from the radio and there were no alarms sounding, which I would expect there to be in a newly refurbished building, full of smoke.
"I only had my tunic, gloves and helmet on, but it didn't feel hot. I decided that if I was to go and get Jessica out, then I would need [breathing apparatus] to do so."
Mr Badillo ran to the bottom of the tower using the staircase, which contained only light smoke.
He made a second attempt to find Jessica, this time with breathing apparatus and accompanied by two other officers. They made it to the 20th floor.
"Inside the flat, visibility was low to hardly anything. It was smoke-logged completely and I'm unsure if any lights were on.
"It was hot inside the flat but it didn't feel like there was a fire inside. In the second room I reached, I could see an orange curtain of flames at the window, but they appeared to still be on the outside. It was very strange seeing it as I have never seen anything like that before."
He continued: "I checked all of the typical hiding places – under the bed and in the cupboards, but did not find anyone.
"We were shouting out and searching by stamping and sweeping to feel our way round, using our torches.
"We were sure that we had completed a thorough search and that no one was inside the flat. I felt that with the front door being found ajar and us searching the rooms twice that Jessica must have gotten out."
Mr Badillo later discovered Jessica had left her flat and gone up to the 23rd floor. She died in flat 201, after a 55-minute phone call to the emergency services.
During Friday's hearing, counsel to the inquiry Richard Millett QC asked: "If you had been told that Jessica was in flat 201 on the 23rd floor, what would you have done?"
"I would have gone up to 201," replied the firefighter, his voice cracking.
In the month after learning about Jessica's death, Mr Badillo said in his statement: "I cried every day and talking about what happened was very upsetting."
During the hearing, Mr Badillo said the communications system said his radio system failed repeatedly. "It was a bit scary being surrounded by flames and smoke without any comms – it felt like we were trapped."
He told the hearing the radios in the breathing apparatus, or "Barie" sets, were "like something from the Dark Ages".
They were particularly prone to fail in highrises and "the higher you go up the building the less reliable it is to the point of nothing at all", he said.
Mr Badillo is one of several firefighters who have criticised the communications systems available to the London Fire Brigade during the inquiry.
It is feared that crucial pieces of information about the developing fire at Grenfell Tower never reached the incident commander due to communication failing.
When Mr Badillo eventually got out of the building, the officer recalled molten panels raining down on the firefighters below.
"The cladding was coming down with other bits of the building and the wind was also catching it," he said.
"At one point a piece hit our engine and the engine next to us caught on fire, before it was put out. It felt like a disaster movie and we were in the middle of it."
Later in the night, he described the scene outside the tower. "The cladding was coming down with other bits of the building and the wind was also catching it. At one point a piece hit our engine and the engine next to us caught on fire, before it was put out," he said.
"I could clearly see people, still inside, at their windows, waving for help whilst holding their phones which were lit up. I looked to where we had just been on the 20th floor and it was glowing orange – it was a raging inferno and the fire was up to the 23rd floor.
"I can't really describe how I felt as no words can describe it. I felt relief at getting out alive but was in shock at just how bad and out of control the fire had become. It felt like a disaster movie and we were in the middle of it."
He helped fire crews access the building using riot shields to protect them from falling rubble.
"Things were exploding overhead and landing on our shields and craters were appearing in the ground from all of the falling debris. Shards of metal were falling down, as well as concrete and glass and there were fireballs coming down all over the place."
Mr Badillo helped transport dead and injured people to a makeshift hospital in a nearby sports centre.
One unconscious woman was carried out of the building who had a "blackened mouth", and medics had placed a ball and mask over her mouth and nose – by which air can be pushed into her lungs.
"No chest compressions were being conducted as she was being carried and when we got outside, she was placed on a trolley," he said.
"I continued to pump air in to her body and her arm suddenly started to raise and the lady came to.
"She started to say 'thank you, thank you' repeatedly and appeared to be grateful to be alive and tried to hug me."
Earlier on Friday, Daniel Brown, a firefighter who battled the fire in the kitchen where it started told the inquiry how he could tell early on the blaze was "not normal".
"There's no heat and there's a flame in front of me that's raging and just in a really weird rectangular [shape]. It was suddenly a curtain of flame.
"It wasn't licking around the ceiling, it was going up and then was cut off in a straight line. I have never seen anything like it before."
England players mark Grenfell anniversary

Show all 11
After extinguishing the fire in the kitchen, he used a hose to try to douse the flames on the outside of the building, but said the water was just "bouncing off".
The officer, who has worked as a firefighter for 27 years, said he believed buildings had become less safe over the past two decades.
"It's been noticeable over the last number of years a deterioration in the quality of the fire systems that are in place that we require when we turn up to an incident that could be a fire situation," he said.
Four members of the London Fire Brigade gave evidence to the inquiry this week. The inquiry is set to continue at 10am on Monday.
Register for free to continue reading
Registration is a free and easy way to support our truly independent journalism
By registering, you will also enjoy limited access to Premium articles, exclusive newsletters, commenting, and virtual events with our leading journalists
Already have an account? sign in