Grenfell Tower graphic: what we know about how the fire spread
Blaze spread up and across the building within minutes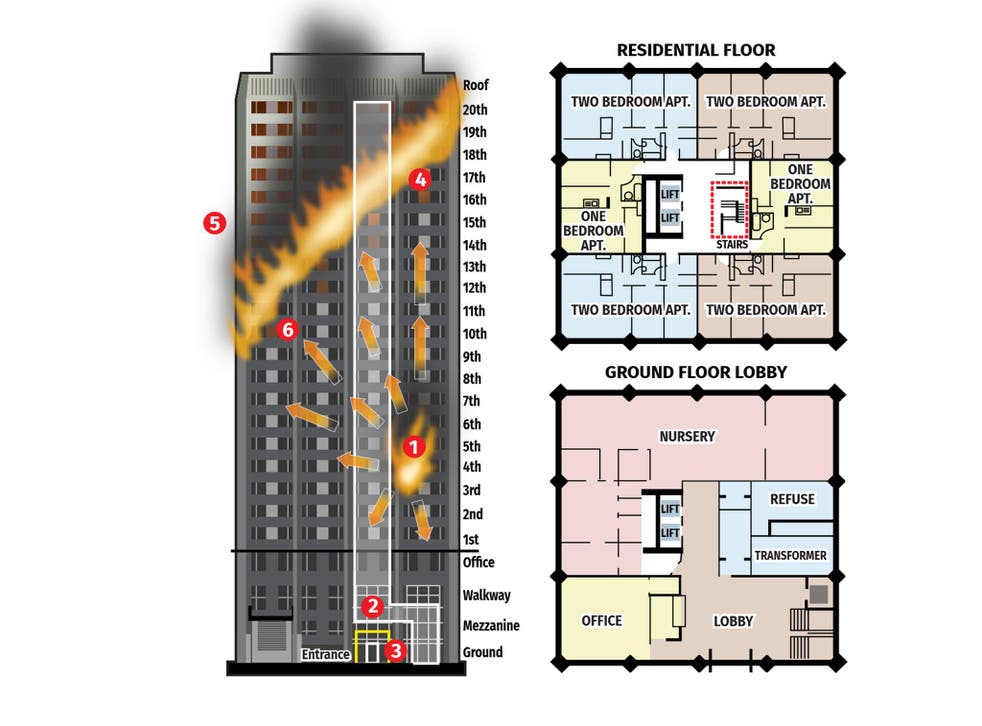 1. Witnesses have reported that a resident on the fourth floor discovered his fridge had "exploded" and caught fire. He alerted a neighbour. At 00:54, emergency services received the first of many calls reporting the blaze. Firefighters reportedly arrived within six minutes, by which point the fire had already spread through the kitchen window to the external cladding.
2. Some residents started to evacuate through the central fire escape stairwell – the only escape route. But others were told by emergency services over the phone to put towels around doors and stay put until help arrived. This advice has been known to work in buildings that are well compartmentalised, preventing the rapid spread of the fire from floor to floor. At Grenfell Tower, many who received this advice are likely to have died. Some who remained in their flats spoke to friends and family on the phone – the last time many were heard from.
3. Firefighters also used the stairwell as the only way of reaching the upper levels of the 24-floor tower. Residents had raised concerns over gas pipes in the stairwell that may have had insufficient fireproof cladding. Other concerns include the absence of a building-wide fire alarm or sprinkler system, which could have made it easier for firefighters to make progress. One survivor reported that building's dry risers – vertical pipes used by firefighters to distribute water to multiple levels of a building – were not working.
Grenfell Tower fire: What we know so far
4. A man on the 17th floor, who left his flat at 1.15am, said the fire had reached his window by the time he got out of the building. A witness heard a neighbour screaming for help before apparently jumping out as flames engulfed his 17th-floor flat. People on the top floors were seen flashing torches to attract attention, unable to get out.
5. By 1.46am, the fire had spread to both sides of the block, the flames wrapping themselves around the building via the cladding panels. Similar panels have been installed on hundreds of other buildings across Britain, prompting a series of urgent safety checks. At Grenfell Tower, the cladding was added for aesthetic and insulation purposes. The specific design of the installation is a key area for the inquiry. If there were gaps behind the panels, the cladding may have acted like a chimney, drawing the flames up higher. Open windows, on a hot night in the city, could have allowed the fire to re-enter the building higher up.
6. Some residents leapt from windows. One woman on the 10th floor was seen dropping her baby, who was caught by a man below.
Register for free to continue reading
Registration is a free and easy way to support our truly independent journalism
By registering, you will also enjoy limited access to Premium articles, exclusive newsletters, commenting, and virtual events with our leading journalists
Already have an account? sign in
Register for free to continue reading
Registration is a free and easy way to support our truly independent journalism
By registering, you will also enjoy limited access to Premium articles, exclusive newsletters, commenting, and virtual events with our leading journalists
Already have an account? sign in
Join our new commenting forum
Join thought-provoking conversations, follow other Independent readers and see their replies