Grenfell Tower: Coroner leading inquest calls on NHS to set up long term screenings for survivors
'In my opinion action should be taken to prevent future deaths,' coroner says
Jennifer Cockerell
Friday 21 September 2018 23:14 Comments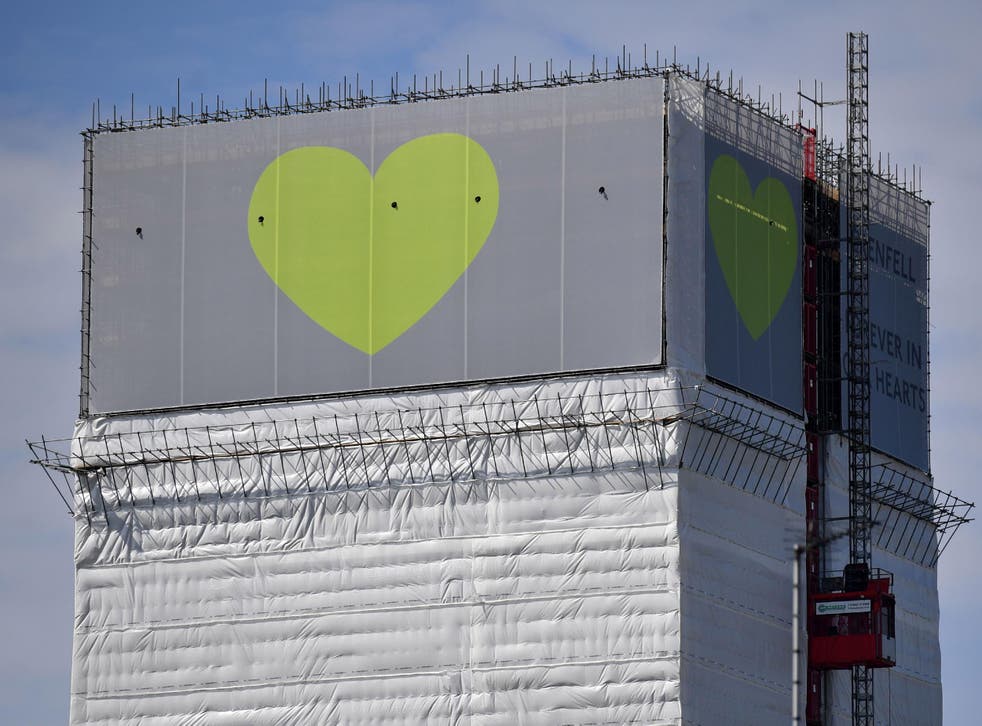 The coroner leading the Grenfell Tower inquest has called on the NHS to set up a screening programme for those who were exposed to smoke and dust in the fire.
Dr Fiona Wilcox said evidence suggests that many of those who escaped the devastating blaze were "exposed to significant smoke inhalation", as were emergency workers and others involved in clearing up in the aftermath.
In a letter to NHS England chief executive Simon Stevens, Dr Wilcox said the smoke will have contained "multiple toxic substances" and the building was also known to contain asbestos.
She said it was of "real concern" that no physical screening programme has been put in place to monitor the health of survivors on an on-going basis, particularly children.
She said those subject to smoke and dust inhalation were at risk of developing health conditions - in particular respiratory illness.
Many people have also suffered emotional trauma and harm to their mental health as a result of the disaster, she added.
"In my opinion action should be taken to prevent future deaths and I believe you [and/or your organisation] have the power to take such action. It is for each addressee to respond to matters relevant to them," her letter said.
Campaign group Grenfell United welcomed the move, adding that the "potential long-term impacts of the fire must be taken seriously".
Dr Wilcox said she understood that fumes and dust from the site that passed to the surrounding environment were not thought to have significantly raised the risks of health damage to local residents compared to the usual London air.
Grenfell Tower Inquiry: photos of inside the flat where fire began

Show all 18
Seventy-two people died as a result of the "catastrophic fire" which broke out in the 23-storey block in west London on June 14 last year.
Dr Wilson said her letter must be responded to within 56 days.
"Evidence submitted as part of the investigations and issues that have been raised with me by the bereaved suggest that many of those who escaped were exposed to significant smoke inhalation," the letter said. "The smoke will have contained multiple toxic substances and it is of note that the building was known to contain asbestos.
"It is likely that almost all of those who died in the fire, died as a result of smoke inhalation, although this evidence has not yet been tested in court. Asbestos is known to be associated with an increased risk of respiratory illness especially mesothelioma, which may present many years, not unusually decades, after the exposure."
Dr Wilcox noted that firefighters involved in the September 11 attacks in New York have since suffered health problems related to fumes and dust they inhaled.
The Grenfell United spokeswoman said: "We are pleased the coroner has backed the calls from survivors, bereaved and community for the need for long-term health screenings. The potential long-term impacts of the fire must be taken seriously. The NHS are just about to start some screenings, we need to make sure this is the start of the long-term health care for survivors and community now and for years to come."
Press Association
Register for free to continue reading
Registration is a free and easy way to support our truly independent journalism
By registering, you will also enjoy limited access to Premium articles, exclusive newsletters, commenting, and virtual events with our leading journalists
Already have an account? sign in
Join our new commenting forum
Join thought-provoking conversations, follow other Independent readers and see their replies