Bereaved Grenfell relatives unable to attend start of public inquiry due to Home Office visa delays
Exclusive: Family members who have been granted core participant status in probe after loved ones perished in fatal fire left waiting months for right to enter UK
May Bulman
Social Affairs Correspondent Comments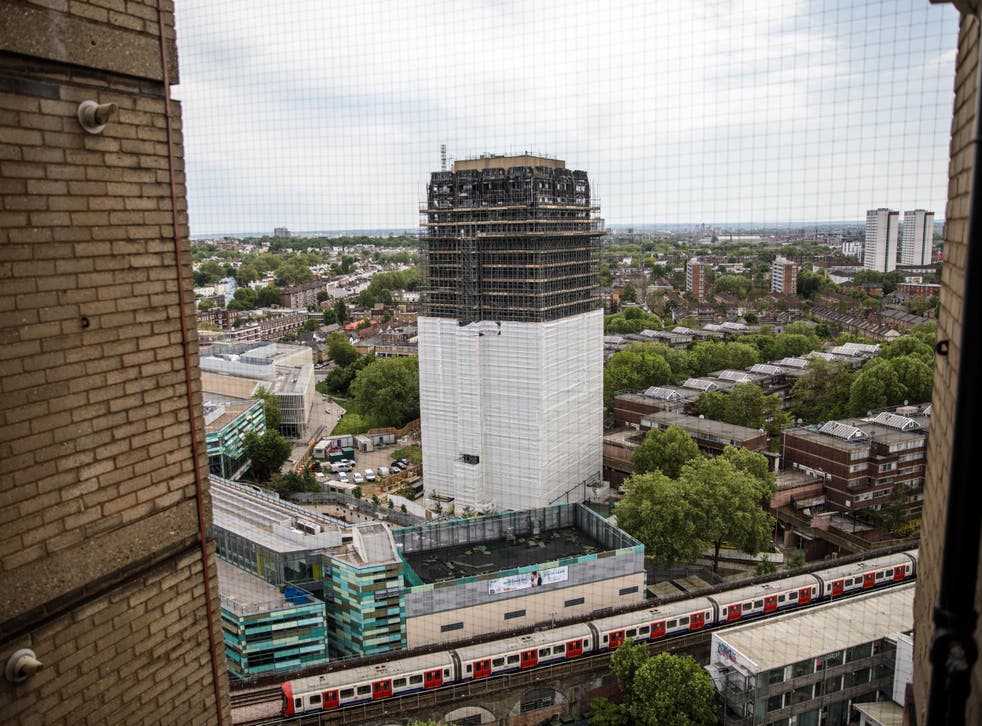 Bereaved relatives of Grenfell Tower victims who are set to be core participants in the inquiry into the blaze are still waiting to be granted formal rights to be in the UK, as the probe gets underway.
Tributes from family and friends remembering those who died were heard by the public inquiry as its first phase began in London on Monday.
But one Moroccan man whose sister perished in the fire was unable to attend the start of the public inquiry because, despite applying for a UK visa months ago, the Home Office did not grant him one on time.
It was only when The Independent contacted the Home Office on Friday that Karim Khalloufi and his mother were granted visas so that they could act as core participants in the inquiry, but they will not be printed until Wednesday – two days after the start of the hearing.
Other bereaved families who came to Britain in the immediate aftermath of the tragedy are still waiting to hear whether their visas will be renewed, meaning they face continuing uncertainty over their status.
Over the two weeks, a series of pre-recorded videos and statements will be delivered by the bereaved and on their behalf.
Chairman of the inquiry, Sir Martin Moore-Bick, led a silence of 72 seconds in honour of the 72 victims - including one former resident who died in January - the inquiry will commemorate.
He said: "In terms of loss of life the fire was the single greatest tragedy to befall this city since the end of the Second World War.
"The sight of the building engulfed in flame is indelibly printed on the memories of those who experienced an event of unimaginable horror."
Tributes will be paid to six victims on Monday - Logan Gomes, Denis Murphy, Mohamed Amied Neda, Joseph Daniels and mother and daughter Mary Mendy and Khadija Saye.
The family of Logan - a baby stillborn after his mother escaped from the 21st floor - were the first relatives to speak at the central London hearing.
The words "twinkle, twinkle, little star, do you know how loved you are?" were displayed on screen, which, his father Marcio said, had been on the wall of the child's room-to-be.
However lawyers representing some of the families said that despite pressing the Home Office for months on the mounting urgency to process visas, they have had no response, leaving grieving family members "in limbo" over their rights to pay their respects and seek justice.
Labour's shadow home secretary, Diane Abbott, accused the government of failing the families, claiming that it should not be difficult to offer visas to the relatively small number of bereaved relatives who have been granted core participant status.
The public inquiry has granted 532 individuals and organisations core participants – 504 of which are bereaved, survivors and local residents. As well as establishing the causes of the fire that claimed 72 lives, it will aim to give bereaved relatives to the chance to pay their respects and seek justice for their lost loved ones.
Guidance published by the Home Office on 23 March states that decisions on applications from core participants for leave to enter or remain in the UK must be "timely" to ensure that relatives are able to attend.
It adds that not all relatives with core participant status will be required to attend in person, stating that the sessions will be "live-streamed, enabling those who wish to view it to do so from outside the UK".
Mr Khalloufi, whose sister Khadija died in the fire, said on Friday he felt "crushed" after waiting for months to hear back from the Home Office about a visa he applied for in December. He and his mother had been granted six-month visas in the aftermath of the tragedy, but returned to Morocco when these expired, in the belief that they could successfully reapply to come back for the inquiry.
Shortly after The Independent contacted the Home Office on Friday, he received a phone call to say his visa would be printed and ready to collect from the British embassy in Rabat on Wednesday.
Mr Khalloufi, who had spent £1,200 to have his and his mother's applications processed, said: "I'm happy that I can attend at least some of the inquiry. Let's hope that they don't delay it anymore. I'm angry it took so long; there was no reason for this delay. We have been suffering, waiting; they have been confusing us.
"I don't even think my mum will come now. After all this, she is afraid to go back to Britain. She's afraid there will be more issues."
The family's lawyer, Balvinder Khan, said she had made repeated attempts to contact the Home Office about the family's applications, but had received no clarification. The Independent informed her of the Home Office's decision to grant a visa on Friday.
"It's great news, but it's ridiculous that the matter wasn't resolved before. I – along with Diane Abbott's office and other MPs – have been trying to sort this out with the Home Office for months, and heard nothing from them," she said.
Ms Khan and other solicitors representing bereaved relatives had been under the impression that the Home Office was going to introduce a new policy to automatically grant family members who had been granted core participant status the right to be in the UK.
But following the cabinet reshuffle in December, the Home Office dropped plans for such a policy. While this was never made public, an email from a member staff at the government's Grenfell victims unit to a lawyer at North Kensington Law Centre, seen by The Independent, confirmed the policy would not be introduced.
"Relatives would be able to stay in the UK for a maximum of six months, after which time they would be expected to return home or apply for time limited leave under an existing immigration route," stated the email.
The North Kensington Law Centre, a free legal service which has provided advice to the community following the blaze, is currently representing five bereaved relatives who are core participants but are still awaiting a response to their visa application.
A lawyer from the organisation said: "The Home Office should have dealt with these individuals with compassion and sensitivity. Instead, with just days until the Grenfell Inquiry starts, it is outrageous that they've been left in limbo and are still unsure whether they can stay in the country to participate in the Inquiry in which they are core participants.
"We've been pressing the Home Office on this for months. These people are grieving for lost loved ones who died in the Grenfell fire. They want to be able to pay their respects and seek justice for their lost family members.
"It is completely unacceptable that the Home Office still has not given these bereaved family members a clear answer. Home Office ministers need to urgently step in sort this out immediately."
In Pictures: Grenfell Tower after the fire

Show all 51
Ms Abbott said: "It is simply not right that bereaved relatives who are core participants have not been granted visas for the inquiry. It would be easy for the Home Secretary to grant visas to a handful of people.
"The Grenfell families had to lobby hard even to get a partial panel, although Theresa May said she would leave no stone unturned in this inquiry. She also promised victims would not suffer, irrespective of their immigration status, but is now failing the families once more."
The Home Office said it did not routinely comment on individual cases but that family members of the bereaved and survivors of the tragedy who were coming to the end of their visa were able to apply to extend their stay under existing immigration policies. They added that applications would be considered on a case-by-case basis.
Register for free to continue reading
Registration is a free and easy way to support our truly independent journalism
By registering, you will also enjoy limited access to Premium articles, exclusive newsletters, commenting, and virtual events with our leading journalists
Already have an account? sign in
Join our new commenting forum
Join thought-provoking conversations, follow other Independent readers and see their replies