Grenfell cladding had 'vintage safety certificate' at time of deadly fire
Classification was old enough that it was under review when 24-storey tower caught light
Sam Hancock
Wednesday 17 March 2021 18:56 Comments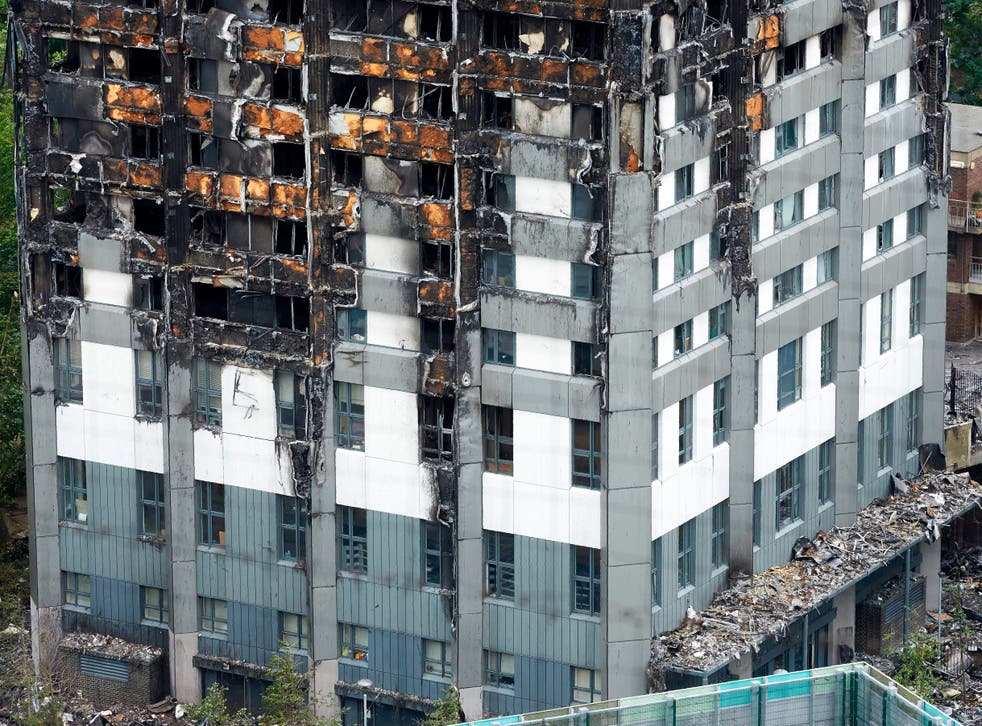 The cladding panels used on Grenfell Tower had a near 10-year-old safety certificate, referred to as "vintage" by the construction industry approvals body, at the time of the blaze which killed 72 people, an inquiry has heard.
An internal email at the British Board of Agrement (BBA) marked three days after the fire explained that the material's certificate was old enough that it had been in the process of a review.
It described the cladding, now known to be Reynobond 55 with a polytethylene (PE) core manufactured by Arconic, as being certified by the BBA.
The fire's ongoing inquiry heard that the message sent to BBA board members was marked as "confidential" and said the organisation was in a "reasonable position".
"The certificate is 2008 vintage and was in the process of being reviewed and reissued just before the fire," it reads.
"We would be in a stronger position if it stated in terms 'not to be used above 18m' but as the note makes clear, the certificate holder/user must comply with the building regs."
Read more:
The message was sent by the organisation's former deputy chief executive Brian Moore, who on Wednesday gave evidence for a second time.
When pressed by inquiry lawyer Richard Millett QC on whether "vintage" indicated the document was old and maybe should have been reissued, Mr Moore said: "Yes, I think that's what I was saying, vintage generally means that."
He clarified: "It was an older certificate."
Lawyers were informed on Tuesday that a whistleblower raised concerns about the BBA's certification of Reynobond products after the fire, which began on 14 June 2017 and burned for more than a day.
The issue was discussed between the member of sales staff and a scientific member of staff, Mr Moore said, adding he thought "the outcome was the scientist's view was reasonable, and matters were left there".
"Though I think matters were escalated by the colleague elsewhere, possibly to the media," he said.
In 2019, inquiry chairman Sir Martin Moore-Bick concluded the "principal reason" the flames shot up the building at such speed was the combustible cladding with polyethylene cores which acted as a "source of fuel".
Speaking at Wednesday's hearing, Mr Moore described the "maelstrom" and "information vacuum" the BBA was faced with in the days after the blaze, as the body attempted to ascertain what had happened.
"There was a mass of information swirling around. The media was full of reports, people who may or may not have been experts on the television talking about what had happened," he said.
"But in the middle, clear facts from an authoritative and objective source [were] lacking."
Mr Moore admitted that, because of this, "it was some time" before he "had a sense of what did actually happen".
"We, like everyone else, were trying to understand what had gone on," he said.
The inquiry continues.
Additional reporting by PA
Register for free to continue reading
Registration is a free and easy way to support our truly independent journalism
By registering, you will also enjoy limited access to Premium articles, exclusive newsletters, commenting, and virtual events with our leading journalists
Already have an account? sign in
Join our new commenting forum
Join thought-provoking conversations, follow other Independent readers and see their replies