Father closed blinds to stop children seeing people jumping from Grenfell Tower as fire raged around them
Roy Smith described how as the apartment filled with smoke and one of the windows caught fire, he gathered his wife and children in their sitting room so 'when our bodies were found they would know we were [a] family of four and we could be buried together'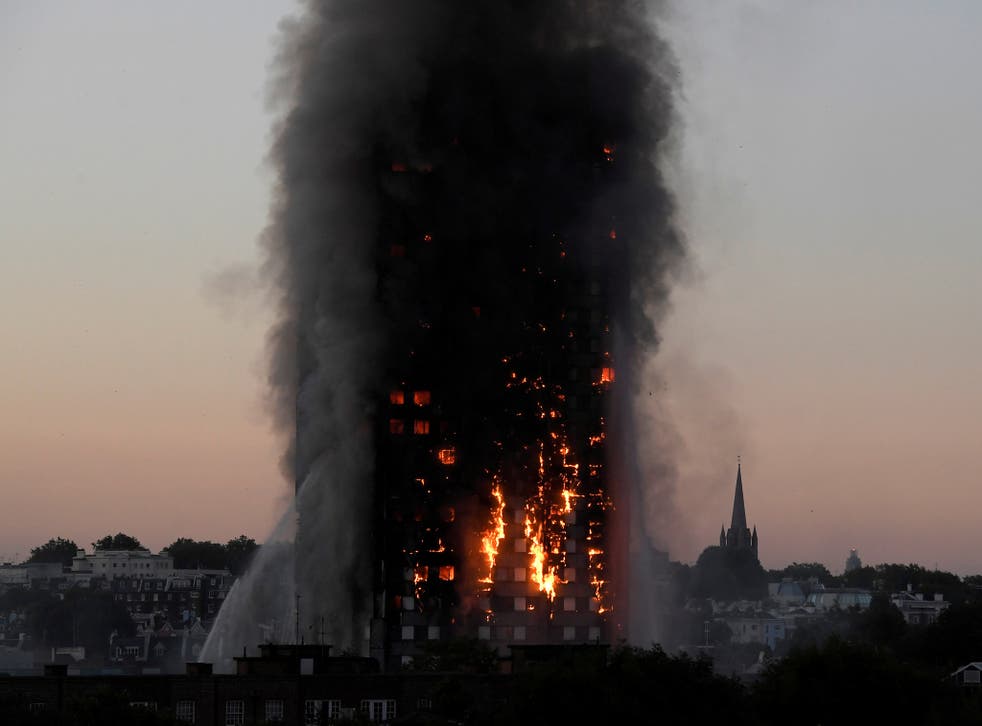 A Grenfell Tower resident has told the public inquiry into the fire that devastated the block how he was forced to close his blinds to prevent his young daughters seeing people jumping from surrounding flats.
Roy Smith described how he was told to remain in his 14th-floor flat by 999 operators who said firefighters were coming to rescue his family from the blazing 24-storey tower.
As the apartment filled with smoke and one of the windows caught fire, he gathered his wife and children in their sitting room so "when our bodies were found they would know we were [a] family of four and we could be buried together", he said.
"My daughter asked if I would get her hamster," Mr Smith told the public inquiry in a written statement.
"Kasia asked to close the blinds because we could see people jumping and there was a lot of debris falling.
"We wanted to make it as normal for the kids as possible. We tried to remain calm and we put the TV on.
"We hoped the smoke would overcome us before the fire."
Mr Smith said he eventually changed his mind and decided he needed to try to escape with his family.
"I went to close the sitting room door and as I did so I heard a voice. It said: 'It's not your time, you can get out of this'," he wrote.
"I said to my family, 'Do you trust me?' And they said they did. I said I would never let them down so I said 'We have got to go now'."
All four members of the family left the flat just after 2.30am, then made their way across the dark communal lobby, which was filled with "thick black smoke" and down the 14 flights of stairs to ground level.
The family of four were taken to hospital and Mr Smith was put in an induced coma for two days.
During his evidence on Wednesday, Mr Smith also gave details about problems he had during the refurbishment of Grenfell Tower, which finished in 2016.
Contractor Rydon replaced the building's windows, reinstalled the gas pipes, and wrapped the tower block in flammable aluminium composite cladding, the inquiry was told.
He said he raised a number of concerns about the safety of the work, which left gas pipes exposed, gaps around the windows, and poorly-fitted cladding.
But Mr Smith said a Tenant Management Organisation (TMO) employee labelled him a "nit-picker".
"As far as I know neither Rydon nor the TMO did any fire checks on the flat," he said in his written statement.
"I raised concerns about safety in letters, emails and phone calls to the TMO and to Rydon.
"I believe that the phone calls were recorded by the TMO.
"I was repeatedly told that everything was safe. My concerns were dismissed."
The self-employed carpet cleaner said Kensington and Chelsea Council (RBKC) threatened him with eviction and an anti-social behaviour order when he refused to let builders in to replace a window that had fallen out of its frame after being fitted incorrectly.
He said he was reluctant to let them enter due to the "poor standard of their workmanship".
He was left with "no choice" but to allow them to continue the work, he said.
Grenfell Tower Inquiry: photos of inside the flat where fire began

Show all 18
The public inquiry is in its first phase at Holborn Bars in central London, and is hearing evidence from survivors of the fire.
Join our new commenting forum
Join thought-provoking conversations, follow other Independent readers and see their replies