Grenfell Tower fire: New Kensington TMO chief Elaine Elkington makes no reference to tragedy in first statement
'I'm looking forward to working with our resident-led board and with staff to move the organisation forward at a business-critical time'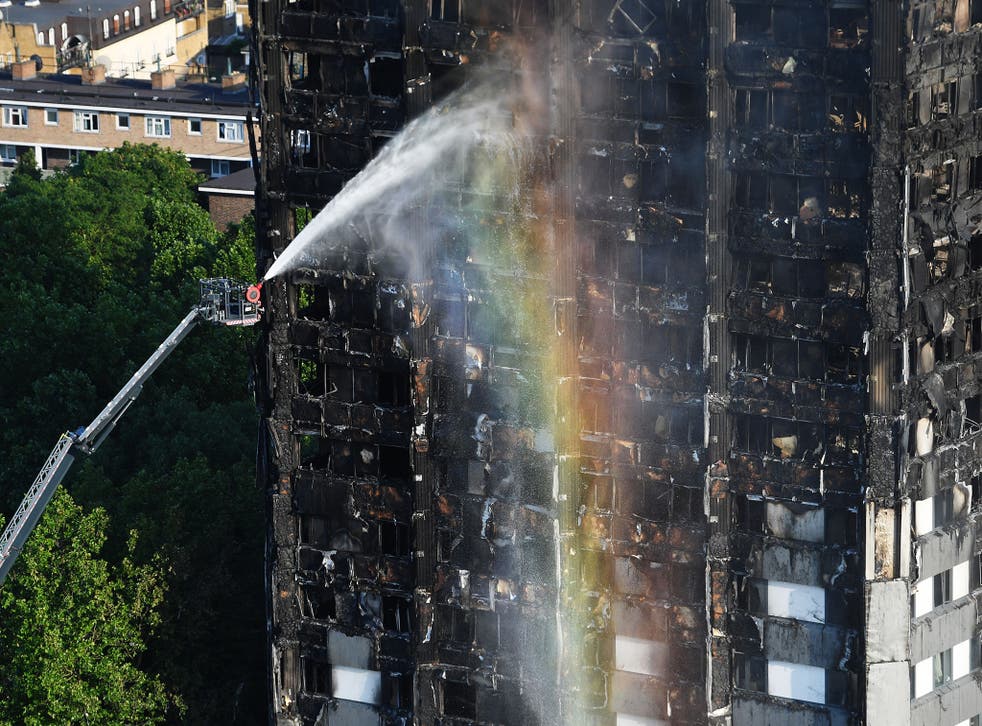 The new chief executive of the tenant management organisation in charge of Grenfell Tower failed to make a single reference to the tragedy in her first statement, sparking furious criticism from the local community
Elaine Elkington was appointed interim chief executive officer of the Kensington and Chelsea Tenant Management Organisation (KCTMO) after former leader Robert Black stepped down in the wake of the fire last month that killed at least 80 people.
"I'm looking forward to working with our resident-led board and with staff to move the organisation forward at a business-critical time and supporting our desire for continued service improvements," she said in a statement.
But the former Hammersmith and Fulham housing director faced a furious backlash from advocates of the Grenfell Tower survivors after failing to mention the disaster.
Justice4Grenfell spokesperson Yvette Williams said a reference to the tragedy "would have been the minimum we would have expected".
"It's very sad that she's seen this as a business-critical time as opposed to a people-critical time," she said. "She's just started badly. How can you come in, run the KCTMO, not mention Grenfell and not mention people, just mention the business?
"The TMO's business is the least of our problems down here at the moment. She can't go forward. They need to find someone else who will acknowledge the Grenfell disaster and at least come out and say it's their priority coming in as the new interim chief executive."
Robert Atkinson, leader of the opposition on Kensington and Chelsea council, said Ms Elkington's failure to reference the tragedy was an example of "high-handedness and insensitivity".
He said: "The TMO appears to exist in a parallel universe in which the Grenfell fire has not happened. The TMO does not seem to have consulted any other interested parties in making this appointment and for the new CEO to issue a comment without making any reference to the fire is crass beyond belief."
He called for the organisation to be dismantled and abolished, adding: "Until it goes there can be no closure and progress in the community"
Samia Badani, chairwoman of the residents' association for Bramley House, which is overlooked by the tower, said the omission had "done more damage than any good".
In Pictures: Grenfell Tower after the fire

Show all 51
She said Ms Elkington was talking about service improvements but that residents were in a "completely different situation where we want their services to be ceased".
She added: "There can't be any improvement with Kensington and Chelsea TMO because it's fundamentally flawed. We are very, very disappointed. This does little to restore public faith or confidence in their services.
"This community has been bruised and traumatised - you would say something to show you understand how we feel."
It comes on the same day two-year-old Jeremiah Deen was formally identified by police as one of those who died in the 24-storey block.
The death of his mother, 32-year-old Zainab Deen, was confirmed at an inquest in July. She was discovered on the 14th floor and her preliminary cause of death was given as "consistent with the effects of fire".
In a statement their family said: "We would like to express our heartfelt appreciation to all relatives and friends for their prayers, floral tributes and expression of condolences during this difficult time.
They added: "You spent a moment in our arms, but you will last a lifetime in our hearts".
Last week, police announced they had "reasonable grounds" to suspect the Royal Borough of Kensington and Chelsea (RBKC) and the TMO may have committed corporate manslaughter.
Chiefs from both organisations will be formally interviewed by officers as part of the criminal investigation into the tragedy.
Register for free to continue reading
Registration is a free and easy way to support our truly independent journalism
By registering, you will also enjoy limited access to Premium articles, exclusive newsletters, commenting, and virtual events with our leading journalists
Already have an account? sign in
Register for free to continue reading
Registration is a free and easy way to support our truly independent journalism
By registering, you will also enjoy limited access to Premium articles, exclusive newsletters, commenting, and virtual events with our leading journalists
Already have an account? sign in
Join our new commenting forum
Join thought-provoking conversations, follow other Independent readers and see their replies