Grenfell Tower: Victims to be rehoused in £2bn luxury Kensington apartment block
Prices in the upmarket High Street Kensington block start at £1.5m
Grenfell Tower fire: What do Kensington residents think of rehousing victims in luxury block?
Survivors of the Grenfell Tower fire are to be permanently rehoused in a £2bn luxury apartment block in Kensington, the Government has announced.
Some 68 one, two and three-bedroom flats have been bought by the Government at the Kensington Row development in upmarket High Street Kensington, Sajid Javid, the Communities Secretary, said.
The announcement comes a week on from the disaster, which left at least 79 dead.
Grenfell Tower survivors to be housed in 375 Kensington High Street

Show all 10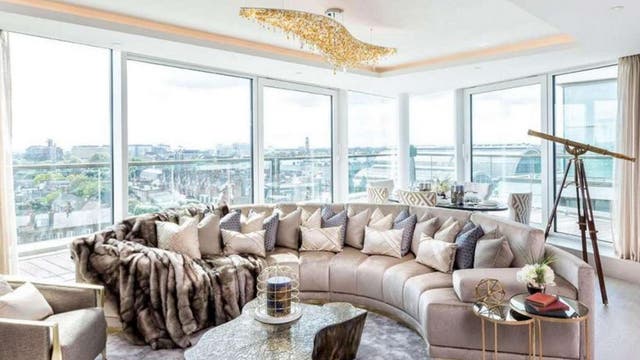 The properties are "newly built social housing" at a site where private homes are on offer from £1,575,000 to £8.5m and boast a 24-hour concierge and a private cinema, according to the website of developer St Edward.
The Department for Communities and Local Government (DCLG) said the "expectation is that these new properties will be offered as one of the options to permanently rehouse residents from Grenfell Tower".
Extra public money has been found to fit out the flats more quickly, and the developer has taken on more staff and relaxed working hours rules, DCLG said, with the aim of having the homes ready by the end of July.
It comes after much anger from survivors and victims' families at the official response to the deadly blaze.
Queen announces proposal for a full public inquiry into the Grenfell Tower fire
An independent public advocate to help bereaved families after major disasters was announced in the Queen's Speech earlier on Wednesday.
St Edward is a joint venture between Prudential and the Berkeley Group around 1.5 miles from Grenfell Tower.
Tony Pidgley, the Berkeley Group chairman, said: "We've got to start by finding each of them a home.
"Somewhere safe and supportive, close to their friends and the places they know, so they can start to rebuild their lives.
"We will work night and day to get these homes ready."
The homes will be in two affordable housing blocks at the site, and were purchased by the City of London Corporation in a deal brokered by the Homes and Communities Agency (HCA).
HCA chairman Sir Edward Lister said the agency "stands ready to help all those affected by this terrible incident".
He added: "We are identifying suitable properties in the local area to rehouse residents as quickly as possible, as well as offering support to local authorities to run checks on any high-rise buildings.
"We will do everything in our power to help those whose lives have been blighted by this horrendous fire and reassure those who live in similar buildings that their homes are safe."
Last week, the Labour leader, Jeremy Corbyn, called for empty homes near the scene of the fire in north Kensington to be requisitioned to house families.
The Kensington Row announcement came as more than 70 health and safety organisations and experts sent an open letter to the Prime Minister, Theresa May, urging her Government to "scrap its approach to deregulation of health and safety legislation" in the light of the disaster.
A City of London Corporation spokeswoman said: "We are ready to do everything we can to help the victims of the terrible fire at Grenfell Tower.
"We already provide council housing across seven London boroughs and are committed to delivering 3,700 new homes on sites across the capital.
"These plans are being discussed and agreed in principle as matter of urgency as part of the response by councils across London to support the team working on recovery efforts."
Join our new commenting forum
Join thought-provoking conversations, follow other Independent readers and see their replies