Grenfell Tower fire: MPs attack Kensington council for failure to spend £270m reserves on housing
Exclusive: 'If some of this money was spent on sprinkler systems and non-flammable cladding we wouldn't be where we are today'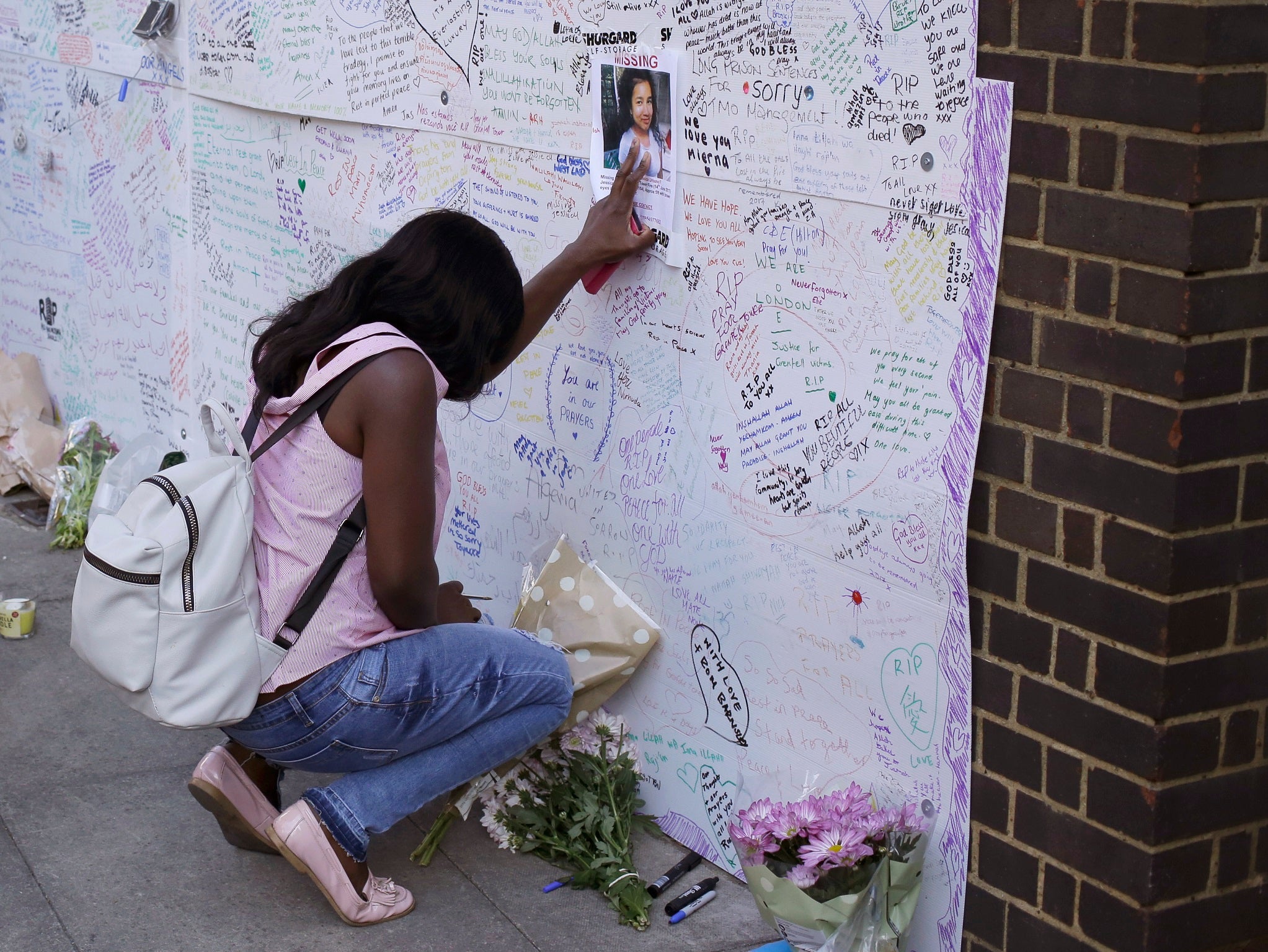 The council responsible for Grenfell Tower, where at least 58 people are now thought to have lost their lives after Wednesday's horrific fire, has been accused of carrying out "unacceptable" financial practises after it emerged the borough had stockpiled £274m of usable reserves following years of chronic underspending.
Labour MP for Tottenham David Lammy, whose friend Khadija Saye was killed in the blaze, said very serious questions needed to be asked about why the Royal Borough of Kensington and Chelsea (RBKC) was running a budget surplus despite repeated warnings from residents that the block posed a fire risk.
The shadow Communities Secretary Andrew Gwynne said the council needed to "immediately explain itself" over why the funds were not used to ensure safe housing.
"If some of this money was spent on sprinkler systems and non-flammable cladding we wouldn't be where we are today," he told The Independent.
"Residents are saying that they feel as though they have been treated as second-class citizens because they are poor. It cannot be right that the council ran a budget surplus whilst families in their borough were living in such unsafe housing. That is simply unacceptable.
"The people of Kensington and Chelsea are angry and they have every right to be. We need answers and we need justice. Serious questions have to be asked about why the council was running a budget surplus when the Grenfell residents were warning about fire risks."
Mr Gwynne said: "The council needs to immediately explain why these funds were not used to ensure safe housing for Kensington and Chelsea residents. There are too many opportunities for this tragedy to have been avoided.
Grenfell Tower fire: Protesters storm Kensington Town Hall
At this time of intense stress and trauma, the least that these communities deserve are answers."
Sir Ed Davey, the Liberal Democrat's shadow Home Secretary, said: "The immediate priority must be to look after survivors and their families but we do also need answers. One of the questions is why the council had £270m in reserve but apparently couldn't afford sprinklers."
In 2013/14, RBKC underspent by £30m "thanks to an overachieving efficiency drive," according to Council Leader Nick Paget-Brown. Instead of reinvesting the funds, top rate council tax-payers were subsequently offered a £100 rebate to account for the overspend.
"In deciding what to do with it, we have taken the view that it is simply wrong to discount from our calculations those whose money this was in the first place. In short, we think the right place for it is back with our residents," Mr Paget-Brown wrote at the time.
While some of the reserve money is ring-fenced, the revelation follows claims that additional spending on the west London block could have prevented the tragedy that killed at least 58 people on Wednesday.
Questions were raised about the cladding that was fitted to the building during a 2015 refurbishment, which experts suggested may have helped the flames spread more rapidly throughout the tower than they would otherwise have.
Fitting a fire-resistant alternative would have cost as little as £5,000 extra to instal. The British Automatic Fire Sprinkler Association also said installing a sprinkler system would cost just £200,000.
"We have heard that the council gave residents a £100 rebate in 2014, when just £5,000 would have paid for non-flammable cladding on the outside of Grenfell Tower," Mr Lammy said.
In Pictures: Grenfell Tower after the fire
Show all 51
It follows claims by Labour Councillor Robert Atkinson the council was "bribing the electorate with its own money" after it "systematically and deliberately created underspends".
"Our suspicion, based on past experience, remains that this council will bring in and hoard the people's money in non election years (such as this) only to give it back as a pre-election bribe immediately before a council election – such as next year," he said in a speech after 2017's budget was announced.
"We think this council's long standing practises of, every year, running huge underspends in its revenue budgets which it then transfers into Capital reserves is wrong, and, given the damage to services that has resulted over many years from the squeezing of revenue budgets it is not to put too fine a point on it – wicked."
Mr Paget-Brown justified the rebate in 2014, saying it could not be ploughed back into services because it was a "one-off surplus". Despite this, over the last four years, the General Fund at RBKC has consistently underspent, with draft figures for 2016/2017 showing a surplus of £10m.
The underspend figures come in contrast to those produced by the Borough of Islington, which has a similar demographic makeup to Kensington. In 2015/16, the Council underspent by £0.2m. In the same year, Newham, one of London's poorest boroughs, underspent by £311,000.
The Chartered Institute for Public Finance and Accountancy details three reasons for a council to have reserves, one of which is to act as a "contingency cushion" for unexpected emergencies or events. But residents of the gutted block were growing increasingly angry over the council's relief efforts following the fire.
Protesters stormed Kensington Town Hall chanting "justice" on Friday, carrying a list of demands they said authorities must meet. The Government was criticised for seemingly U-turning on a pledge to rehouse residents affected by the blaze within the borough, admitting on Friday that they may have to be relocated to other areas in London.
Despite the budget surplus, it appeared the RBKC was struggling to find accommodation in the borough for residents who were left homeless in the blaze.
Grieving relatives of the dead pointed to the repeated failures by those managing the properties to prevent such a tragedy on an unprecedented scale.
Residents of Grenfell Tower complained two years ago about the refurbishment of the building being done "using cheap materials" and workmanship that "cut corners", The Independent revealed.
They later claimed the RBKC had done nothing to address their concerns.
It has also emerged that in order to save money, the council ditched the original proposed contractor, Leadbitter, for the refurbishment, and instead went with Rydon, a cheaper bid for the work.
In July 2013 the council's Housing and Property Scrutiny Committee proposed to "market test the works through an open tender" after noting: "Leadbitter currently estimate the cost of the works to be £1.6m above the current, proposed budget."
Rydon eventually completed the refurbishment in May 2016, for £2.5m less than the £11.278m quoted by Leadbitter.
Rydon has repeatedly said that all the refurbishment work carried out at Grenfell Tower met both building and fire regulation standards and was signed off by the council.
The Independent has contacted the RBKC for comment.
Join our commenting forum
Join thought-provoking conversations, follow other Independent readers and see their replies