Grenfell Tower victim's family being 'blocked' by Home Office from entering UK
Exclusive: Khalloufi family has been granted core participant status in public inquiry but has received no indication of whether they will be able to enter country to attend next hearing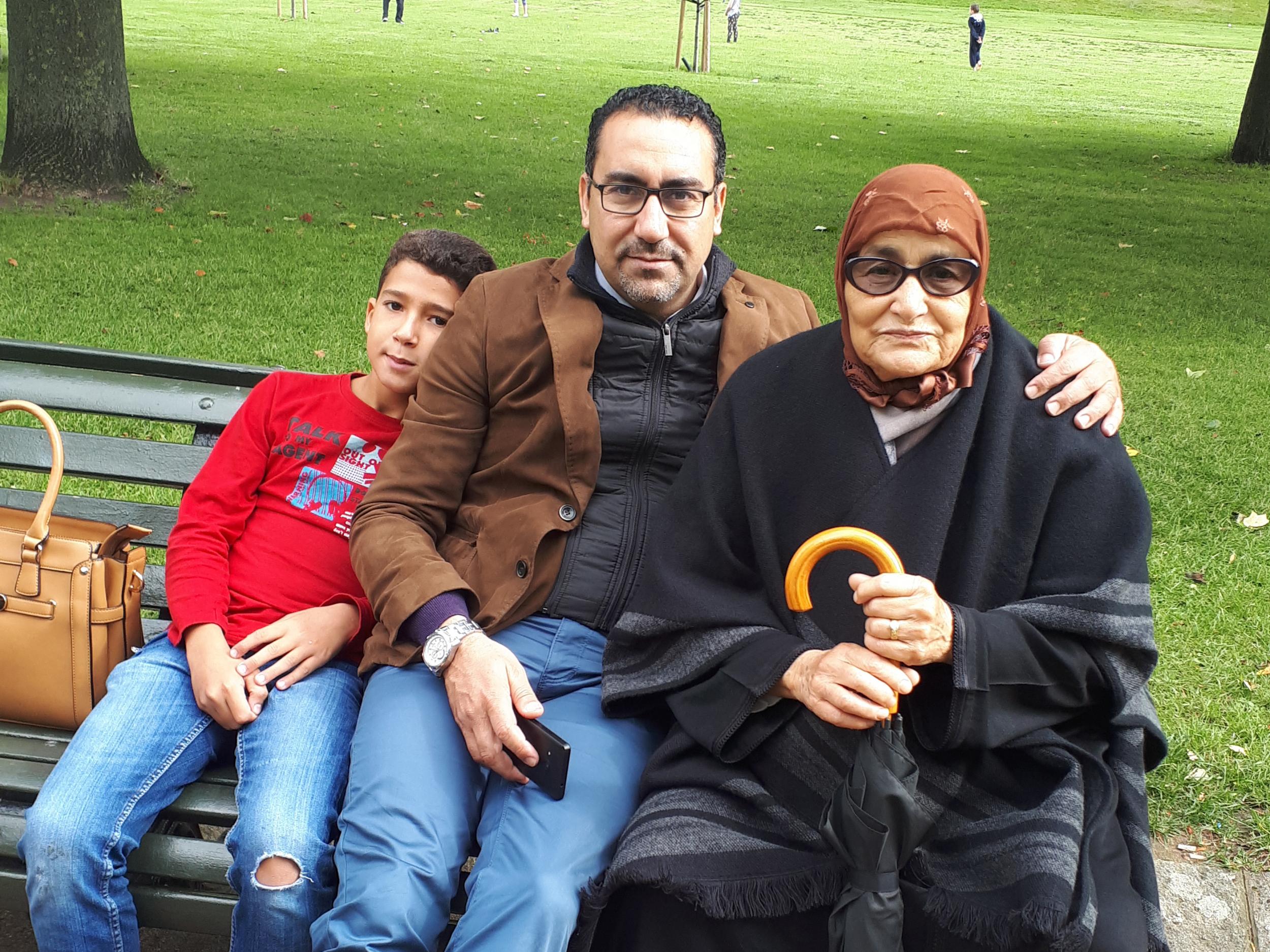 Grieving family members of one of the Grenfell Tower fire victims have accused the Home Office of blocking them from participating in the public inquiry as their applications to enter the UK remain pending after 45 days.
Moroccan national Karim Khalloufi, whose sister Khadija died in June's tragedy, said his mother and other sister have been waiting since December to hear back from the Home Office after applying for visitor visas.
He claims both were required to relinquish their passports and pay more than £400 in total to have their applications processed at the British visa centre in Rabat. But the family say they have had no communication from the department – and their passports have not been returned – since their appointment over eight weeks ago.
Most visa applications from Rabat are processed within 30 days, according to December's data published by the Home Office, but a disclaimer on the department's website notes that times may vary "depending on a range of factors".
The Khalloufi family has been granted core participant status in the upcoming inquiry into the fire. The next hearing is expected to be held at the end of the month, but Mr Khalloufi is seriously concerned his family will be blocked from providing important testimony – and coming to terms with their grief – if they are unable to enter the UK.
"I don't want to stay in London I have my life in Morocco but as a core participant I was told, 'You and your mum should always be able to come and go because we need you for the investigation'," he said. "When I gave them the papers over 40 days ago they kept the passports and no one is telling me what I should do."
Khadija Khalloufi, 52, died from smoke inhalation after escaping from the 17th floor of the burning building in north Kensington on 14 June. Her husband of 25 years, Sabah Abdullah, survived.
Mr Khalloufi said his mother, Zohra Rabbae, had been unable to come to terms with his sister's death. He believes attending the inquiry will be fundamental in helping her accept what happened to her eldest daughter.
"Khadija was with us just 10 days before, her and her husband, so the inquiry will help our family to be at peace and to rest and to see that something was done right by my sister. Now my mother is still telling herself that Khadija is lost somewhere," he said.
The formal opening of the inquiry, which will aim to establish the causes of the fire that claimed 71 lives, took place in September and two procedural hearings went ahead in December, which Mr Khalloufi attended. The next procedural hearings were meant to be held on 30 and 31 January but have been delayed until the end of February.
Mr Khalloufi said the family's visa woes had made their traumatic situation "even worse". He is now too afraid to submit his own application as he is concerned his passport will also be seized.
"There is no special treatment for the bereaved. My mother is an old woman, she lost her baby and she is still suffering but they don't consider that, they don't have any human consideration, they don't care about if she lost her baby or not," he said.
"If the inquiry needs my mum to come, if I want to come and see my lawyer to see what is going on, are they going to keep my passport now? We are suffering from something we never anticipated. We are a bereaved family but they are not helping us, they are just making it worse."
Shadow Home Secretary Diane Abbott called on the Home Office to urgently remedy the situation for families of the deceased, adding immigration status should not be a "barrier to the truth".
"This is exactly the kind of arbitrary barrier that could affect the credibility of the inquiry" she said.
"The public were assured that no stone would be left unturned. But how much confidence can they have when core participants can't even enter the country –essentially blocked by the same Government that called the inquiry!
"The victims, survivors and their families deserve better. The Government must take meaningful action to ensure that immigration status is not a barrier to the truth about Grenfell."
In Pictures: Grenfell Tower after the fire
Show all 51
Mr Khalloufi was first granted a visitor visa in June, two weeks after the tragedy. His mother, Ms Rabbae, was also granted a visitor visa in July – one month after applying.
Both came to the UK seeking answers and applied to extend their visitor visas in September 2017 when it became clear the inquiry would not have reached any conclusions by December – when Mr Khalloufi's visa expired.
But he claims he was forced to return to Morocco with his mother after hearing nothing about an extension until the day before his visa expired.
After boarding the plane to return to Rabat, Mr Khalloufi said he received a call from Home Office officials to say they acknowledged his request and he could remain while it was being processed, by which point it was too late.
"It's just such a pity to know this is coming from a British institution. I know British people, they are very kind and helpful, I met a lot of citizens who were very kind to me but when I knock on the door of the institutions, it is locked everywhere," he said.
How the Grenfell Tower fire happened, explained
He also accused authorities of exacerbating the family's suffering during the time they spent in the UK in the aftermath of the fire.
"When I went there I didn't ask for anything, I went there to find out how my sister died, I was suffering," he said. "I didn't have good treatment, they put me in a hotel and they forgot me. My mum was really suffering, she was crying all the time, she didn't expect that she would be as badly treated like this. Really we are still suffering, we are still grieving and no one is helping us to get over this."
The family's lawyer Balvinder Khan has made repeated attempts to contact the Home Office about the family's applications, but had received no clarification at the time of publication.
"One of the purposes of the inquiry is to help families of the deceased to understand what happened on 14 June and why so many deaths occurred within 15 minutes of the fire starting," she said. "However, how is that to be achieved when families of the deceased are not being allowed short visas to attend the inquiry?
"The same Home Office department on the one hand has granted deceased relatives like Karim and his mother core participant status, and with the other hand is delaying or denying them visas to attend."
It follows criticism of the Government after The Independent revealed survivors and their families could now be deported.
Residents of the tower block who did not have leave to remain in the country at the time of the fire were offered a 12-month amnesty by the Home Office. But the deadline to apply expired on 31 January, prompting fears the public inquiry could be deprived of key testimony if certain survivors are forced to leave the country.
The Home Office insisted any survivor applying after the deadline elapsed would still be considered for leave "outside of the immigration rules".
Separately, Labour MP Emma Dent Coad said at least six families in her constituency needed to extend their visas and were living in limbo as they anxiously waited to hear if the Home Office will accept their applications.
When contacted about the Khalloufi family, the Home Office said it did not comment on individual cases.
A spokesperson added that the Government would help support the Grenfell inquiry by ensuring visa applications were dealt with "in a timely manner".