'A shocking waste': Kensington council spends almost £30m on hotels for Grenfell survivors waiting to be rehoused
Exclusive figures emerge as more than 150 households continue to wait for a permanent home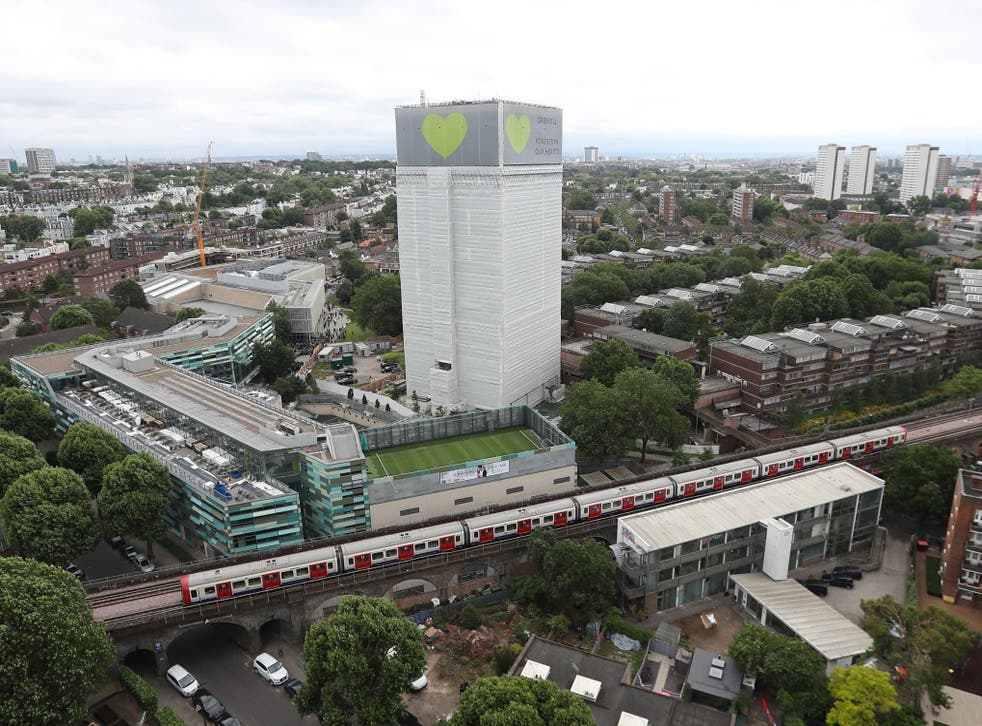 Nearly £30m has been spent on hotel rooms for survivors of the Grenfell Tower fire, The Independent can reveal, prompting critics to condemn the Royal Borough of Kensington and Chelsea (RBKC) for wasting a "shocking" amount of public money.
The bill, thought to be almost five times the cost of building the original tower block, does not include the sum given to survivors to help them pay expenses associated with living in hotels.
In addition to the amount paid to the 59 bed and breakfasts and hostels that accommodated former residents of the Grenfell estate, £4.9m has been spent on temporary housing, according to a response by RBKC to a freedom of information request.
Grenfell Tower, which was built between 1972 and 1974, is estimated to have cost £500,000 to build. This is equivalent to around £6.2m in today's money – 21 per cent of the £29.4m hotel expenditure.
Almost 16 months after the deadly blaze, more than 150 households that fled the inferno are still waiting to move into a permanent home. RBKC has been heavily criticised for the sluggish pace of its rehousing programme.
One survivor, who asked not to be named, told The Independent living in emergency accommodation made it impossible for his family to "rebuild our lives".
"Our children cannot make friends with the neighbours as they are continuously changing," he added.
Other parents have previously described struggling to feed themselves and their children properly, as a lack of cooking facilities means they are forced to subsist on takeaways.
In the immediate aftermath of the fire, the council spent £235m on buying 307 properties intended for Grenfell residents.
But it has been embroiled in a row over the suitability of the housing and many of them are believed to be vacant. The Independent reported in July that a further 133 council-owned houses in Kensington were lying empty, the majority in a state of disrepair.
The North Kensington Law Centre, which has been helping a number of former Grenfell residents, said council officers were pressuring traumatised residents to accept housing that overlooked the husk of the tower in which 71 of their neighbours died.
One woman was coerced into accepting a property that did not have any flooring, the law centre said. She was told she had to accept the offer by 10am the next morning or she would be classified as intentionally homeless, it claimed.
Local Labour MP Emma Dent Coad said RBKC had tried to pressure disabled residents into accepting houses that did not have step-free access.
She accused the council of "bullying" survivors and claimed the authority was trying blame the hotel bill on them.
"This is a shocking waste of public money due to the council's failure to purchase properties suitable to Grenfell affected households," she said.
"Do traumatised people who have been through such a terrifying experience want to live six floors up? Do disabled people want to live with floor to ceiling windows so everyone can watch their daily struggles?
"It is clear that despite everything that has been said in the past year, senior officers and councillors still have little idea how ordinary people live."
Grenfell survivor Miguel Alves: The tower was like a 'trap'
The comments come after residents from the five blocks surrounding the tower who were evacuated on the night of the blaze were told they would lose their council house tenancy if they refused to return to their former homes.
The decision was criticised for ignoring the trauma residents had suffered. Many of those who lived next to the tower also have health and safety concerns about the upcoming demolition of the tower, which contains asbestos.
Ms Dent Coad's office is dealing with the cases of around 100 households, comprising around 300 people, she said.
"Some council officers are caring and competent, others I'm afraid are losing patience and even seem quite bullying in their relation to traumatised residents. We've heard some terrible stories," she said.
RBKC did not seem to have carried out a needs assessment before buying the 307 homes, "so they are stuck with homes that no one wants," she said.
"Rather than accepting their error, they are trying to force traumatised people to accept homes that are not suitable for them, while blaming them for overspending on hotels."
Ms Dent Coad is demanding an independent commissioner be appointed to take over the rehousing process from the council.
Grenfell Tower Inquiry: photos of inside the flat where fire began

Show all 18
Spike Western, a paralegal from the North Kensington Law Centre, said: "It's definitely true that some council officers appear to be losing patience. For instance one client had to sit through a meeting where their allocations officer was pressuring them into looking at being rehoused.
"The officer had placed a sticky note in front of my client with the amount the council were paying for her temporary accommodation. The usual rule is that residents are not aware the cost the council are paying.
"My client was shocked at the amount and feels very guilty, and responsible, though the family did not choose this property. They simply moved into the property the council had chosen for them. The officer told them they had to move out within a month."
"These are very vulnerable people, with diagnosed mental health illnesses resulting directly from what they witnessed on 14 June," Mr Western continued.
"And sadly, rather than being treated with the required sensitivity, in many cases they feel as if they are a burden on the resources of a council who has lost patience with them."
Kim Taylor-Smith, Kensington and Chelsea Council's deputy leader, said: "The human cost and loss of life will always outweigh any financial costs. We must do all we can to support the families who suffered as a result of last year's tragedy.
"That has been, and always will be, my top priority."
Join our new commenting forum
Join thought-provoking conversations, follow other Independent readers and see their replies