Grit and bear it: The 'Beast from the East' set to return bringing icy temperatures and snow to whole country as Britain gets set for big freeze
Icy blast of air could bring temperatures as low as -14C (7F)
Rob Williams
Thursday 10 January 2013 20:47 Comments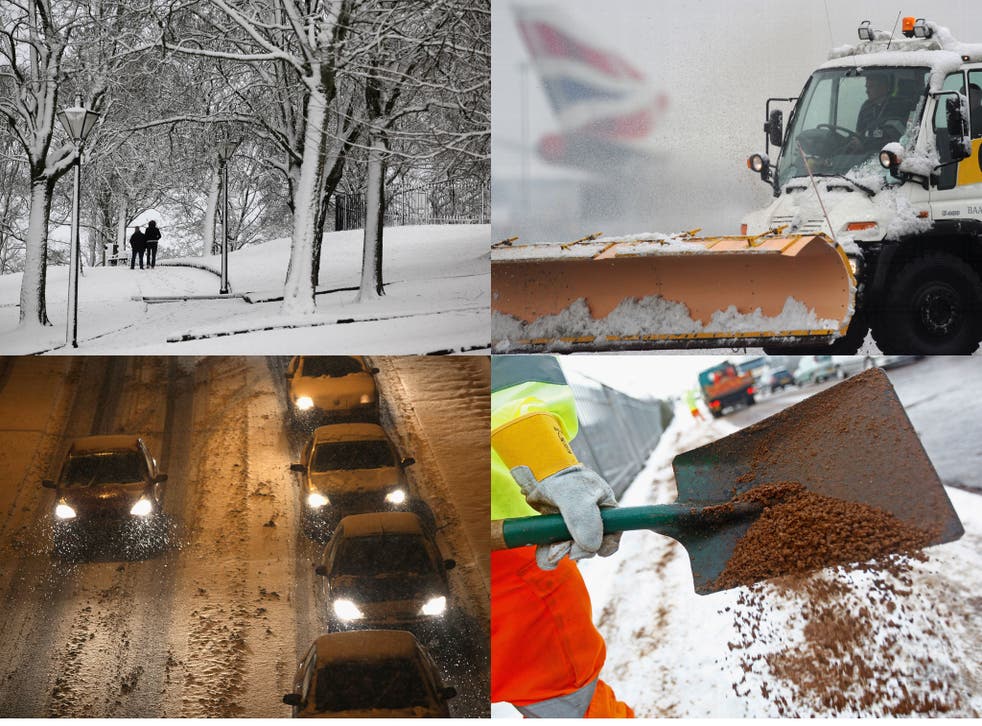 Icy winds from Russia are set to produce a fortnight of wintry weather across the UK bringing cold, sleet and treacherous conditions lasting at least into the middle of next week.
With echoes of the 'beast from the east' weather system, that caused widespread disruption when it hit Britain in 2009, producing the coldest snap in 31 years, the icy blast of air could bring temperatures of -14C (7F).
Forecasters have warned that the risk of ice and fog could disrupt travel plans and that most of the country is at risk of seeing snow fall.
The mild conditions enjoyed so far in 2013 are expected to come to an abrupt halt on Saturday.
Scotland and the east coast of England will face the worst of the weather, but all parts of the UK are at risk of snowfall.
While the country prepares to batten down the hatches and wrap up warm, Britons are hoping that the preparations of local authorities across the country will be sufficient to stop Britain grinding to a halt.
Up to four inches of snow is expected in the next seven days.
Gritters were out in counties across Britain as temperatures are set to plummet below freezing and local councils warned motorists to be extra cautious when travelling in the icy conditions.
Gatwick airport, which recently invested £8 million on "snow kit", will face the first test of its equipment - which it says provides snow-clearing on a par with Oslo.
The airport has 18 'sweeper blowers' for the runways, and six large runway anti-icing vehicles, and we can store up to 600,000 litres of anti-icing agent.
Dan Williams, a spokesman for the Met Office, said: "It would be fair to say that nobody should be surprised to see sleet or snow over the weekend and into the next week."
"We have got warm air trying to push in from the west and colder air pushing from the east and north east and there is a bit of a war into which will gain supremacy over the UK…With that combination there is the possibility that we could see some snow across any part of the
2013 got off to a mild start with above average temperatures often hitting the double figures.
At night temperatures have been holding up at 6-8C – far warmer than the 0C typical at this time of year.
The mild spell saw unseasonably high temperatures over the holiday period, with 14.3C in Wester Ross, Scotland, last Wednesday and 12.8C in Usk, Monmouthshire on Thursday.
Tom Tobler, a forecaster with MeteoGroup, said: 'It will be freezing in some areas this week but could get slightly colder if the skies are clearer than forecast.
"This would be a return to more typical January temperatures than the milder weather we've been having. There is the potential next week for some colder weather."
Register for free to continue reading
Registration is a free and easy way to support our truly independent journalism
By registering, you will also enjoy limited access to Premium articles, exclusive newsletters, commenting, and virtual events with our leading journalists
Already have an account? sign in
Join our new commenting forum
Join thought-provoking conversations, follow other Independent readers and see their replies