3 charts that show just how much legal highs took over Britain's prisons
The Psychoactive Substances Act is due to come into effect on 26 May, but sprialling use among prisoners raises concerns clampdown attempts are proving ineffectual
Siobhan Fenton Comments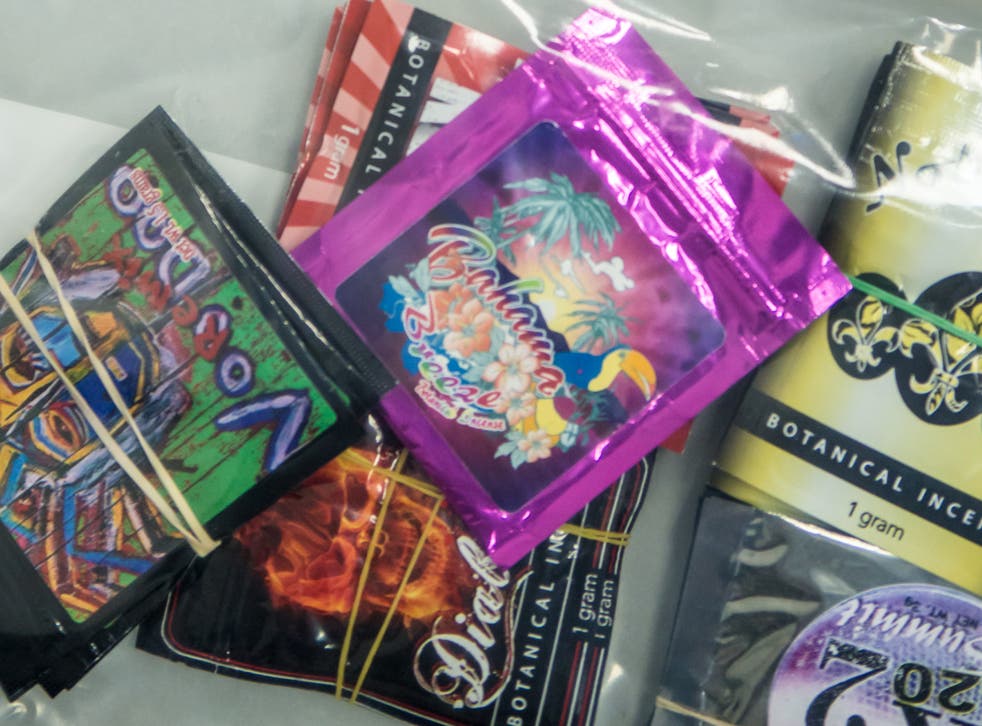 A decade ago, legal highs were virtually unheard of.
From almost nothing in 2008, the substances, which mimic the effects of traditional drugs like ecstasy and cannabis, are now thought to have been taken by more than 650,000 15-24 year olds. Campaigners and police say the drugs are destroying lives and fuelling anti-social behaviour. According to the EU, nowhere in Europe is the problem quite so acute as it is in the UK.
On Thursday, a new law that will place a blanket ban on legal highs will come into effect. The legislation, part of the Pscychoactive Substances Act, has been criticised by many who say it will drive the drug underground and push users into the hands of drug dealers.
And one of the places that is increasingly being seen as emblematic of how large the problem has grown – and how much the Government has failed to get a grip – is inside Britain's prisons.
In recent weeks, prisoners, staff and experts have detailed how use of the drugs has soared, bringing chaos to an already struggling prison system.
In the last two years, 277 people have died inside British prisons and, of these, prisoners are "strongly suspected" to have taken legal highs in relation to at least 39 deaths. Substance abuse charity Rehabilitation for Addicted Prisoners Trust, which supports prisoners coping with addiction, has warned that the number of prisoners reaching out to them for help has increased sevenfold recently, from 87 people between April and September 2014 to 622 people in the same period of the following year.
Last week, inmates at Oakwood prison reportedly brought a batch of the drugs into the prison via drone and were discovered when they suffered bad reactions and collapsed in their cells. The case reignited concerns that attempts to legislate and control the drugs are a losing battle in advance of the nationwide ban that comes into force next week.
The substances are expressly banned from jails but addicted prisoners have repeatedly found ways to secure access to them. Opportunities have been found in various security lapses ranging from audacious feats like Oakwood's drone delivery to the less dramatic but common techniques of sneaking substances in during visits from friends and family.
Known as NPS (new psychoactive substances) the drugs mimic illegal highs such as cocaine and cannabis but use primarily legal materials while giving many of the same desired effects to avoid drugs legislation. However, many of the 'legal highs' also contain banned material, despite their name.
Some prisoners are believed to have died from poisoning after the combinations of substances in legal highs have proven a toxic cocktail. In others, the drugs have triggered psychotic episodes resulting in self-inflicted deaths.
Campaigners say the issue is exacerbated by worsening prison conditions which has seen overcrowding rise, staff levels decrease and violent attacks soar under Government reforms and funding cuts. Prisoner morale has reportedly dropped amid the worsening conditions and mental health problems are becoming increasingly common. There are also concerns that increasingly chaotic conditions provide more opportunities for prisoners to evade security and intercept banned substances.
Lord Charlie Falconer, Shadow Secretary of State for Justice, told The Independent: "On David Cameron's watch prisons have become dangerously overcrowded with rising levels of violence, serious assault on staff and now the surge in the use of legal highs. Until he tackles these key isses then his prison reforms are just tinkering around the edges from a divided Tory party, rather than the reform the prison system so sorely needs."
A Prison Service spokesperson told The Independent: "We take a zero tolerance approach to contraband in our prisons and work closely with police and Crown Prosecution to prosecute those involved. We have already legislated to make smuggling New Psychoactive Substances into prison illegal and those caught trying to throw packages over prison walls can now face up to two years in jail. However, we need to do more, which is why we are investing £1.3 billion to transform the prison estate, to better support rehabilitation and tackle bullying, violence and drugs."
World's 10 deadliest street drugs

Show all 10
A blanket ban on legal highs in the UK is due to come into force on 26 May. The Psychoactive Substances Act has been fiercely debated amid concerns that it will not be enforceable.
During debate over the proposed legislation in the House of Commons, some MPs voiced concerns that the legislation was rushed and poorly designed.
The Government has denied this and argued it has acted to protect the public at a time of unparalleled growth legal highs usage.
Register for free to continue reading
Registration is a free and easy way to support our truly independent journalism
By registering, you will also enjoy limited access to Premium articles, exclusive newsletters, commenting, and virtual events with our leading journalists
Already have an account? sign in
Join our new commenting forum
Join thought-provoking conversations, follow other Independent readers and see their replies