Guantanamo 'show trial' looms for UK resident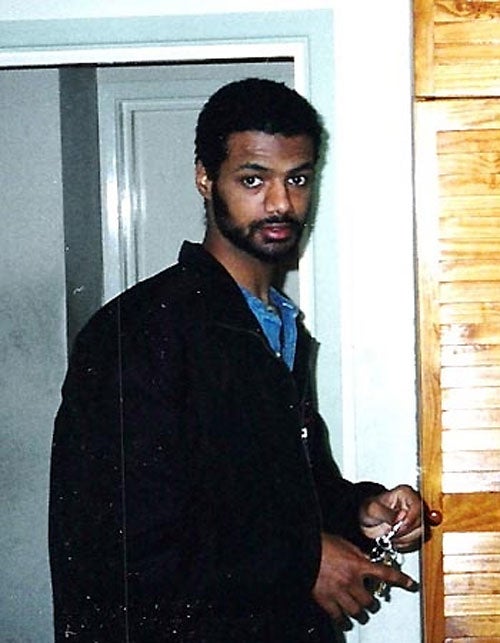 Britain is having secret talks with Washington in a final attempt to stop a UK resident being charged with terror offences and brought before what has been described as a "show trial" at Guantanamo Bay.
The US State Department wants to try Binyam Mohamed, 29, at the same military tribunals which are shortly to hear the cases of 11 men accused in connection with the September 11 terror attacks.
Mr Mohamed was born in Ethiopia and came to Britain, aged 15, in 1994, where he lived for seven years and where he has leave to remain. He was arrested in 2002 during a visit to Pakistan and handed over to the Americans who sent him to prisons in Morocco and Afghanistan before spending three years at Guantanamo Bay.
During his six years in jail he has been interrogated by US officials. His lawyers claim they tortured him in various ways, including cutting his genitals with a razor blade. There are concerns for his mental health and doctors think he may be close to suicide.
In the past few weeks FBI agents have visited Mr Mohamed's family in America in what appears to be a crude attempt to gather evidence for a forthcoming trial. This has prompted Mr Mohamed's brother and sisters to write to the Foreign Secretary, David Miliband, to ask him to intervene.
In an email sent to Mr Mohamed's sister, the Foreign and Commonwealth Office has confirmed the Government has begun urgent talks with US authorities to try to secure his release. The message sent from the FCO's counter-terrorism department says: "Due to significant security concerns, the US Government is not presently inclined to agree to his release and return to the UK. We continue to discuss Mr Mohammed's [sic] case with the US." It adds: "We are also aware of the concerns you raise about Mr Mohammed's health. We have raised these matters with the US government."
Binyam's older brother Benhur, a doctor in America, said the FBI had recently visited him at his home in what he said was a desperate attempt to shore up the case. "They asked me some ridiculous questions about my brother. Why was he picked up? I said 'just because he had the wrong passport', that is what the Pakistanis say. One of them said we do not send people to Guantanamo just because they had the wrong passport. I said that is what happened to my brother."
Benhur Mohamed believes his brother is the victim of an intelligence failure, wrongly linking him to a dirty-bomb plot in America. Under torture Binyam is believed to have made a false confession.
Mr Mohamed said about Binyam's trip: "On his way back to UK from travelling, he was taken into custody in Pakistan and handed to US officials. He was told the US wanted a story from him and they were going to get it, one way or another. He was told a story and was instructed to confess to something that seems totally false."
After he disappeared in 2002 Benhur and his sister went to the FBI to ask for help to find him. But they denied knowing where he was, although it is now clear they were involved in his interrogation. "They just kept directing our inquiries to the Pakistani embassy," said his sister, Zuhra.
The family found out about his whereabouts in February 2005 when Zuhra was contacted by the Red Cross and told that Binyam was in Guantanamo Bay.
Mr Mohamed, represented by Clive Stafford Smith, legal director of the UK charity Reprieve, is one of five UK residents whose return was requested by the Government in August. Three of these were flown home before Christmas. A fourth, Shaker Aamer, has elected to negotiate his repatriation with Saudi authorities, but remains in Cuba. Three others' claims to UK residency are not recognised by the Government.
Family's plea to end torture
* Benhur Mohamed's letter to David Miliband
"Please save my brother Binyam Mohamed – he is an innocent young man who has endured all this torture for past six years and is still being subjected to inhumane acts which are unacceptable by any standard.
Don't let an innocent soul perish."
* Zuhra Mohamed's email to David Miliband
"Good evening Mr Miliband. I am Mr Mohamed's younger sister. I beg you to please review Binyam Mohammed's case in Guantanamo. I can't even sleep thinking about how he is being treated, and not knowing what he has endured.
I hope the world could understand him like we his family do. It's hard sometimes – the thoughts that cross my mind, and now they actually are telling us that he is in a meltdown, close to suicide.
I would like to hug him and hold him like all the rest of his family; please let it not be too late. I have lost him for five years; I don't want to lose him for ever. Please, you are the only person I have written to but you're my only hope. Please, please, help us."
* Binyam Mohamed's own account of his torture
"They cut all over my body including my private parts saying it was better just to cut it off as I would only breed terrorists.
This went on for weeks every day. I felt like I was being stung by million bees at once. The floor was full of blood... All this time they kept reading out their [story] to me and saying if you say this story as we read it, you will just go to court and all this torture will stop.
I could not take any more this torture and after months of torture I repeated what was read out to me. This lessened some of the torture but it was not over..."
Join our commenting forum
Join thought-provoking conversations, follow other Independent readers and see their replies