Guardsman collapses during Trooping of the Colour parade at Queen's 90th birthday celebrations
The incident happened in front of hundreds of onlookers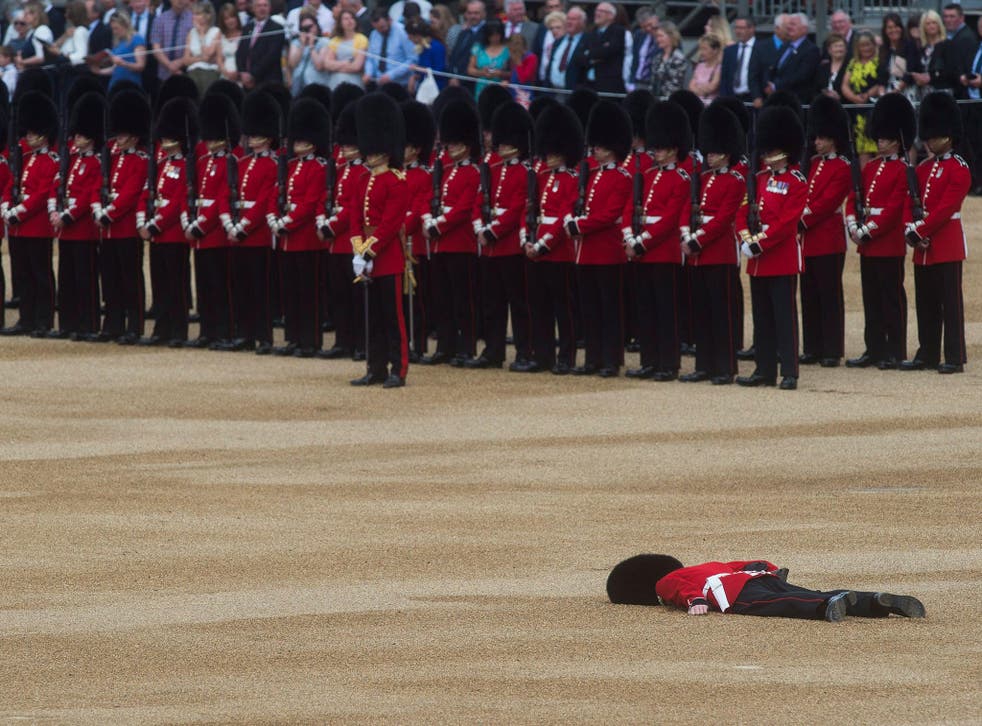 A guardsman has collapsed during the Trooping of the Colour parade, part of the Queen's 90th birthday celebrations.
The event took place on Horse Guards Parade in central London.
While unidentified soldier's comrades remained still, he was soon attended to by officials and stretchered off the parade ground.
The soldiers wear a heavy uniform and a bearskin 'Busby' hat, which is thought to have contributed towards the collapse, in addition to the warm temperatures.
The hats have been worn in the British army since the 1830s.
In January, the Daily Mirror revealed that Ministry of Defence (MoD) spending on the hats – which cost £1,224 each - has increased dramatically in recent years.
The MoD spent £149,379 on 122 of the the hats at the taxpayer's expense in 2015, the newspaper reported.
There have been celebrations throughout the weekend. On Friday, a member of the RAF collapsed while waiting outside St Paul's cathedral for a service of the Queen.
Register for free to continue reading
Registration is a free and easy way to support our truly independent journalism
By registering, you will also enjoy limited access to Premium articles, exclusive newsletters, commenting, and virtual events with our leading journalists
Already have an account? sign in
Register for free to continue reading
Registration is a free and easy way to support our truly independent journalism
By registering, you will also enjoy limited access to Premium articles, exclusive newsletters, commenting, and virtual events with our leading journalists
Already have an account? sign in
Join our new commenting forum
Join thought-provoking conversations, follow other Independent readers and see their replies