Guide dog mauled while helping owner deliver Christmas cards
'Friendly' black Labrador Gwen did not fight back because she was working and in her harness at the time
Adam Withnall
Sunday 08 December 2013 18:08 Comments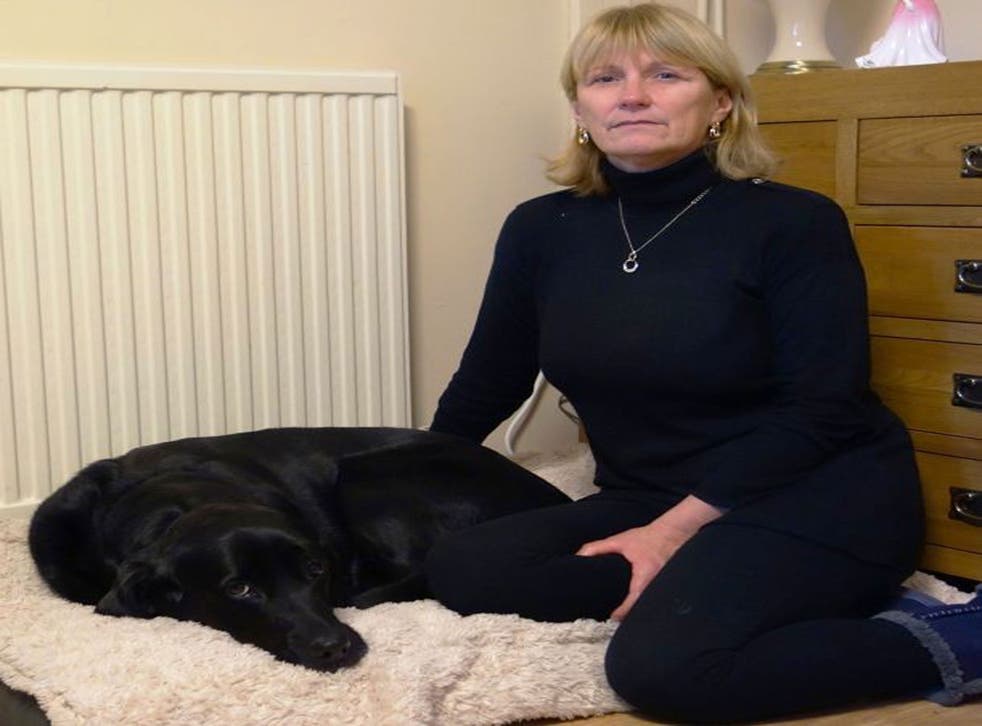 A blind woman delivering Christmas cards to her friends has been left badly shaken after her guide dog was mauled by another animal.
Julie Rees was walking along the pavement just yards from her home in Fforestfach, Swansea when a loose dog attacked her working black Labrador Gwen, clamping its jaws around her throat.
The attacker was described as a small, brown-and-white bitch and believed to be a Staffordshire or terrier cross.
Ms Rees said she was almost home after a trip to deliver Christmas cards to friends at about 10am on Thursday when she became aware of a dog approaching.
"I always know if there's a dog around because Gwen's head goes up and her tail wags. She's so friendly," Ms Rees said.
"But this dog did not even stop to sniff her - it just flew at her. I tried to shield her but it clamped down on her throat and would not let go. Gwen was in harness and would not fight back."
Ms Rees screamed for help, and the attack was only stopped when other members of the public, including motorists, rushed to Gwen's aid.
Two men freed her from the jaws of the dog, which had a collar, and held onto it until police arrived to take it away.
Ms Rees took Gwen to the vet, who cleaned the puncture wounds to her neck and prescribed antibiotics.
"The bite marks were not that deep but they were quite near her windpipe," said Ms Rees.
"It could have been a lot worse. I've got to bathe the wounds twice a day to make sure they do not become infected.
"It is horrendous for any dog to be attacked, but Gwen is my eyes. I can't get about without her."
Ms Rees said both she and Gwen had been "badly shaken and unable to go out" since the incident.
Guide Dogs Cymru, which is supporting Ms Rees, has told her Gwen will need assessment and retraining before she can work again.
Andrea Gordon, engagement manager for Guide Dogs Cymru, said the charity has been campaigning for a change in the law so an attack on a guide dog is treated as an attack on the owner.
"We believe the proposed change in the law cannot come quickly enough for owners who have to deal with the devastating consequences of attacks," she said.
"When a guide dog is attacked, someone with sight loss can completely lose their means of getting out and about independently.
"The impact on their life is huge and this is why we have campaigned so hard to get the law changed."
There are currently around 10 attacks on guide dogs in the UK each month, with some leading to the animals having to retire. The cost of training each dog is around £35,000.
Additional reporting by PA
Register for free to continue reading
Registration is a free and easy way to support our truly independent journalism
By registering, you will also enjoy limited access to Premium articles, exclusive newsletters, commenting, and virtual events with our leading journalists
Already have an account? sign in
Register for free to continue reading
Registration is a free and easy way to support our truly independent journalism
By registering, you will also enjoy limited access to Premium articles, exclusive newsletters, commenting, and virtual events with our leading journalists
Already have an account? sign in
Join our new commenting forum
Join thought-provoking conversations, follow other Independent readers and see their replies