Hackney Marshes: Rising fees force the next David Beckham, John Terry and Sol Campbell off the pitches
Hackney Marshes, where some of England's top players learned their craft, is driving  young talent away with over-complicated charging
Zoah Hedges-Stocks
Sunday 24 November 2013 01:00 Comments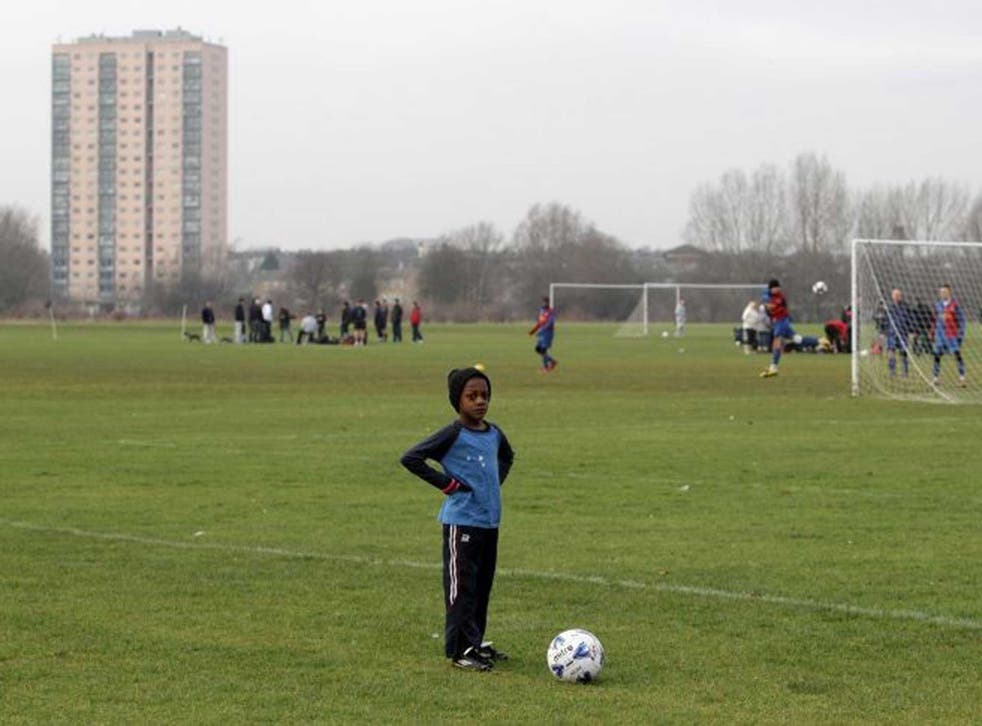 It is the spiritual home of amateur football and was an important nursery for some of the current stars of the professional game including household names such as David Beckham, John Terry and Sol Campbell. But it's not a simple matter of just showing up with a ball and using jumpers for goalposts at Hackney Marshes any more.
Hackney Council in east London faces fierce criticism for its "absurd" and "complicated" pitch charges that have left many amateur clubs confused. A recent increase in charges, and rumours of another one to follow, are forcing some clubs off the playing fields.
Andrew Wilkes has been involved with amateur football on the Marshes for eight years, but says the future looks uncertain. "Teams and clubs have gone under because they've just got fed up with it all. They cannot afford the running costs that are required," he said.
Mr Wilkes claims that local teams, whose players flood the 74 pitches every week, have "disappeared" and he fears that Rainbow FC, the amateur youth club he runs with his daughters, may be next.
"We are struggling," he says. "We need to know what the new prices are going to be... We have no idea what they're doing or what they're going to do. There is no communication."
It is not just amateur clubs that are confused by Hackney Marshes' pricing system. Staff at GLL, the company which operates the booking system, were able to say that a full-size pitch at Hackney Marshes costs £82, but struggled to recall the price of a nine-a-side pitch.
Clubs can get a 50 per cent reduction on the prices if they sign up to the council's recently formed Hackney Marshes Saturday Youth Football League (HMSYFL) for boys' teams. But critics say this amounts to "blackmail". Mr Wilkes says that "there was no need for a new league" and it has "caused nothing but destruction".
One team unable to take advantage of this discount is Hackney Laces – Hackney's first team for teenage girls. It was created by Katee Hui in 2011 and she now has 150 players.
She claims that the recent price increase could kill off the fledgeling club, which spends around £3,000 a year on pitches – as she points out, that is a lot of money "for 16- to 18-year-old schoolgirls who don't have jobs". Hackney Laces cannot enjoy the discount offered to HMSYFL members, because they are a women's team.
Nor can they save money by paying up front for a block of 10 bookings, as to do so teams must "know your fixtures for the whole year".
Mr Wilkes said that if the Hackney Marsh pitch prices went up again, Rainbow FC would "definitely not" be able to keep playing.
"We're trying to keep it affordable, we don't want to eliminate or exclude anyone," he said. "That's not why I set Rainbow up. It's about different colours, different beliefs, different nations, coming together in one safe environment, and it needs to be affordable."
Stuart Balmer, the father of Harvey, seven, and Zack, five, stresses that there is more to youth football than kicking a ball around. He says the Marshes bring disparate communities together and unite children who attend different schools to create a "unique community".
Paul Begley said his son, Akira, nine, would be "devastated" because the team had become a "massive" part of the family's life. Rainbow FC's goals certainly seem more in keeping with the Olympic spirit than Hackney Council's inability to explain or justify its prices.
Yesterday, a spokesman for the local authority said he thought the prices were "quite reasonable" compared to other boroughs, but was unable to provide any examples.
He said that HMSYFL was formed at the request of clubs "unhappy with the current provision" and that council officers would support them towards gaining Football Association club accreditation which "will assist with their being able to attract external funding".
Register for free to continue reading
Registration is a free and easy way to support our truly independent journalism
By registering, you will also enjoy limited access to Premium articles, exclusive newsletters, commenting, and virtual events with our leading journalists
Already have an account? sign in
Join our new commenting forum
Join thought-provoking conversations, follow other Independent readers and see their replies