From homelessness, prison and drug addiction to 'London's happiest bus driver'
'I was held hostage in a room, being beaten with iron poles, and I was powerless, and that's when I thought they were going to kill me'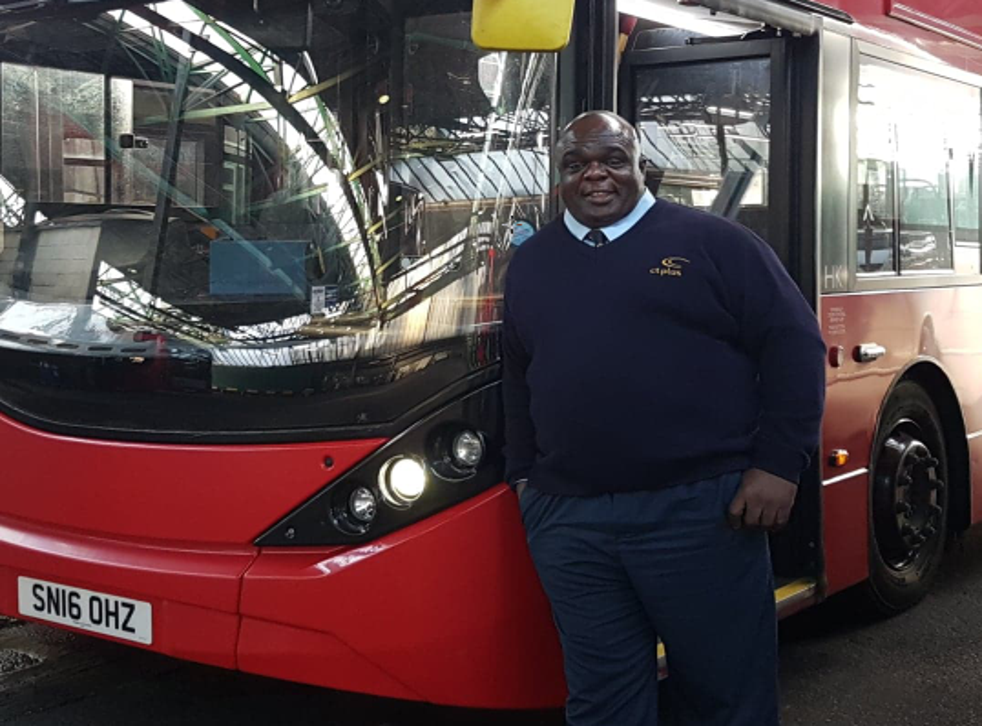 "This is hell. If there's ever a translation of hell, this is it."
That's not what you would expect to hear from a man dubbed "London's happiest bus driver", but that's what Pat Lawson remembers of his time being homeless and a drug addict just a few years ago.
The 50-year-old has since gone on an extraordinary journey, one which hit rock bottom with a vicious beating and a daring escape, and culminated in awards and acclaim after being recognised for his talents by Transport for London.
As well as the happiest, Mr Lawson may even be London's most popular bus driver, having received more than 40 commendations from passengers on his route 26 between Hackney Wick and Waterloo. All of them, he says, cite his good humour as reasons for writing in.
"I've had fun every day, I greet my passengers on the bus with a 'Good morning' and … when I'm pulling over to let passengers off, I tell them, 'Have a great day'," he says.
Passengers know his name, he says, and his regular pronouncements over the tannoy put everyone in a better mood.
"Oh my God, my bus is jumping!" he says of early morning starts at Waterloo.
As commuters in the capital can attest, Londoners are not exactly famous for their warmth and generosity at rush hour, but Mr Lawson has much to be thankful for, and is keen to spread his generous spirit now he has turned his life around.
The Hackney-native first gained his bus driving licence almost 20 years ago, but quit in around 2004 when a church he then belonged to admonished him for working on Sundays.
As a then-committed Christian, it prompted Mr Lawson to quit in order to find another form of income. It was then that he made a "wrong choice". With children to provide for, he turned towards crime.
"Even now I'm feeling tearful," he says. "What was I going to do? All I ever knew was crime and it really broke my heart that I decided I had to go back to committing crime to survive."
It wasn't long before he was arrested and thrown in prison, where he would remain for the next four years. After getting out in 2008, his life quickly descended into a "vicious circle" of drug addiction and homelessness.
Support free-thinking journalism and attend Independent events
"I was on the street, spending the day walking around, finding places to eat, staying low, and at night finding a doorway or a bench. I had regular doorways and benches," he says.
It is this time Mr Lawson describes as a living hell. He said his rock bottom was a couple of years later during an extraordinary and terrifying incident in which he barely escaped with his life.
"I was held hostage in a room, being beaten with iron poles, and I was powerless, and that's when I thought they were going to kill me," Mr Lawson says. "The guy wanted to go out and get a knife. The guy told me to 'stay right there'."
With seemingly no way out from the assault – which was taking place in a "drug house" – Mr Lawson says he heard a voice telling him to escape through the window.
"I didn't ask, I just obeyed and I went flying out of the window head first. It looked like double glazing… I just knew I had to dive straight through. The first dive didn't work," he says, chuckling at the absurdity amid the darkness. I was desperate – I must have just pummelled myself straight through. Thank God it was the ground floor. I just thought they were right behind me."
It was at that moment he knew he had to change, for his then-teenage son and daughter, as much as for himself. That day, some seven years ago, after an ambulance rushed him to hospital, he began his long road to sobriety, a home, and a job.
After being referred to a pair of charities in order to continue his drugs detox, Islington social services got him and his kids into accommodation.
Enter soon-to-be Labour leader Jeremy Corbyn, whom Mr Lawson thanks for another major change in his life.
UK news in pictures

Show all 50
After Islington council failed for a year to provide Mr Lawson with more than a one-bedroom bedsit for him and his two children, he wrote to the Islington MP out of desperation.
A staff member from Mr Corbyn's office "immediately" replied to him by email, and "that very day" he was provided with a housing officer who began the process of securing him a better flat.
He weaned himself off drugs completely, and was eventually referred to Islington-based charity Single Homeless Project (SHP), who helped him regain his confidence and begin his search for work.
He told them he was keen to go back to bus driving, and his case worker eventually found him a position at HCT Group, a social enterprise that specialises in providing transportation services, including for TfL.
After being told of the position on a Friday in the winter of 2017, he was at the bus depot in Hackney by Monday, "full of fear" but excited for the opportunity opening up before him.
Mr Lawson underwent training to update the gaps in his knowledge after 14 years away from buses, but just weeks later, in March, he was back "unleashed onto the road".
"It's been great from day one… day one on the road. Other bus drivers would say, 'Oh this isn't going to last', but I just knew that this is what I wanted to do."
He was so keen to have passengers enjoy their journey, Mr Lawson says some at first treated him with hostility.
"When I first started, I asked myself, 'What am I doing wrong?' Because some people would get on and look at me suspiciously," he says. "But then some of them would come back and say, 'Oh I'm sorry, I thought you were taking the piss'."
He adds: "I had this guy who got on the bus, and just looked at me like he really wanted to hurt me. But then at the end of the journey, he came out the front and he waved and he was smiling. He saw passengers get on and I was doing the same thing to them, so I wasn't picking on him."
One point Mr Lawson is adamant The Independent needs to mention is how thankful he is to all his regular passengers.
"I just want to thank my route 26 passengers, I want to thank you for sending out the commendations, and I want to thank London for voting me for outstanding customer service and happiest bus driver in London," he says.
If the unprecedented number of commendations and praise are anything to go by, his passengers are just as thankful to him.
"I do want them to be happy, I want them to see bus drivers in a different light," Mr Lawson says, adding: "I'm 50, but I feel like a teenager, just starting a new life."
Register for free to continue reading
Registration is a free and easy way to support our truly independent journalism
By registering, you will also enjoy limited access to Premium articles, exclusive newsletters, commenting, and virtual events with our leading journalists
Already have an account? sign in
Register for free to continue reading
Registration is a free and easy way to support our truly independent journalism
By registering, you will also enjoy limited access to Premium articles, exclusive newsletters, commenting, and virtual events with our leading journalists
Already have an account? sign in
Join our new commenting forum
Join thought-provoking conversations, follow other Independent readers and see their replies