Boss who asked female employee if he could 'Harvey Weinstein your a**e' ordered to pay £37,000
Woman 'left feeling dirty, violated and ashamed', tribunal hears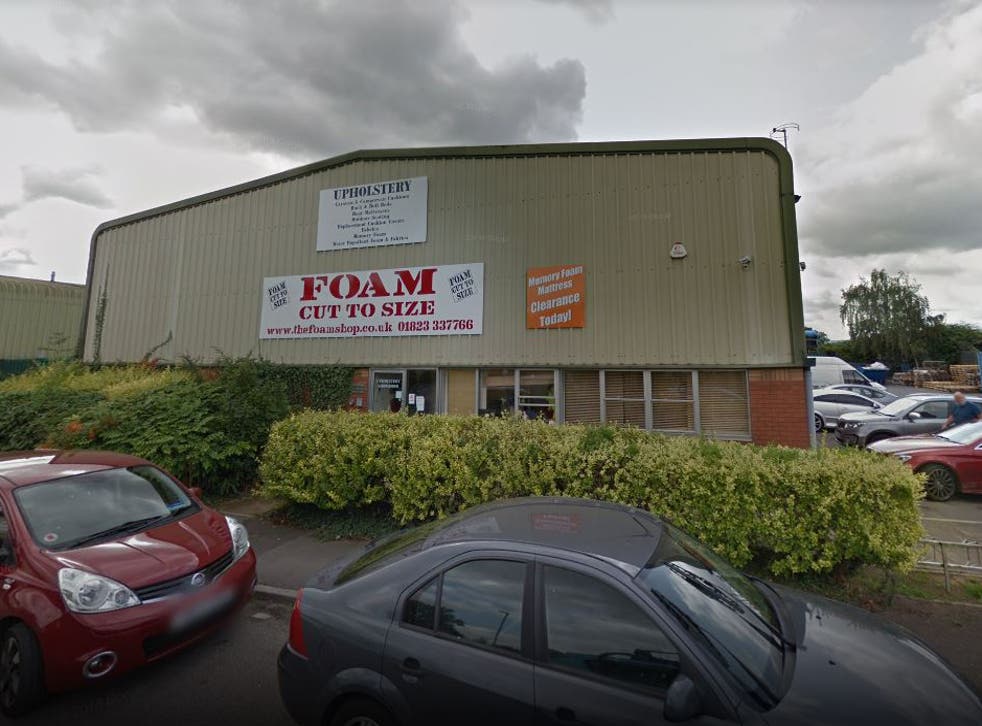 The owner of an upholstery firm who pestered one of his female employees for "Harvey Weinstein style sex" has been ordered to pay her £37,000 at an employment tribunal.
The victim said she was forced to resign in protest at the behaviour of her manager Leonard Mark Harris.
She told the tribunal that he repeatedly pestered her sexually after she began working at Mark Harris Upholstery, where she began as a clerical assistant in 2013, before moving up to general manager.
She worked at the firm in Taunton, Somerset, for nearly five years and told the tribunal that she had kept a diary of incidents in which she felt threatened between July 2016 and December 2017.
The woman, who The Independent has decided not to name, said that at first her boss was "charming, funny, complimentary and we became friends".
UK news in pictures

Show all 52
But she alleged that later, "he would spontaneously kiss me, stroke/sniff my hair, put his hands inside my clothes, sexually hug me, sit me on his knee, ask for sex/sexual favours", and that her protests had no effect.
Mr Harris denied behaving in the way the woman alleged, adding that such conduct if it did happen was in any case not unwanted, the tribunal report showed.
It painted a picture of a relationship that was initially positive and revealed that the woman had drunkenly flirted with Mr Harris at a party in 2014.
However, in later years she began to feel uncomfortable with his attention and tried to construct a more professional pattern of interaction. Documents also detailed a sexualised discussion the woman held at work regarding another member of staff.
In November 2016 she confronted her boss at a one-to-one meeting and drew "a clear line" between them, the report said. "From then on [the woman] did not want any physical contact with Mr Harris. [She] wanted to be left alone in that respect and allowed to get on with her job."
But the unwanted contact continued.
At a subsequent meeting in January 2018 – three months before she resigned – Mr Harris asked her if their relationship could go "back to how it used to be". The tribunal heard that he then said: "Can I squeeze your bum, no, squeeze your tit, no, can I Harvey Weinstein your arse?"
In a transcript from notes she made after the meeting and heard by the tribunal, the woman added: "I was left feeling dirty, violated and ashamed that he'd tricked me again. I felt complete hopelessness, realising he would never free me from this cycle."
During the meeting Mr Harris is said to have told her: "I want me mate back ... I wanna be able to touch you on the arm without thinking that 'f**k me, I'm Harvey Weinsteining the poor woman'".
After three days of evidence in May, the employment tribunal in Exeter, Devon, has now released its verdict and found Harris sexually discriminated against the member of staff.
The tribunal also found the woman was both wrongly and unfairly constructively dismissed, had been discriminated against and was owed holiday pay.
The woman was awarded £25,000 for harassment, £2,729 for interest and £7,220 unpaid wages.
Support free-thinking journalism and attend Independent events
Mr Harris denied all the allegations and accused the woman of making post-event forgeries in her diary – but this was rejected by the panel.
Announcing his decision, the tribunal judge said: "Mr Harris was engaged in unwanted conduct of a sexual nature and that conduct had the purpose, or effect, of violating the claimant's dignity, or creating an intimidating hostile, degrading, humiliating or offensive environment for her. [The woman] flirted with Mr Harris and probably put up with his conduct of a sexual nature as a convenient means of securing her job and influence.
"As time went on she changed her mind and started to protest."
Following the decision, Mr Harris said it would be "inappropriate" for him to comment about what had happened but said he disagreed with the verdict.
He also declined to comment on whether he had any regrets or whether there was anything he would like to say to the claimant following the verdict.
Additional reporting by SWNS
Join our new commenting forum
Join thought-provoking conversations, follow other Independent readers and see their replies