'I've already lost my home in Syria. I don't want to lose another': Refugee starts new job as NHS hospital cleaner to fight coronavirus pandemic
'Seeing Britain struggling, I thought I needed to do something,' he says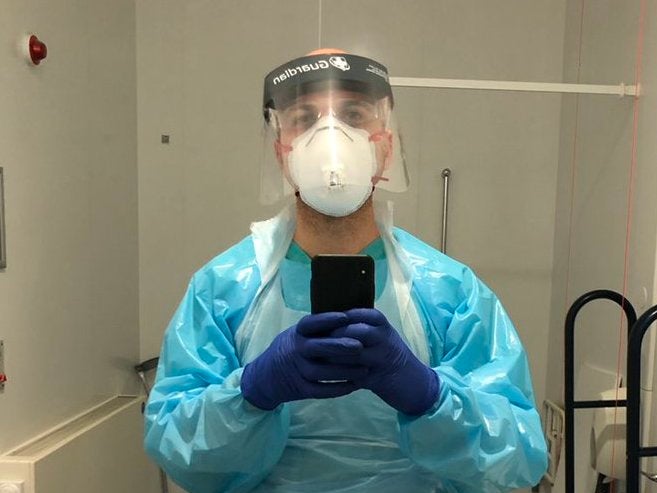 Hassan Akkad had never worked in a hospital before.
He used to be an English teacher in Syria, and has been working as a documentary maker in the UK since claiming asylum here several years ago.
But things changed for the 32-year-old as the coronavirus outbreak continued to take its toll: he decided to take on a cleaning job at a hospital in East London.
"I felt like I had to do something about it," he told The Independent. "When I was in similar situations before, I did something. I acted."
He signed up for the NHS volunteering scheme, and looked around for jobs when he did not hear back – finding his local hospital was short on cleaning staff.
"The horrible news I was hearing about nurses and doctors at the front getting infected motivated me to take on the job," Hassan said, "because I knew disinfecting and cleaning would help."
He said: "I was hearing stories of people volunteering and doing all these amazing things. I wanted to be part of this movement that is trying to save Britain during the worst crisis since the Second World War."
Originally from Damascus in Syria, Hassan worked as a teacher and began going to peaceful protests when the revolution started, documenting them to share what was happening with the world.
"My activism led to me being detained and tortured – twice – and I eventually had to leave," he said.
He took a several month-long journey through Europe during the peak of the refugee crisis in 2015, filming everything along the way. It featured in the BBC documentary Exodus: Our Journey to Europe, which has won multiple awards – including a Bafta and an Emmy.
Hassan has lived in the UK for many years now and has been making documentaries – as well as fundraising for charities helping refugees.
However, he decided to take on something new during the coronavirus outbreak, which has infected more than 78,000 people and seen almost 10,000 hospitalised patients die in the UK to date.
"Seeing Britain struggling, I thought I needed to do something," he told The Independent.
"Britain for me is now home and I've already lost my home in Syria. I don't want to lose another home."
He recently started a cleaning role in Whipps Cross Hospital in London, working five days a week and starting at 7am each day to disinfect the wards.
A post of him in his protective gear gained thousands of likes on Twitter, with Hassan urging people underneath to donate to his hospital's coronavirus appeal and Choose Love, which is raising money to help refugee camps face the coronavirus crisis.
Despite the replies on social media, he insists he is not a hero. "I'm just a random guy who wanted to do something," he said. "I'm glad I'm able to help."
He said he is one of around 20 different nationalities working on his ward, where staff come from Kenya, Nigeria, Spain, Poland and Britain.
"We are all from different parts of the world working to help fight this pandemic."
Even though he "did not want to be political in times of crisis", Hassan said anti-migrant and anti-refugee rhetoric was on the rise before coronavirus hit, and some countries were shutting their borders.
"Now we see migrants are the NHS staff, working around the clock to fight this pandemic, as well as the bus drivers and other key workers," he said.
"Britain should reassess its problem with migration after this."
According to the latest government figures, around 13 per cent of NHS staff – around 153,000 workers – say their nationality is not British.
The UK has been working to change the way its admits migrants after Brexit, with plans to introduce an Australian-style points-based system which the government said "prioritises the skills a person has to offer".
"I support the government trying to have a sensible policy around migration," Hassan said, "but we need to have a national discussion because, if we take one thing from this pandemic, it teaches us a lesson about when we open our hearts and arms to migrants and refugees, they actually pay back."
Join our commenting forum
Join thought-provoking conversations, follow other Independent readers and see their replies