Heard the one about the rabbi and the oligarch? Business deal turned sour sends shockwaves through London's Chabad Jewish community
Gennady Bogolyubov and Rabbi Yonah Pruss' bitter legal battle over multi-million pound property deals looks destined for the High Court
Jim Armitage
Tuesday 19 November 2013 21:41 Comments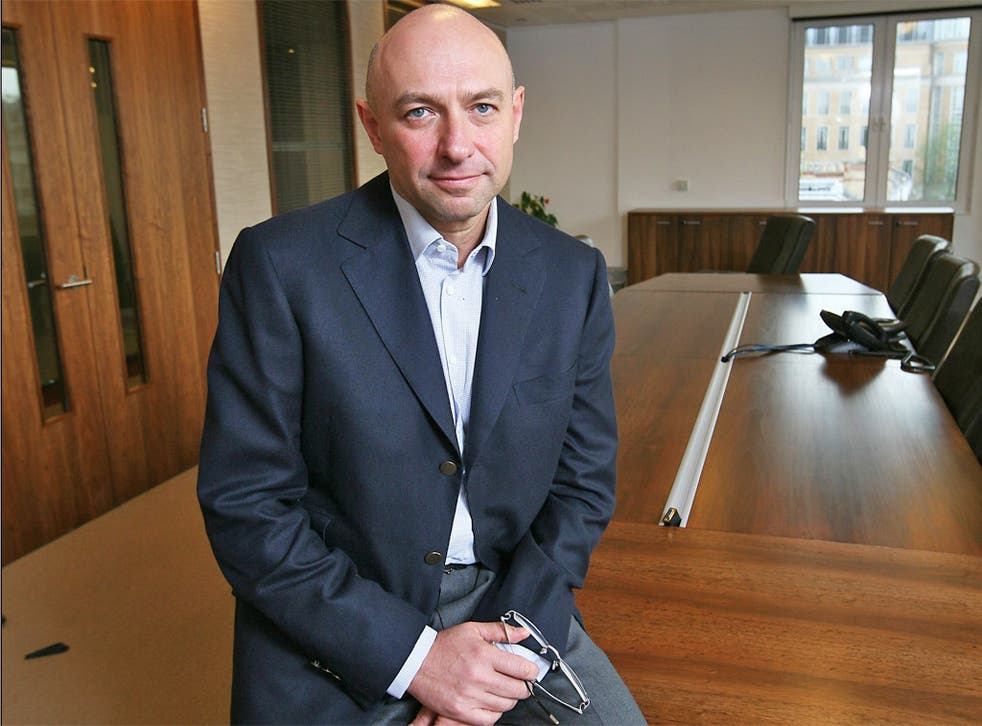 Gennady Bogolyubov's mansion in London's Belgrave Square is fittingly grand for one of the richest men in this capital city full of billionaire oligarchs. Property agents talk in hushed tones about possibly the neighbourhood's most valuable home – a rare residential property on a square famous for its embassies.
Inside its high-ceilinged entrance lobby, marble and dark wood stand in a golden light. But most remarkable is the apparently Hebrew texts hanging on the walls. Those, and an all-enveloping hush away from the busy road outside, give the mansion the feeling of a holy place, rather than a family home.
It is not an altogether inaccurate impression. Somewhere among the five storeys of white stucco, Mr Bogolyubov reputedly has his own synagogue. Fitting for a man deeply steeped in the Jewish ultra-orthodox tradition of Chabad-Lubavitch.
The synagogue is said to have been inaugurated by his friend and rabbi at the time, Yonah Pruss, a well-known figure in the Chabad world.
It was not the first favour Rabbi Pruss had done for his wealthy friend. He claims he had helped the billionaire and his family relocate to England at the turn of 2007-2008, assisting him with his local knowhow and connections to move and settle the family. He also says he advised him on getting his charitable foundation off the ground – a charity which smoothed Mr Bogolyubov's passage into the role of billionaire philanthropist.
But it was not only religious and moral guidance that he gave over a period of five years or more. For, as is not uncommon in orthodox Jewish business circles, the trusted rabbi was also involved with Mr Bogolyubov commercially.
And it was over business – namely British property deals worth hundreds of millions of pounds – that the pair have now spectacularly fallen out. The two men are fighting a bitter legal battle which looks destined for the High Court and is sending shockwaves through the close-knit Chabad community.
For Mr Bogolyubov, London's civil courts are becoming a fairly regular place of habituation. He has just finished a case against British oil explorer JKX Oil & Gas and is next year being taken to court by fellow oligarch Viktor Pinchuk in a separate action alleging Mr Bogolyubov took a business from him – a claim he denies.
Rabbi Pruss, believed to be an American, is perhaps less au fait with the British legal system, but has just filed a lawsuit claiming the billionaire cut him and another business partner out of tens of millions of pounds.
He says that, in 2008, Mr Bogolyubov had asked him to find properties to invest in the UK. Rabbi Pruss claims that, along with a property surveyor, Colin Gershinson, he and Bogolyubov set up a joint venture together. The plan seemed simple enough: Mr Gershinson and Rabbi Pruss would scour the country for properties likely to rise in value and Mr Bogolyubov would provide the funds to buy them. Rabbi Pruss and Mr Gershinson say they were offered a cut of the profits and rental income.
They claim they located 14 properties around the UK for their venture, including two highly prestigious central London sites in Knightsbridge and Trafalgar Square. Mr Bogolyubov paid for them.
However, when this summer the rabbi attempted to obtain an update from Mr Bogolyubov on the value of the properties to get his share, he alleges the billionaire delayed his response. When the valuation document arrived, it allegedly showed Mr Bogolyubov had only included in their joint venture the cheaper properties in places such as Solihull, Hendon and Southport. The two sites in central London – by far the most valuable – he had allegedly retained in his and his family's personal portfolio.
Rabbi Pruss and Mr Gershinson are demanding "in excess of £20m" for their share of the spoils and demand that the two London properties be put into the joint venture company as they claim was originally agreed. Mr Bogolyubov claims these two central London properties were never supposed to be shared.
Curiously enough, Mr Bogolyubov has already been in court over one of the sites. No 1 Trafalgar Square is an imposing block overlooking Nelson's Column and serving as the headquarters for blue- chip companies including National Grid. Its location, with views down the Mall and across Admiralty Arch, is second to none.
Mr Bogolyubov originally paid £173m in August 2010, buying it from Dubai investment firm Istithmar. However, according to the high-profile dealmaker Amanda Staveley, Istithmar did not want to sell. Not, that was, until her personal intervention, using her senior contacts in the Dubai government. After the famously persuasive Ms Staveley weaved her magic, Istithmar relented.
Ms Staveley claimed she was owed a £3m commission for her work, but said Mr Bogolyubov failed to pay. Once again, it was off the High Court for the billionaire: Ms Staveley sued him and the case was eventually settled out of court.
Mr Pruss and Mr Gershinson claim they are owed a cut of the increase in the property's value since the purchase, plus a share of the £9m-a-year rent from its tenants.
The other disputed property is a prestigious, large office block overlooking Hyde Park at 27 Knightsbridge that was bought for £56m. In 2010, investment group Aviva offered £75m for the block, the lawsuit claims. Once again, the two claimants say they deserve a share of the increased value plus part of the £4.2m-a-year rental income.
Mr Bogolyubov's solicitor David Kavanagh at Skadden, Arps, Slate, Meagher & Flom said Mr Bogolyubov would contest the claim: "We say [the two London properties] fell outside the terms of the agreement. Mr Bogulyubov is confident the claim will be defeated if the claimant proceeds with the case."
Register for free to continue reading
Registration is a free and easy way to support our truly independent journalism
By registering, you will also enjoy limited access to Premium articles, exclusive newsletters, commenting, and virtual events with our leading journalists
Already have an account? sign in
Join our new commenting forum
Join thought-provoking conversations, follow other Independent readers and see their replies